The first President of Ukraine, Leonid Kravchuk, turned 80 on January 10. In the summer of 2013 the Cabinet of Ministers approved a plan of actions to mark the first president's birthday on January 10, 2014
14 January, 2014 - 10:56
There can be different attitudes to Leonid Kravchuk, for he has a rich political life story. But some of his several gains will inscribe his name forever in the history of our state. Firstly, it is his role in the making of an independent Ukraine; secondly, the ban on the Communist Party; and, thirdly, calling the early presidential elections in 1994. This list can be continued.
We can more and more hear this said today: "Out of the presidents we did and do have, Kravchuk was the best," even though he held the presidential office for just 2.5 years. Mr. Kravchuk is still actively participating in the country's sociopolitical life. "So far, whenever I see my work, my activity, coming to an end, something new comes up suddenly," he says.
Ukraine's first president is celebrating his jubilee. What is Leonid Kravchuk's role in the contemporary history of our state?
Here is an interview with Mr. Kravchuk himself and comments of some well-known people.
Mr. Kravchuk, you have performed a lot of political and public services to this country in the years of independence. Which of them do you think ranks first?
"Whenever I think about my life and role in the history of Ukraine, I never single out any services, but there is an event to which I am inseparably linked – it is the creation of an independent Ukrainian state. It is a proven fact. I signed all the documents, without an exception, which laid the legal and factual groundwork for an independent Ukrainian state. This would be sufficient for any person to say that he or she has done some good things. As for other services, there were both success and failures, but these are just minor details."
You once showed the ability to take bold and indispensable steps – in 1994 you agreed to call an early presidential election. Drawing a parallel with the current political crisis, do you think present-day politicians are capable of making this kind of steps and, in general, of taking serious political actions?
"The truth is always concrete. We must take into account the time when a certain historical or political event is coming to an end. I won in the first round of the 1991 presidential elections – this occurred for the first time, and none of my colleagues have managed to do so. But there were no full-fledged institutions of power or a constitutional court at the time. There were only all kinds of debates, political and organizational problems, and semi-communist mentality of different-level officials. I thought in 1994 that I had made a right step to show that I was not clinging to power, that I wanted to resort to the elections as the most correct and adequate instrument of power transfer and let people elect a force or a leader whom they trust and who can lead society in the making of a modern state.
"I do not think it is necessary to directly compare this and that period of time. We have now the local authorities and the Constitution that sets out a reference frame. Is it necessary to transfer power ahead of time? In my view, there are no grounds for this. There is a problem of dialogue in society, political relations, and improvement of the forms of administration, but it should be tackled in peace and mutual understanding, not by means of a revolution.
"I read the other day the US Senate's statement which says in no uncertain terms that problems should be addressed in a lawful way. This is right. High on the agenda is search for the best forms of a dialogue in society so that people could adequately shape their opinion and avoid making mistakes during an election. For example, the Cabinet has suspended preparations for signing the EU Association Agreement, on the grounds that there are mistakes to be corrected. Now that, as I can see it, some faults and problems have been found, why not cancel that decision, since we are emphasizing that our course still remains unchanged? The cancellation would mean that the authorities at all levels are prepared to take steps to sign the agreement.
"There are things that are difficult to grasp from the viewpoint of common sense. We must go in line with the adopted laws and procedures. But if things are allowed to limp along, there will be no trust in those who do so."
You were the initiator and moderator of a recent roundtable. Why is there no compromise or at least a normal dialogue among politicians?
"Once politicians – in both the government and the opposition – focus on Ukraine's people, history and future, analyze and reduce things to a common denominator, everything will immediately change. I do not object to the opposition struggling for power – there is no opposition in the world, which does not struggle for power. We have seen this in all the years of independence: the opposition eventually becomes the government. Was the current government not the opposition and did it not behave the way the current opposition does from the viewpoint of the government's criticism (without street protests, though)? The government turns into the opposition and fights against the new government in such a way that it sometimes begins to fight against its own people. The government defends its interests and fights to continue its supremacy so bitterly that it pronounces the opposition its enemy. There is feud instead of cooperation. Ukraine's interests are only a slogan.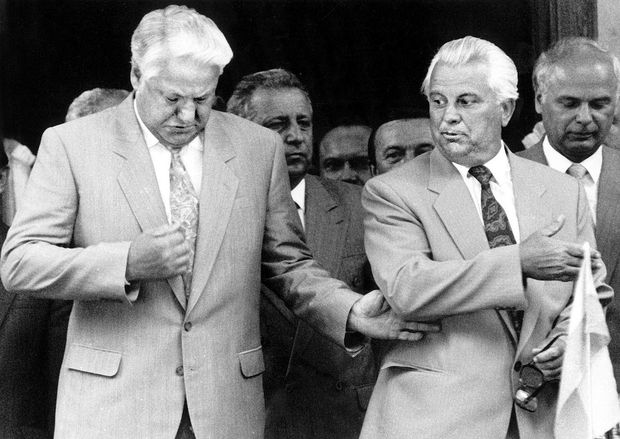 THEY ONCE MANAGED TO PEACEFULLY BURY THE SOVIET UNION
"I recall the words of Julius Caesar. Analyzing the results of the Gallic War, he said: 'Great accomplishments need not to be thought over: you should just get down to business. Otherwise, being aware of difficulties, you will retreat.' If we had taken a pencil in the Bialowieza Forest and begun to assess all the points, we would not have signed the accords. Had the Ukrainian people voted for independence on December 1, 1991, with a pencil in hand, we might have put off this issue for another 100 years. Whenever a historic issue is being decided upon, one must act quickly, resolutely, and boldly – otherwise you will miss the chance.
"If they had begun to analyze the Association Agreement in August, this would have been a different story, but as they began to do so six days before the signing, they became afraid. Politics demands bold decisions. This may be difficult, even very difficult, to do. But when the state is divided into ethnic and religious parts and society into the poor populace and the authorities that live high off the hog, it is very difficult to unite. We must work and build together – only then will we be able to persuade the people. At the same time, the people will not be persuaded if they feel that violence is used against them. You can't possibly make the students beaten up on the Maidan change their mind."
Some more parallels with 1994. As is known, your opponent Leonid Kuchma received support from Russia in the presidential elections. This tradition still stays on. The latest example is an agreement between Viktor Yanukovych and Vladimir Putin.
"Yanukovych is looking for his electorate. He needs to persuade a certain part of people to cast their votes for him in the presidential elections. If this is being done in line with the law and the Constitution, I see no problems here. If Ukraine's interests are above all and the leader, who derives support from any state, does not sell out national interests and does not make the country a hostage, I have no objections. But if Ukraine is being put on the scales of history for the sake of coming to power, then it is inadmissible – it is a crime that must be averted."
Speaking of the Russian factor, have Ukrainian politicians learned to defend national interests from this angle?
"Unfortunately not. We are still unable to counter Russian policies. The Russians pursue a clear-cut and comprehensible strategy towards Ukraine. Yeltsin issued a decree long ago to the effect that Ukraine must remain in the sphere of Russia's strategic interests. Putin has said more than once that Ukraine is an unnatural political entity which should not exist as such and has no historical future. Medvedev said recently that a split awaits us. They treat Ukraine as a temporary state which will, sooner or later, join and will be under somebody again. It is their philosophy, their stand.
"And we, instead of shaping our own policy, are playing games in all fields – be it the economy, politics, the humanitarian sphere, TV and the radio, or book publishing. There is not a single field where policies are being shaped as befits a full-fledged state rather than depending on what somebody may want. We do not have such a strategy towards Russia.
"There is an important step which I think does credit to the current president and government – the decision to stay clear of the Customs Union or any other unions. Ukraine is still economically and politically independent. Negotiations are underway with different sides, but Ukraine undoubtedly remains independent."
The Europeans are saying they have underestimated Ukrainian-Russian relations and have been paying insufficient attention to Ukraine.
"This is true. I was one of those who visited Europe when the Eastern Partnership concept was being framed. I attended a conference on the formulation of Eastern Partnership principles and very closely watched the situation. I gained an impression that Europe set itself a goal to wean the former Soviet republics from Russia and gradually open them the way to the EU without paying attention to Russia. That was one of the ways to weaken Russia. But they did not take into account the very strong historical, factual, economic, mental, and family links between Russia and the former Soviet republics, particularly Ukraine and Belarus. I do not know any other examples of such links, even on a domestic level, in the world. So Europe failed to take this into account, and Russia was left outside the Eastern Partnership's framework. Sometimes Russia herself showed nihilism and said she did not need this, even though she established close relations with the EU. Why not establish a comprehensive free trade area between Russia and Europe and other countries and think over making joint steps in this direction?
"We have ended up in a very awkward situation: the links, above all, economic, with Russia still remain intact, but nobody is taking serious steps to forge ties with the West, and when the question of trade with and supplies to the factories linked to Russia came up, it turned out that they were unable to work. Did we not know this before? We did. Then why has Ukraine not been taking proper steps in all the years of independence – not to break ties with Russia but to establish close links with Europe on a new technological level? It is not so easy to solve this problem today. I have spoken to these factories' managers – they all claim that Europe did not help at all, while Russia is giving money. But they themselves did nothing.
"What Europe underestimated is not Ukraine but Russia's clout, especially in the field of energy. Europe has taken a somewhat superficial approach to this matter. They should have involved Russia in all these matters – but not for the purpose of asking her about what we are supposed to do, for this is inadmissible. The point is how to solve problems between Ukraine and Russia and establish new relations between Russia and Europe without ignoring the Russian market. We should have discussed this together – at the level of not advisors but topmost officials, as well as at high-level scientific and political symposiums, workshops, and forums. As it was expected, failure to do so produced a negative result."
You said recently that the Constitutional Assembly had already drawn up changes to the Constitution. What are the next steps?
"Yes, the draft is ready, but the CA is still to discuss it. The opposition is raising this question, many suggest that we come back to the old Constitution, but I think that playing with the Constitutional Court will lead to anarchy and disrespect for any laws and institutions in Ukraine. The fundamental law has already been compromised, so let us not finally kill it.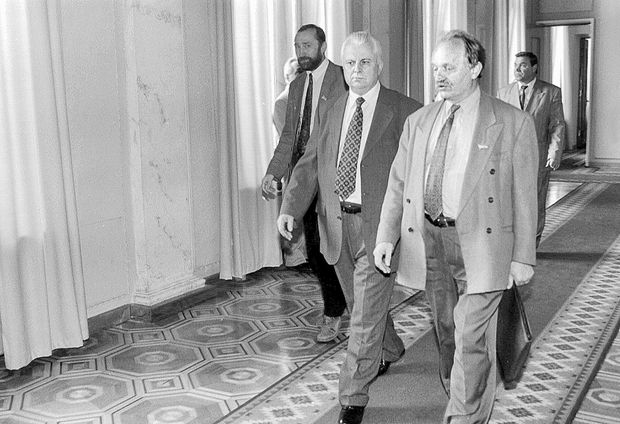 LEONID KRAVCHUK AND VIACHESLAV CHORNOVIL, UKRAINIAN INDEPENDENCE CHAMPIONS AND MAIN CANDIDATES FOR THE PRESIDENCY IN 1991
"I suggest that we discuss the constitutional form of governance by way of new changes to the Constitution, a serious analysis, roundtables, assemblies, etc, and thus address the fundamental issues. As for the Constitutional Assembly, it has some clearly-delineated powers. Proposing constitutional changes, it cannot bypass the requirements of the current Constitution. The roundtable is a broader democratic platform, where it is possible to seek answers to these questions without taking into account the boundaries. But there should be a societal consensus, not only the wish of a certain leader or party. The problem of referendum can also be solved in the same way."
You told The Day a year ago that you were going to begin writing your memoirs. Have you begun yet?
"The point is that, whenever I seem to be approaching the end of some of my activities, something new suddenly comes up. I wish I saw the end of this serious political crisis which is assuming various forms and shades. You cannot condemn the Maidan as a free expression of popular will and a form of democracy, for it is natural that people want to express their viewpoint. Maidans only help Ukraine – its ordinary people and authorities – to get purified and changed. The No.1 task is to ward off violations of the law and the Constitution. If we betray the principles of public organization and flout moral standards, this will represent a danger to the state and the people.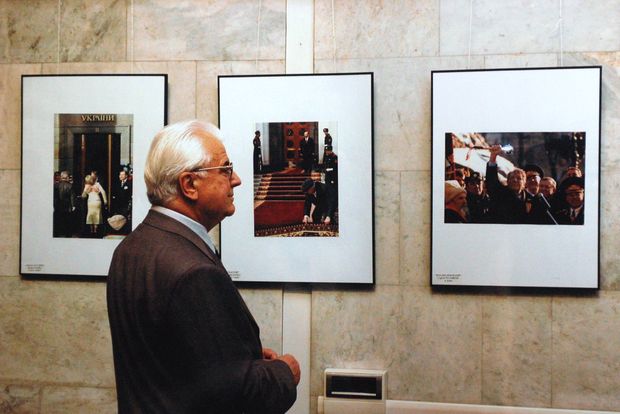 LEONID KRAVCHUK VISITING THE DEN PHOTO EXHIBIT / Photo by Valerii SOLOVIOV
"As there are some new situations in which I have to be involved, I just have no time to write memoirs, even though I would like to do this."
Society and the government are paying a great deal of attention to your anniversary. What is you attitude to this?
"This is the first time in the history of Ukraine that the 80th birthday of the first Ukrainian president is being marked on the current president's initiative. The point is not in Kravchuk but in the principle. Just look at our history: do we know many princes? No. The same applies to the Soviet era. Take, for example, Petro Shelest, First Secretary of the Ukrainian Communist Party Central Committee, who was then transferred to the Council of Ministers in Moscow. When Shelest had retired, SBU Chairman Yevhen Marchuk reported that he was down and out – almost starving – there. Is it right that the state treats in this way a person who worked for its benefit? Or take even our governments and presidents – Ukraine is marching forward, whatever one can say. I would like to see the image of a Ukraine that is not only changing, but has already embarked on a wide road of transformations and building a better life."
COMMENTARIES
"WE DID A GOOD JOB"
Stanislav SHUSHKEVICH, Soviet and Belarusian political figure:
"I would like to extend birthday greetings to Mr. Kravchuk. I think we did a good job, and Mr. Kravchuk was a very active participant in it. Much to his credit is the Ukrainian referendum and independence. He was very active and zealous. His signature is the most portentous thing he has ever done.
"I wish him to achieve further success and cherish those traditions, i.e., what was written in the Belavezha Accords, – to aspire for independence, freedom, human rights, and democratization (in the true sense of the word). This politician deserves to be on his current level. Unfortunately, not all of his actions are clear to me – perhaps I know Ukraine less than I should. But whenever I hear him speaking on TV or read his interviews, I can see that he is able to find a way to be easy to understand and uphold independent, democratic, and national traditions.
"I want to wish Mr. Kravchuk to have good health, follow an adequate line of behavior, as far as democratization of Ukraine is concerned, and stand up for Ukraine's true independence."
"IT IS IMPORTANT THAT KRAVCHUK DID NOT HESITATE TO FOLLOW THE ROAD OF NATIONAL LIBERATION FROM THE SOVIET YOKE"
Vytautas LANDSBERGIS, Member of the European Parliament, Speaker of the Supreme Soviet of Lithuania in 1990-92), Speaker of the Lithuanian Republic's Seimas in 1996-2000):
"President Leonid Kravchuk played a major role at the end of the Soviet Union's existence and a peaceful disintegration of the Soviet empire. The position of Ukraine and its president was very important. If Ukraine had not endorsed the idea of liberation, the situation would have been very unstable and fragile, and we may have failed to achieve success. It is important that Kravchuk, Yeltsin, and Shushkevich did not hesitate to follow the road of national liberation from the Soviet yoke.
"I saw Kravchuk two years ago at a conference. We spoke amicably about all those events and our joint stance at the time. But we did not have such an opportunity in 1991. We only watched the attitude of Ukraine and, particularly, the referendum on independence. We were the first country to send our congratulations. In other words, we reacted immediately and were very glad over this occasion. Ukraine had supported our independence even before it made her own decision. Ukraine's representatives often visited Vilnius, the capital of newly-independent Lithuania, in 1990 and 1991, when it was very dangerous to do so.
"I can remember representatives of Ukraine standing next to us to defend our parliament. This is why we harbor very warm feelings towards Ukraine. On our part, we sincerely wish Ukraine success on her way to the EU.
"I watch Euromaidan closely and hope that this project will be a success.
"I am sending, through your newspaper, cordial greetings and best wishes to Kravchuk for his active stand, and I wish Ukraine a European destiny."
"HE SIGNED WITHOUT ANY PRESSURE THE RESOLUTION ON BANNING THE COMMUNIST PARTY"
Levko LUKIANENKO, Hero of Ukraine, political and public figure, dissident:
"In general, the figure of Leonid Kravchuk is positive, and he has played a very important role in the history of Ukraine. The most important event that has occurred in the past 23 years is that Ukraine has become independent. Fate decreed that I was to proclaim independence and write the Act, but the latter still needed to be implemented. Kravchuk accepted this idea and it was he who put it into practice. Therefore, he is the creator of independent Ukraine.
"There were several stages on the road of the making of Ukraine, and Kravchuk played an important role in some of them. The first was the proclamation itself which took place on August 24. The next very important moment was December 8, 1991, when Kravchuk, Yeltsin, and Shushkevich signed an agreement on dissolving the Soviet Union in the Bialowieza Forest, Belarus. It was a great historic landmark.
"Before independence was proclaimed, Kravchuk was the Supreme Soviet chairman and wielded all the power delegated from Moscow. At that period, he would receive national liberation struggle activists, perhaps without too much desire, but also without resistance, and this was to our benefit and contributed to our victory. Within the first democratic Supreme Soviet elected on March 4, 1990, we formed a 124-member People's Council. An independence group was formed as part of this council, in which the Republican Party that I led constituted a radical core. We first entered the Supreme Soviet on May 15, and two months later, on July 16, the Declaration of Political Sovereignty was adopted. We spent two months to spread propaganda among the communist majority in the corridors, toilets, refreshment rooms, and on the podium. After work, we would go to the MPs' hotel, where we argued about the destiny of Ukraine, the role of the Communist Party, etc., until midnight or even later. MPs were more honest at the time, and, since the objective historical truth was on the nationalists' side, they would admit that we were right and gradually side with us. As a result, they supported the declaration which was in fact a program of building an independent Ukraine.
"Kravchuk did not resist this. His attitude and the fact that he accepted rather than slowed down this historic process was also his positive role. Had there been a Russian chauvinist or a Ukrainian turncoat in his place, he could have do harm. But Kravchuk, who took a patient and in fact positive attitude, contributed to the victory of our ideas.
"He made another noble step in the 1994 snap elections. Kuchma won a very dubious victory. The rumor of rigging was sufficient grounds for taking legal action, but Kravchuk wholeheartedly congratulated Kuchma. This is the example of an individual who does not cling to power at any cost. It testifies to a high political culture. It would be good if other contenders for the office of head of state and the serving incumbents also followed this way.
"I first met Kravchuk in the early summer of 1990 at the Supreme Soviet. We went out of the session room and began to speak – I wanted to know more about this person. I saw that he was a wise man. He cast doubt on the anti-Ukrainian concept which maintained that there were only all-Union interests and Ukraine did not have her own national interests. Those who believed otherwise were labeled as nationalists and thrown to prisons.
"I can remember Kravchuk saying in the early 1990s that he had learned about the history of Ukraine in the past 18 months more than in all his previous lifetime. This means that even on such a high Communist Party level the staff-placement system worked in such a way that it was impossible to read something 'on the side.' But when glasnost came and various, including the previously banned Ukrainian, literature began to pour in from abroad, he began to read. A Ukrainian by birth, intelligent by nature, he was filled with communist ideology, but, as a wise person who revises his or her outlook because of the received knowledge, when there is an opportunity to gain new information, he seized this opportunity. Therefore, he began to gradually understand the essence of the national liberation movement and take a more positive attitude to it.
"After the abortive August 1991 coup, the Communist Party of Ukraine (KPU) was exposed as one that had hatched a plot, i.e., committed a crime. Moscow sent instructions to fulfill the junta's orders. But there had already existed the Declaration of Political Sovereignty, so this was an encroachment on the order that was gradually established in Ukraine. So the KPU was banned. One proposal was to condemn and the other was to ban it. Kravchuk was not the initiator of this idea, but he signed without any pressure the resolution to ban the Communist Party."
"MR. KRAVCHUK MANAGED TO TAKE A LOOK OVER THE HORIZON OF HIS TIME"
Yevhen MARCHUK:
"Even on his anniversary day, it is impossible to apply a simple arithmetic dimension to Leonid Kravchuk – he is just 80. Even integral calculations will not be enough for this. He is higher mathematics, a mathematical analysis. In what reference frame should we put his logic to grasp the essence of his actions – the logic according to which he, a successful ideology section chief and a secretary of the Ukrainian Communist Party Central Committee, makes quite an effort to ban this party in Ukraine? I happened to be present at that historic session of the Supreme Soviet of Ukraine's Presidium. I saw what it cost Mr. Kravchuk, physically and morally, to bring off this decision. And how many malicious enemies for the future!
"And well before this, when he was the KPU CC secretary in charge of ideology (!), who was supposed to organize and be responsible for fighting the Ukrainian 'bourgeois nationalism,' he began to hold public meetings and debates (now known as roundtables) with leaders of this very 'nationalism,' which raised a storm among party activists. This in no way fits in with the arithmetic logic.
"When it came to deciding what to do with the enormous nuclear potential that was left in Ukraine after the collapse of the USSR, Mr. Kravchuk managed to take a look over the horizon of his time and make a very 'unpatriotic' but historically right decision. Even now, some do not understand the essence of this decision. He took most of the flak from no other than fervent patriots. Many were then toying with the idea that nuclear weapons on our territory will automatically force the world to respect us more. Yet it was clear even then that the world had to reckon more with nuclear-free Japan, Germany, Brazil, and Asian 'tigers.' Different criteria of international respect were being formed. Far from all managed to discern this process at the time. Suffice it to recall the last visit to Kyiv of US Secretary of State Warren Christopher about the 'Ukrainian nuclear arms' and his meeting with President Kravchuk.
"And can his decision to call a snap presidential election in Ukraine after only two and a half years of his historic presidency fit in even with the present-day political logic? He did so only (!) to defuse the acute political crisis in society, win the first round by a wide margin, and lose the runoff. He lost the whole chess game, so to speak. He lost but did not fly into hysterics. He lost, only to endure longtime mass-scale malicious attacks and not to curse their organizers for life.
"I can remember him radically changing his viewpoint on the Holodomor under the influence of historical documents. For it was no other than the ideological section of the KPU CC that had organized a powerful nationwide campaign as part of the plan 'On Countering the Actions of Bourgeois Propaganda over the So-Called Manmade Famine in Ukraine.' As I remember, there were about 50 pages in it. Everyone was assigned a task to perform. Mr. Kravchuk did not have any family information about the Holodomor, for he was born and raised in the Rivne region (outside the USSR at the time). There was no famine at all in those areas, although the soil was less fertile there than in Central Ukraine. When Mr. Kravchuk gained access to the archives of KGB and other institutions, he sifted through mountains of materials on this matter. I used to personally bring them to him. And he not only changed his viewpoint, but also became an active unmasker of the official lies about the causes of the Holodomor and the genocide of the Ukrainian people by the then authorities.
"I know how hard and with what risks the Ukrainian Orthodox Church (Kyiv Patriarchate) was being born. Maybe, Mr. Kravchuk will speak one day about this important stage of contemporary Ukraine's spiritual development. Can we imagine that there is no Ukrainian Orthodox Church and its Patriarch Filaret? Can we imagine this right now?
"And let us imagine that Mr. Marchuk did not fly to the Bialowieza Forest. For the USSR laws are still in force and there still is the Soviet president and government, so the Belavezha Accords is nothing but a premeditated coup d'etat organized by a group of people as well as high treason (they phoned to US President Bush). This means several articles of the USSR Criminal Code and a show trial… But he flew.
"We are living at a time when there are real creators of contemporary Ukrainian history next to us. Far from every generation may have a chance like this. But this time is passing. Have we asked them everything? Have we heard everything from them? History teaches. This maxim is especially obvious today.
"Let us wish dear Mr. Kravchuk good health, peace of mind, and the ever-growing desire to share his historic experience!"