What is Putin's policy in Europe all about?
17 April, 2014 - 10:14
Gerhard GNAUCK: "Germans have forgotten what freedom and, moreover, fighting for freedom is"
After the latest events in Ukraine, a new term has come up in the German information space, which applies to people who express support for the Russian president over the annexation of Crimea. It sounds as "Putin-Versteher" in German and "understanding Putin" in English. Among those who understand are German journalists Eva Herman and Alice Schwarzer, politician Sahra Wagenknecht, and even the former German chancellor Helmut Schmidt. The latter has noted in a Die Zeit interview that Putin's actions are easy-to-understand and Ukraine "is a self-sufficient country but not a nation state." Besides, 200 German cultural and educational figures have said in an open letter to Putin, "We Consider You a Colleague," that they view the annexation of Crimea as Russia's defensive measure. But the point is that many experts have never heard even a single name on the long list of the understanding. A journalist of the best Swiss publication Neue Zuercher Zeitung has pointed out in a comment for The Day: "I would not attach too much importance to this letter. These people seem to have a clearly defined angle of view, and this list must have been compiled offhand and signed by friends, relatives, and friends of the friends. I failed to find any names I know." The Day's interview with Gerhard GNAUCK, a German political scientist and historian and a Die Welt journalist, is about why some Germans understand Putin, about Ostpolitik and the likely third level of sanctions.
"ELEMENTS OF THE STAGNATION PHASE OF OSTPOLITIK ARE STILL LIVING IN SOCIAL DEMOCRATS"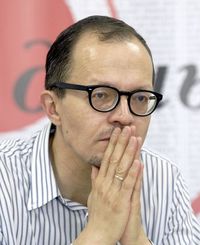 The German press is rife with heated debates over Putin-Versteher. What triggered a particularly stormy reaction was an interview of ex-chancellor Helmut Schmidt for Die Zeit. What do you think his statements mean?
"The former chancellor Helmut Schmidt fought in World War Two. There was no such a state as Ukraine at that time or during his political career. Despite all my respect for the otherwise good Chancellor Schmidt, I will say that he still dwells in his epoch. And his interview means that it is very difficult to get used to the new realities. It is difficult for him to understand that one international entity, the Soviet Union, has given way to several new entities.
"Oddly enough, many Germans are alleging now that we have robbed Russia of something by enlarging NATO, etc. I recently spoke to a diplomat and asked him what this 'something' meant. A piece of meat or wood, or a state with its citizens, an international entity? Understanding the post-1991 changes is a very long process. It was a long process even to recognize the fact of Polish neighborhood, and things will be even more difficult in the case of Ukraine."
Paul Roderick Gregory wrote in Forbes: "Social democrats, like Schmidt, instinctively come to the defense of their landmark achievement – Ostpolitik – the notion of finding common ground with enemies in place of confrontation." Do you think Social Democrats are still following the Ostpolitik line?
"British historian Timothy Garton Ash has said very well about the 1970s-1980s Ostpolitik. The first stage of Ostpolitik, i.e., the 1970s – the Helsinki process and the establishment of OSCE – was a creative phase that inspired Eastern citizens and dissidents to rear their heads and express their opinions and wishes. But the second stage, i.e., the 1980s, was a stagnation phase. When, for example, the former West German chancellor Willy Brandt flew to Warsaw after the imposition of martial law to talk to Wojciech Jaruzelski about global peace, he still refused to see Lech Walesa, although they were both Nobel Peace Prize winners. Elements of the stagnation phase of Ostpolitik are still living in Social Democrats.
"I ask myself: why, of all the people, Social Democrats? Why did politicians from this very party go to work for big Russian energy companies after abandoning politics? They are Gerhard Schroeder, Henning Voscherau, and Wolfgang Clement. I have various questions and various options for answering. Firstly, it is the German guilt complex, and some believe that, by refusing to criticize Russia, they are thus atoning for this guilt. Besides, these are left-wing politicians, and some of them were radical and anti-American in their young years. Anti-Americanism has a long tradition in Germany. Surprisingly, this tradition survives to some extent among no other than centrist Social Democrats. There may also be some respect for Russia and the Soviet Union which offered a model alternative to capitalism."
What is German society's attitude to Putin-Verstehers?
"There is a heated debate now about whether the people think otherwise than politicians and serious media. We should not forget that during the Euromaidan protests, when there was not yet violence and deaths, the media, politicians, and society sympathized with the Maidan. But when people saw on TV that the police began to shoot and car tires to burn on Hrushevsky Street, many of them might think that the whole Kyiv was on fire. These events were exaggerated. And when there appeared an international context with Russia and the situation in Crimea, when everybody began to speak of sanctions and even a danger of war, this mood broke in a very strange manner. I will say a vexing thing. Firstly, the Germans have forgotten what freedom and, moreover, fighting for freedom is. Secondly, they are very much afraid of war, conflicts, and refugees. Thirdly, some have discovered in themselves the understanding of Russia as such and of some of its ambitions regarding Europe and the rest of the world.
"As for the German media, we must give them credit to some extent. I have watched a lot of German public television programs and must say that they provide a very professional and serious coverage of these events. The newspapers Frankfurter Algemeine, Die Welt, and Sueddeutsche Zeitung also cover and assess things very well, including events in Russia. They are taking a dim view of Putin's aggression and his gangster-style behavior on the world arena. But there are some problems. The first is the talk shows that invite post-communist left-wingers and all kinds of people who do not understand the situation. The second is the comments of Internet users who pour out their emotions against the EU, Brussels, America, and the authorities in general. I know that German journalists are debating on the extent to which these Internet commentators may be an organized campaign. As far as I know, there is no proof that this is a paid-for campaign or that they are all Russia's agents. We will perhaps know it later."
"THE MEDIA ARE TAKING A DIM VIEW OF PUTIN'S AGGRESSION AND HIS GANGSTER-STYLE BEHAVIOR ON THE WORLD ARENA"
Do you think the German government can introduce a third stage of sanctions against Russia?
"As far as I know, it is being discussed behind the scenes in which case the third stage of sanctions should be introduced. I think that if there were a Crimean scenario, sanctions would be inevitable. As for the current situation in eastern Ukraine, opinions differ. It is important that sanctions are effective even at the stage of discussion, before they come into force. It is now a moment of psychological struggle.
"The peace-loving German society wants no sanctions. Besides, the media are shouting: 'Oh sanctions! It is a blow to our economy.' But we look up statistics, we will see that the German-Russian trade was last year between the German-Belgian and German-Czech ones. The firms that top the list of the largest exporters to Russia are Adidas (7 percent of its exports) and Volkswagen (3.5 percent). Of course, there is also the gas and oil factor. In this case German economists keep saying that Germany imports a little more than 30 percent of the required gas from Russia, while Poland and the Baltic states receive 60 and 100 percent, respectively. But the bitter truth is that while the Poles and Lithuanians have long been doing their best to step aside from Russia, Germany has been blindly increasing its share of Russian gas. For example, we did not build LNG terminals. This gave a new very interesting impetus to energy debates. Angela Merkel said the EU should revise its energy policy. It is a strong word. I wonder how this will be put into practice.
"Surprisingly, when the intervention into Crimea was in full swing, German and Russian businessmen signed two contracts worth many billions of dollars. The Russian media were saying that Schroeder wanted to be a member of Rosneft's board of trustees. At the same time, Rosneft announced on the first day of the Crimea invasion that it wanted to buy an oil refinery in Odesa. Should Schroeder enter this company, he will be a 'Kriegsgewinner,' a man who has cashed in on a war. In this case he will be the first Social Democrat to have done so. This is very bad."
COMMENTARY
"I CANNOT UNDERSTAND HOW ONE CAN JUSTIFY A MILITARY AGGRESSION AGAINST ANOTHER STATE"
Rudolf HERMANN, journalist, newspaper Neue Zuercher Zeitung, Switzerland:
"I personally do not understand Putin-Verstehers (I cannot speak for other journalists). With the best will in the world, I see no reason why I should justify an unprovoked military aggression against another state. Nor do I understand how people can see any connection between the Crimean referendum and a regular democratic decision-making process. But I know a certain number of people who defend this position – even in online commentaries in your newspaper. There are a very limited number of people who speak out far and wide. I can conclude that this occurs not only in my newspaper, but also in other FAZ-level Swiss and German publications. As for reader's opinion, it is of course impossible to check how much informed one is about the author and on what grounds he or she builds their point of view. Yet I am very surprised with the strong effect the Russian propaganda is making.
"As a citizen of the country that once invaded the former Soviet Union (often quasi-identified with Russia), Helmut Schmidt wants to understand the Russian 'fear of being surrounded.' I can understand this argument even if I consider it wrong. I think that the Russian 'fear of being surrounded' is somewhat absurd for a country that occupies a seventh of Earth, thinks that it is a great power, and systematically pursues an aggressive police.
"Some claim that the West promised not to extend NATO to the east but then it broke this promise by admitting the countries of Eastern Europe and the Baltic region. This is a debatable point. I personally think that the countries of Eastern and Central Europe should have the right to decide on their own which of the security alliances fits them the most. You have had a negative experience, when Moscow has been laying claim to hegemony for decades on end. In my view, in the past 20 years Russia has failed to develop a societal model that would be an attractive alternative for democratic countries. I think it is absurd for Russia to feel danger in Ukraine's membership in or association with the EU.
"In my opinion, German economic interests are playing a decisive role in the background mode, and the Germans think that sanctions are not the best option, as far as the economic and employment policies are concerned. Yet I can see some motion on the political level – politicians are beginning to seriously consider the possibility of third-stage sanctions."
---
VIEWPOINTS
WHY GERHARD SCHROEDER FEELS NO GUILT ABOUT GERMANY'S ACTIONS AGAINST UKRAINIANS?
Lilia SHEVTSOVA, leading research associate of the Moscow Carnegie Center:
"If we are talking about former German chancellor Gerhard Schroeder and the German business operating in Russia and trying to put pressure on the government to ensure continued warm relations with the Kremlin in spite of everything (!), I think that the dominant motive here is His Majesty Economic Interest!
"Perhaps when Schroeder was still a statesman and not a well-paid Gazprom official, his attitude to the Kremlin and Russia was determined by social-democratic traditions, primarily the legacy of Realpolitik, idealization of Russia and habit of identifying Russia with the Kremlin, as well as guilty feelings about the Nazi occupation of Russia, so characteristic for many Germans. However, it seems to me that active work in Gazprom has rid Schroeder of this unnecessary sentimentality.
"It remains, however, a very sensitive issue, which concerns not only Schroeder, but a considerable number of representatives of the German establishment, who feel guilt about Germany's actions against Russia, which, as German observers themselves think, forces them to abandon the critical attitude to Vladimir Putin and his policies. This guilt is often cited as the reason behind the German government's reluctance to criticize the Kremlin for its aggression against Ukraine. This explanation does not suit me. It does not convince me.
"After all, Ukraine and its population suffered terribly and sacrificed a lot during World War II. So, why do Schroeder and other representatives of the German establishment feel no guilt about Germany's actions against Ukrainians? I have a suspicion that it probably comes from the fact that feeling guilty about Germany's actions against Russia pays good economic dividends. This historical guilt may well serve as a good rationale for mutually beneficial German-Russian partnership that successfully promotes the interests of the two countries' political elites."
WE NEED A CULTURAL OFFENSIVE IN GERMANY
Pawel ZALEWSKI, MEP, member of the EP delegation to the Parliamentary Committee EU – Ukraine:
"This is a very good question and it is hard for me to answer because I am a Pole, not a German. However, I think that Germany should feel guilty about their actions against Poland and Ukraine, too. I think that if not today, then in the future, Mr. Schroeder should feel guilty about his actions toward Ukrainians.
"There is a large group of media figures, journalists, and politicians in Germany who believe that Germany was conducting a wrong policy toward Russia. In my opinion, this is a very important element, which should be paid attention to. German society is still engaged in a discussion on feeling guilty about their actions against Russia in World War II. However, Germany's relations with Russia are dominated, firstly, by its own economic interests, and secondly, by national-only security affairs. There is a large business group, which is associated with the Social Democratic Party (SDP) and is ready to pay any costs to maintain good relations with Russia. They also have a group of politicians and journalists close to the SDP, who all agree with Putin's actions. This is very dangerous for Germany and Europe.
"I think that the Ukrainians have to talk more to the Germans about their history and culture. In my opinion, arguments from history are of secondary importance only. I believe the most important argument, which is also linked to economic interests, is security requirements. We know that there is much debate on this topic in Germany. There are those who want to strengthen the economic contacts with Putin, despite the current situation around Ukraine, but there are also those who understand that Putin is very dangerous for Europe and Germany.
"The Germans should know that the Ukrainians are different from the Russians. Moreover, this people is more ancient. It has longer history and its culture is much richer than the Russian one. The Germans do not know it, because Ukraine was long erased from the map. Obviously, we probably need a cultural and historic offensive in Germany. It is necessary to communicate information about the history of Ukraine to the German public."
The Day's FACT FILE
Soviet estimates postulate that more than 7 million Ukrainians perished in World War II. In addition, nearly 2.4 million people were deported from Ukraine to labor camps in Germany. Thus, Ukraine suffered 40 to 44 percent of the total Soviet losses. According to historians and demographers, the war killed off a fifth of Ukraine's population.
By Mykola SIRUK, The Day