The prominent Austrian actress Maria Hofstaetter on the hypocrisy of intellectuals, the sources of fanaticism, and the contrasts of Ukrainian life
17 August, 2017 - 10:58
Maria Hofstaetter (b. 1964, Linz, Austria) attained fame in 2001, when she played an urban madwoman – irksome, ingenuous, and credulous like a child – in Dog Days, a full-length feature film debut of the Austrian documentarian Ulrich Seidl. The film became a sensation at the Venice Festival and won the Grand Prix of the main contest. Hofstaetter's next top achievement is also linked with Seidl – a fanatical Catholic missionary in the tragicomedy Paradise: Faith (2012).
Earlier this year, Maria appeared in a film directed by a Ukrainian – she played a woman affected with Alzheimer's disease in Juri Rechinsky's drama Ugly (a.k.a. Between January and March).
As a matter of fact, the incredible – sometimes to a shocking extent – naturalness of Hofstaetter's reincarnation into her heroines makes even her smallest role unforgettable.
Hofstaetter came to Ukraine in July to present Ugly at the Odesa Film Festival. We met to talk at a summer cafe near the Festival Palace (Odesa Theater of Musical Comedy).
WITHOUT PLAYING
How did you become an actress?
"Everything in my life was a kind of accident. I did not want to become an actress. I wanted to be a historian, but then I met people, and they asked me if I will play with them together something like political cabaret. Then again, a friend of mine made his first movie, and he asked friends if they will join in. And the same also with Ulrich – I know him for 30 years, and we had no idea that we will work together, because he made documentaries."
Why did he choose you?
"It was for the first time that he needed an actress. He was used to work with real people from his documentaries and so on, and he never worked with actors. And he did not like acting and actors. But I always was a little bit different. And then he asked me because for this handicapped person, whom I was playing, he didn't find a real handicapped person. He asked me to try it. And then Ulrich said we did in a good way work together, and we did now, I think, four movies together. We know each other very well, and about a lot of scenes it is not necessary to talk about. I do a lot of stuff with other directors, but I'm not only Ulrich's actress, we match in a way together."
You are always very organic. Do you follow a certain system of playing?
"I never had some occupation of acting, completely nothing, not one hour with someone. When I prepare it all, I am not thinking about acting, I'm thinking about the character and how I can put in my stomach in a way. For a long time, when someone asked me 'What is your profession?', I did not say 'I'm an actress,' because I didn't want to have this special image – 'Oh, she's an actress!' I'm not thinking about career or something. I need to see a good story, to work with people whom I like. And I do not like competition: we all should work together for the story. And when this happens, then I feel well, and then maybe I can be good."
How did you prepare to play the role in Seidl's Dog Days? I know it is an interesting story.
"Ulrich told me a little bit about his idea, about this character, that she should be a little bit crazy and always in a way working around in the city. Then I began for myself to make research, I was a lot together with handicapped people, to get the feeling, to behave, to take something if I can for me, for my character. And I show Ulrich what I found, and then the next step is, I try it on the streets with him, he accompanies me, and I go in person and try to talk like this character. It was one-year lasting process and then we were beginning the shooting. It was very challenging for me, for fourteen hours without a break to be this character. And the people in the movie, whom I met as my character, they didn't know that I am an actress."
And how did they respond?
"It was really 80 percent in a way aggressive, like 'I don't want it, come on, f... off.' The intellectuals were not aggressive in a physical way, but very closed, and they hated it when I came very close or touched them. And the very poor ones were like, 'OK, let's make this or that, get ice-cream,' they were much more friendly. I was really surprised. They were not so afraid of a person like me. And I got one really aggressive slap from a very well-dressed woman: she had a very expensive bag, and I only said 'This bag is beautiful,' but I touched it. It was like that – the rich ones and the intellectuals are not that friendly. And it's so interesting then, when the movie was in the cinema, more or less only intellectual people came to see it. And then, I was the darling for them in a way, they loved this performance, but I always said, 'No, not in reality!'"
FAITH
Another notable work with Seidl is a fanatical missionary Anna-Maria in the drama Paradise: Faith. Did you work in the same provocative style?
"Yes, and for a much longer time than for the other film, because in Dog Days I was a free character – I am stupid, I can do everything. But in Paradise: Faith, I had really a tough job with these missionary people, who always have immediately an answer to every question from people. In the research for this movie, I spent a lot of time with these real fanatics, and I did not like them. I was very happy when it was over."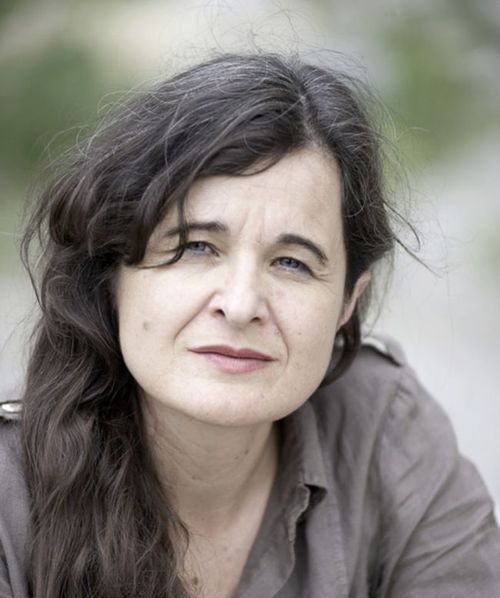 Photo courtesy of Festival organizers
Did you find yourself again in a dangerous situation? For example, there is an instance of almost a fight with a Russian girl in the film.
"She was an actress. They said 'She should be drunk.' And she trusted Ulrich and said, 'OK, I will drink a lot, we'll see.' And she was completely drunk. People know someone will come, but they did not know who and why. Yeah, it was in the end a little bit out of control, thank God I was not alone there. Afterwards, because she can't remember this hour of shooting, she was 'Please excuse, sorry.' When I was doing research, it was going alone, knocking on the doors, no, it was not really dangerous. It is a big problem if you could not put a step into the door, because 99 percent will open the door and say 'No.' And when you can go inside, then they are in a way open-minded to religious discussions. I tried to convince them, and they wanted to bring me away from my Catholic stuff."
So a major part of this was ad lib?
"In a way, in the beginning there was a script, but not written dialogs, because you never know what we will get. But the story in a way, the characters, there is a story. I was always nervous, every door was a challenge, but in my head I know, if this scene will not be good, it is not too bad, because then we make it 20 other doors waiting for me. And in the end, he needs three scenes in the movie, and we have to do it so long that he is satisfied with three or four scenes."
Why do you think, from the experience of filming Faith, people become religious fanatics?
"I asked a lot when I was together with Seidl. And most of them said, it was not a way of growing up, that the parents were so religious and they had to be religious too. No, it was a time in their life when they were extremely unhappy, extremely unsatisfied, had a lot of problems, and felt very alone. And then, they find this way to God, because in the end, you can only ask Jesus, 'God, help me,' when no one around is helping you. And this was the turning point for them, they feel loved by God, have a community which says, 'Come on, you are OK, we are here for you, everything will be OK when you pray, and pray, and pray.'"
Always the same. Fear and despair as the groundwork of faith.
"Yeah, that's it. It is so simple: before they had no answer for their problems, and now they know everything about everything. And it is really hard to see how easily people can be manipulated if their situation is not very good. And it is the same with politics, completely the same."
And how do you cope with your bad periods?
"For me it's very necessary to have good friends, social network in a way, and nature also. I think it's part of one's life, and also in my life there are months or years that are complicated. You want to be happy, but it's not reality, and in the end, these years or months, when they are over, and you look back, you see they were very necessary for your own development. And it makes you more tolerant to other people when you were going through something. Because when you learn everything can happen also to yourself, be careful to charge someone else. And I am always very afraid of every person who says, 'I know the truth!' If it's only for yourself, OK, good, but then it starts that everyone should have the same truth, then it's very dangerous."
UKRAINE
Coming back to cinema, I cannot, of course, help asking about your work with Juri Rechinsky.
"I liked it very much, really. He is not like Ulrich, but he really is looking for something. He is not very easy to satisfy. And he wants to tell something. For me, there are directors who say, 'I'm an artist, I want to make this film,' and there are directors who have to make a film. Not because they are artists, because it's something inside; these guys are always going special ways and a lot of people around say, like with Ulrich, 'No, you can't do like this, it's not possible, it is too risky,' but they reply, 'No, I'm going my way.' Juri is similar. He is really a fighter. And he has a very good way of working together, very respectful, very polite."
Did you prepare for this film as intensively as always?
"Yeah, I'm used to it. When shooting was beginning, it was in the same time, when in Ukraine political problems began, and everything was mixed up, and there were problems with financing the movie. But in a way, all these outside problems were good for the inside community, because we were: 'No, we will do it against all these problems from outside.'"
How did work in Ukraine proceed?
"I was a few days in Kyiv, but only for talking with Juri. And then I was for a short time also in Kryvyi Rih, there was a scene that I was visiting my daughter in the hospital there. And living for a time in Kryvyi Rih was an experience."
So what are your impressions?
"Every time it was a completely different impression. Everything is in Ukraine. Kyiv, and Kryvyi Rih, and Odesa – you can think they are different countries! In a way, I was touched in Kryvyi Rih. I didn't hate it, it was depressing, and the poor people, their faces, their struggling, it was very cold, and they have nothing, and maybe are very afraid for the future, a lot of people on the streets were drunk. But I felt in a way touched by them, not only negative. It was a strong feeling. I want so much the situation will soon be a little bit better. And now, in Odesa, it's summer, it's pleasure, I didn't expect it to be so beautiful – the architecture, these boulevards, and trees, and the sea. Everybody seems to be in good mood, it seems in Ukraine life is easy-going. And I think both are not really the truth – not only depressing scene in Kryvyi Rih, and not only happiness in Odesa. Both are very strong impressions. I am happy that I have seen both."
BEHIND THE SCENES
And the last, very journalistic, question: what can you say about your off-screen life?
"I don't want to live only in this art, only be together with actors and artists. A lot of my friends have completely different professions. I was grown up in a very small farmer house, and I like to visit the village and my family there, and have nothing to do with this film world and theater world. And that's good to go outside sometimes: because you were 'Oh, everything is so necessary, so important to do!' and then you see, for example, that it is very important to be a teacher, or to care for old people. Everything is important and necessary."