"Holidays and Weekdays" at the Museum of Kyiv History
19 October, 2017 - 10:45
A solo exhibit of artist Olena Pryduvalova is being held as part of the Kyiv Art School project. Do you want to feel a true soul of the capital city? Then rush to see "Holidays and Weekdays"!
 Every artist can paint a city. But can he or she do this in such a way that their pictures, among thousands of others, remain etched on your memory and thus make you perceive the city in a new way, as if these paintings were the magic spectacles that turn weekdays into holidays and gray color into a joyous movement?
 Olena Pryduvalova, a well-known Kyiv artist who has been painting our beloved city all her lifetime, is the inventor of these "magic spectacles." You will personally make sure of this if you visit her rare solo exhibits (one of them is being held these days at the Museum of Kyiv History). Her "portraits" of the capital and its outskirts radically differ from the customary "Kyiv landscapes" by our classics, such as Serhii Shyshko and Mykola Hlushchenko, and from the standard ideas of the "right" perception of Kyiv as a "golden city," which have been imposed on us since our childhood. In the interpretation of Pryduvalova, a native Kyivite, the city of Kyiv is jazz incarnate, for it swings and celebrates life like bebop. It is always on the move, like a bluesman, for chimerical blues tones and notes are so typical of jazz!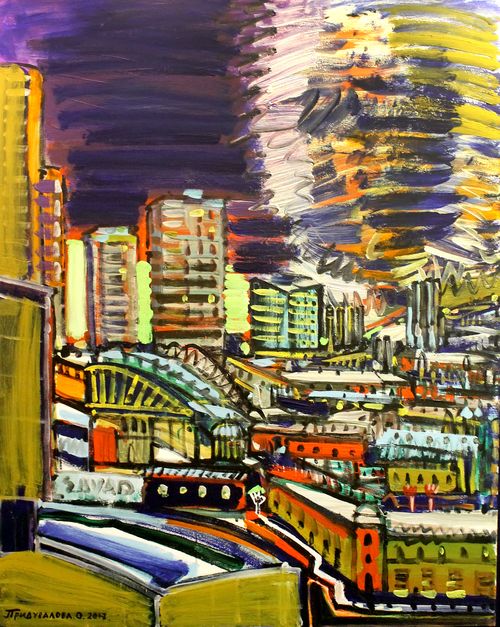 Olena herself also loves this wonderful, the world's freest, jazz music. Incidentally, she works to it. What reminds us of jazz in "her" Kyiv is not only a cheerful mood and expressive dynamics of her works. Everything on these pictures – from passers-by on Kyiv's streets to public transport and suburban trains – is in perpetual motion. "Holidays and Weekdays," whose themes are feigningly repeated (former Jewish Marketplace, human "Kyivan types," commuter trains, and store signs are a bit of an "animated cartoon" nature), is in fact an extended and picturesque jazz improvisation. Suffice it to take a closer look at ("listen to") the pictures, and each of them will revive. And, although it expresses the overall theme and reflects the "spirit of Kyiv," it differs not only from the canvases next to it, but also from… itself. For each new look reveals so many new, hitherto unnoticed, details.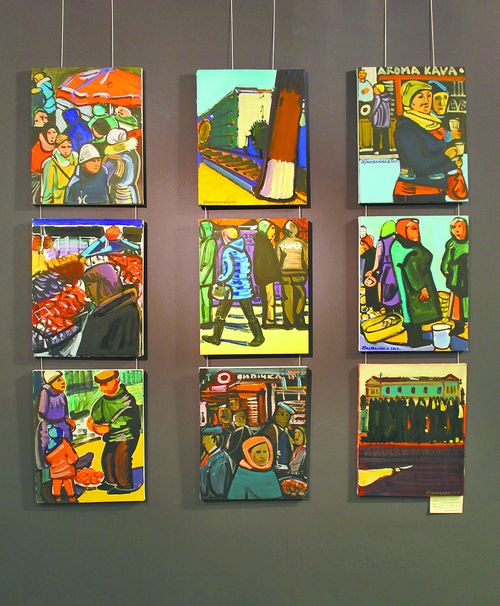 But is Kyiv itself not like this? Bustling, not showy, not arrogantly wealthy… (Unlike all of her colleagues, Pryduvalova does not paint at all the "tourist center" or Podil churches. Her personal "center of gravity" is the industrial and residential Jewish Marketplace area, i.e., what are now Peremohy Sq. and the central railway station.) At the same time, ours is an eternally festive city. You only have to take a close look, and it will play like a Dixieland band. And the old Kyiv is really a riot of colors on Olena Pryduvalova's marvelous pictures.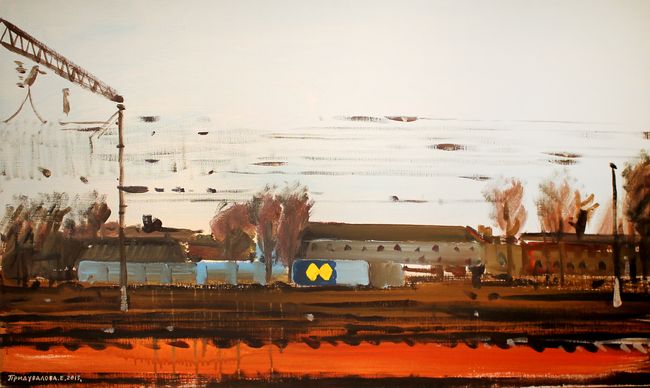 The Day's FACT FILE
Olena PRYDUVALOVA is a Ukrainian painter and graphic artist. Lives and works in Kyiv. Graduated from the National Academy of Fine Arts and Architecture (Faculty of Painting, Theatrical and Decorative Art Division, studio of Danylo Lider). Major course teacher – S. Poderviansky.
Member of the National Union of Ukrainian Artists (since 1999). Winner of the Outstanding Female Artists of Ukraine prize (1998). Has been actively exhibiting since 1990. Works in the field of painting, graphics, decorative and applied art.
The artist's works are kept at the National Museum "Kyiv Picture Gallery," the Zaporizhia Oblast Art Museum, the National Museum of Women in the Arts (Washington), the George Soros Center of Contemporary Art at the National University of Kyiv Mohyla Academy, in the collection of Chicago University, as well as in many private collections of Ukraine, the US, Canada, Poland, Hungary, Greece, Scotland, the UK, Germany, Sweden, Russia, Croatia, and Japan.