The legendary Viktoria Lukianets starred in the "Soiree in Honor of Patrons of the National Preserve 'St. Sophia of Kyiv'"
23 January, 2018 - 11:06
The famous singer called her program "The Voice That Is Always with You." Viktoria Lukianets performed ten world classic numbers a cappella, and it seemed that her powerful and penetrating voice was flowing not out of the chest of this fragile lady but from the skies and Mother of God Orante (a mosaic masterpiece of the Holy Virgin's figure in the central apse of St. Sophia's Cathedral) was blessing all those present at this unique concert. The soiree opened with the divine music of Mozart, followed by arias from such popular operas as La Forza del Destino, La Traviata, and Otello by Giuseppe Verdi, the enchanting cavatina "Casta Diva" from Vincenzo Bellini's Norma, the spectacular "Bachiana No. 5" by Heitor Villa-Lobos from Bachianas Brasileiras, and others. And when Lukianets sang "Our Father" by F. Dubensky, the audience listened to her standing. The Day interviewed the prima donna after the concert on January 15.
THE CATHEDRAL AS… A CONCERT HALL
Ms. Lukianets, this is not the first time you perform at St. Sophia's Cathedral of Kyiv – it is the third soiree. You sang without musical accompaniment, and this concert can be called a master class for a vocalist. Singing a cappella is a tour de force!
"All the soirees were charitable. The first was held together with Blagovest Choir, and we also gave a Christmas performance. Thanks to last year's concert at St. Sophia's Cathedral, museum people began to restore the 19th-centuty icon cases kept at the cathedral. Later, in the summer, I sang to raise funds for acquiring the rights to publish a copy of Reims Gospel. This book is considered a national relic of France. All French monarchs swore on it during the coronation for about a thousand years. It is Princess Anna Yaroslavna who brought the Gospel to France from Kyiv. And now it was a soiree in honor of patrons of the National Preserve 'St. Sophia of Kyiv.' Incidentally, every time I prepare a new program, for I don't like repeating myself. Last time the Glas TV channel recorded the concert in the cathedral and often broadcasts my a cappella program which includes, among other things, vocalizations of Ave Maria by different authors – from classic Sergey Rachmaninoff to our contemporary Iryna Kyrylina (an excellent composer who died recently). Now I've prepared other pieces which I think can be performed in such a sacral place as St. Sophia's Cathedral in Kyiv: 'Casta Diva' from Bellini's Norma, the aria 'Addio del passato' from Verdi's La Traviata [incidentally, the singer's crowning part – the famous Italian film director Franco Zeffirelli called Lukianets one of 'the three great Traviatas' together with the legendary Maria Callas and Teresa Stratas. – Author]. I think all the pieces were worthy of the program 'The Voice that Is Always with You.'"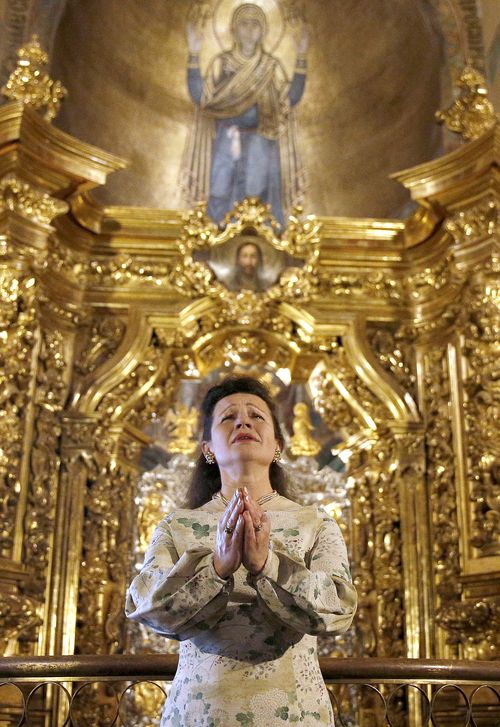 Are you going to present the same program on January 20 in the Cathedral?
"Yes, and it is planned to record this charitable concert as a TV version because the Cathedral's hall is small (about 100 seats), and I'd like as many people as possible to hear 'The Voice that Is Always with You."
"IVAN PALYVODA WAS AND STILL IS A MODEL FOR ME AS A PERSON AND A TEACHER"
This year, in addition to two charitable concerts in the Cathedral, you will also take part in the soiree to mark the 150th anniversary of the foundation of the Kyiv Reinhold Gliere Music School.
"It is my alma mater! In the School, I was professionally taught vocalism by a wonderful teacher, Ivan Palyvoda. I am very grateful to this institution for inviting me to sing at this concert. You know, I had the privilege of singing at the concerts on the occasion of the 120th, 125th, 130th, and 140th anniversaries of this musical institution. Now I will come out on the National Philharmonic stage in excitement on January 18 and perform a scene and the cavatina of Norma from Bellini's opera of the same name, as well as the Ukrainian folk song 'My Gray Pussycat' in the version of Levko Kolodub. I am proud of having graduated from the Kyiv Reinhold Gliere Music School."
You are a pupil of the famous teacher Ivan Palyvoda. Can you recall the way he conducted classes?
"Those were unforgettable moments. Mr. Palyvoda was a born teacher! Whenever I sing, I picture his portrait before my eyes. All his lessons are a greatest value which I reconsider when I psych myself up at rehearsals. Palyvoda conducted unique classes. He never raised his voice or humiliated any of his pupils. He was the model of a true Teacher for me. Now that I, a vocal instructor [doctor, professor at the Vienna Conservatoire. – Author], have my own 15 graduates and 25 pupils in class, Palyvoda was and still is a model for me both as a person and a teacher."
Your way to vocalism began with the Ukrainian Radio's Big Children's Choir. Was it yours or your parents' idea?
"Mine. I heard a radio announcement and asked parents to take me for an audition. I was 12. I sang in the choir for two years until I entered the Gliere Music School. At 14 and a half, I began to attend Palyvoda's classes. The radio still keeps the record of 'A Little Song of Joy' by V. Shapovalenko, which I sang as part of the choir at a concert for the government. My teacher listened to that song and said very delicately: 'Vita, you should decide – either the choir or the school. For it is a totally different manner of singing. I teach you to be a really professional vocalist, and in the choir you sing childishly, beautifully, but in an open sound." So I went to the then choir mistress Tetiana Kopylova, apologized, and quit the team."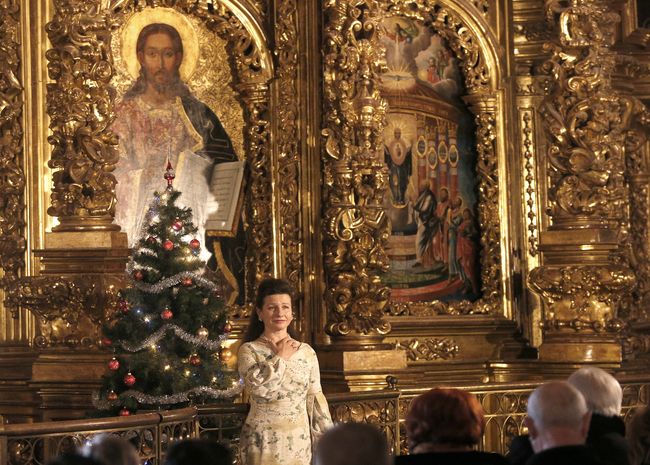 In the music school you majored in playing the piano. Have ever wished you had become a pianist?
"No, although my teacher Lydia Palyvoda (Ivan's wife) said that whatever profession I chose – pianist, singer, music theoretician, or teacher – music would always be part of my life. I remember writing dictations in the music school, for I have absolute pitch. Incidentally, I sang all the numbers at the Cathedral in the original tonality. I can still hear the music and all the modulations I was reconsidering during the concert."
"WHAT UNITES ALL OF US IS LOVE FOR MUSIC AND SINGING"
Now you are not only a touring star, but also a teacher. Who are your pupils?
"I've been teaching vocalism since 2010 at the Vienna Conservatoire. Every student has a temperament of their own, and you must find a 'key' to everybody. Now I teach 25 future singers from various countries. I am proud that 15 graduates are already scaling the vocal Olympus, performing on the most prestigious stages. For example, Natalia Ulasevych is now a soloist at the National Operetta of Ukraine, Svitlana Rode (a German of Kazakh origin) hold a lot of concerts in Vienna. She is in demand in Austria. I am proud of the victories of my graduates from Japan, Korea, and Serbia at prestigious international competitions – they were offered contracts to sing at the world's well-known opera houses. The class now includes representatives of 13 nationalities, and what unites all of us is love for music and singing."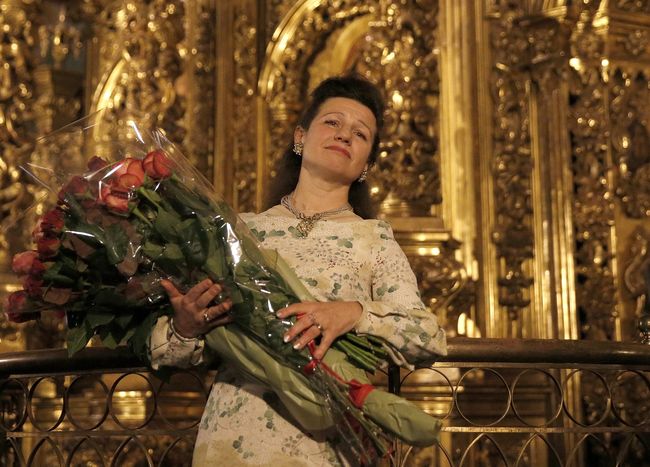 Is your daughter continuing the musical dynasty?
"Yes, but she is a jazz, not opera, buff. Daryna successfully performs as a soloist at a jazz band. She and her team recently presented a new program of 15 compositions. Whenever I hear Daryna singing, she reminds me of the charismatic and legendary Ella Fitzgerald and Louis Armstrong. It's so beautiful! The Americans chose her to hold a master class to audition 6,000 jazz vocalists. I pray to God that she will succeed, reach artistic heights, and feel the taste of music."
The Day's REFERENCE
Viktoria LUKIANETS is a Ukrainian opera singer (soprano). She was born in Kyiv, studied at the Kyiv Music School (class of Ivan Palyvoda), and, later, at the Kyiv Conservatoire (class of Yelyzaveta Chavdar). Was a soloist at the National Opera. A winner of many international awards, including the Grand Prix of the Maria Callas Contest. Has been living in Vienna since 1993. Performs on the stages of many theaters in Europe, the US, and Japan, including at Metropolitan Opera and La Scala. Her partners were the legendary tenors Jose Carreras, Placido Domingo, and Luciano Pavarotti. Her bel canto is compared to the voices of the last century's outstanding vocalists Amelita Gall-Curci and Adelina Patti. The singer's repertoire includes over 50 leading parts which she sings in seven languages. A doctor and professor at the Vienna Conservatoire, class of vocalism, since 2010.