The Museum of Theater, Music, and Cinema Art of Ukraine held the first solo exhibition of the legendary Danylo Lider!
24 February, 2014 - 17:38
Exhibition of the famous theater artist and philosopher is called "Return." Serhii Masloboishchykov's film LIDER was screened at its opening.
A large portrait at the entrance to the hall and photographs in the windows show appearance, look, and smile of Danylo Lider. The entire film's leitmotif is fast-running train and Lider's inimitable voice: "Worlds always arise in absolute darkness. Imagination works very hard in darkness, and so are worlds... Code of the universe says that world is infinitely small as well as infinitely great." The film LIDER is now perceived as a gift, as a chance to see the master at the time of reflection, to hear how a brave new idea is expressed in simple, accurate, and vivid words. Its final is incredible, created by Lider and possible in one of the parallel worlds: Anna Karenina stops train carrying Alexander Vronsky. We are grateful to Masloboishchykov who began filming his teacher without assuming that it will become a film.
"I just could not help but react to his presence and talks with him, to his presence in our lives," the director told us. "After receiving an order from the Kontakt Studios, I filmed additional scenes. Each stage of Lider's life was interesting and always opened some unexpected facets. Through all his life and work, he always followed a very precise line, expressed by his matrix in life and a train moving through tunnel in this film…"
The exhibition's creators, senior research fellow of the museum Olena Kononova and set designer, Lider's last student Andrii Romanchenko placed in the center of the hall an artistic recreation of the sketch for King Lear, featuring the code of the universe on a white luminous square (by the way, the square also served as a screen for the film's demonstration). The sketch is flanked by two large showcase windows, with the first of them displaying materials associated with the master's Leningrad period and exile (because he was an ethnic German, the Academy of Arts student Lider was deported with his family to the Urals in 1941, where he worked as a getter at a mine). It features portrait sketches of his fellow exiles and programs from his first performances, newspapers of those years, a sketchbook, as well as documents on yellowed paper reading "Permit for temporary leave from special settlement Yemanzhelinka for deportee Danylo Lider," "Permit to temporarily leave for the city of Chelyabinsk for mobilized German worker Danylo Lider for the purpose of acquiring... decorative paints," labor camp bread coupons, and "Temporary certificate confirming that Danylo Leader has been awarded the Stalin Prize."
The second window is devoted to the artist's life in Kyiv, where he arrived in 1962 and became the chief artist of the Operetta Theater, moving to the same job at the Franko Theater in 1965. It features his personal belongings, such as hat, bag, and stick, as well as a copy of Ivan Kavaleridze's Chaliapin as Holofernes, presented to Lider by Kavaleridze himself, a figurine of Don Quixote, and a miniature reproduction of Rembrandt's The Return of the Prodigal Son. A wooden roof is a part of the window's frame, very relevant here since Lider had no home of his own for most of his life, but never complained of it.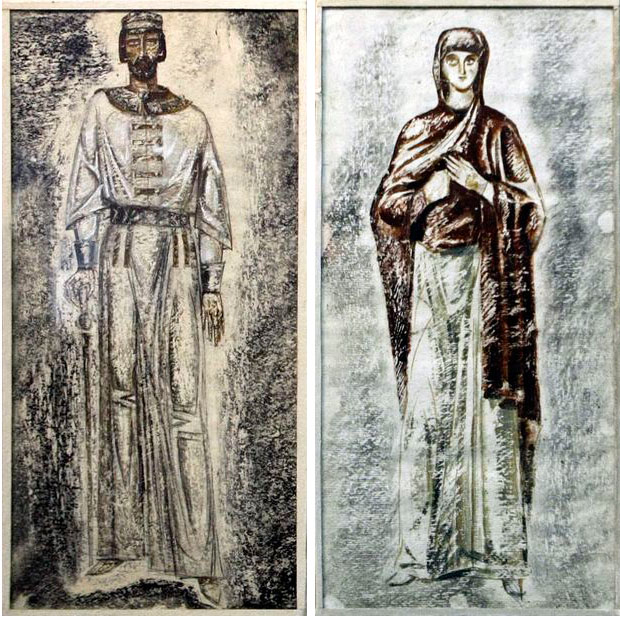 COSTUME SKETCHES FOR THE PLAY YAROSLAV THE WISE (THE FRANKO THEATER, 1970)
Many works are exhibited here for the first time. For instance, displayed here are three sketches for The Princess Volkonskaya ballet, sketches and layout for Macbeth / Rise of Arturo Ui (a joint performance of two plays at once, staged at the Petrovsky Theater in Khmelnytsky), all sketches for play Yaroslav the Wise, two rare posters reflecting Lider's cooperation with Leningrad theaters of Nikolai Akimov and Arkady Raikin, and a large number of photos showing Kyiv performances. The exhibition includes also a lot of drawings for performances of It Seems to Be Just a Word (Andrii Malyshko's play based on Taras Shevchenko's lyrics) and Forest Song, stage space solutions in Tevie Tevel, and classic sketches for productions of King Lear and The Cherry Orchard. All exhibits from the museum's collection and the Lider family archive.
Suddenly, one sees green apples among exhibits, a lot of them, and they are real! They sit next to the drawings of Forest Song characters, where Ukrainian nature is the protagonist. Lider admired it. He grew up in the village, and never forgot his childhood's porch piled with apples, and magic apple smell... Besides, the artist liked to tell how he had to survive his first semester at the academy in St. Petersburg, without a scholarship. He had to sell a coat, his fellow Rostov college graduates sent him 50 rubles, and it gave him enough money to buy food for six months, consisting only of bread and Antonov apples. Nothing more! Therefore, apples which Lider loved are scattered in the showcase window next to his student-years photo.
"Lider was a great friend of our museum," Kononova shared her memories with us. "He used to come to this room, and talked, told parables, and we stood around as disciples. He could not only talk, but also knew how to listen, and influenced his interlocutors while listening to them. I remember his reflections on the stage as a living being: the stage has a soul, it can talk, the stage is to the artist as the tool is to the musician. He saw the stage as space of life where humans exist, and he was building a scenic environment as a model of world perception, creating space, not scenery set. His solutions of the empty space are living in on theaters worldwide..."
Lider's widow Kira Pitoieva told us about his character and creative work: "It is hard to believe, but this is the first solo exhibition of Lider, as before he exhibited only together with colleagues and students, such was his will. The exhibition opened on the evening of November 29, and we woke up in another country on the morning of November 30. Further events unfolded so that the situation in Independence Square and Hrushevsky Street prevented people from visiting museums, and this exhibition, in fact, reflects his fate. But we still held it, and people will discuss and interpret it later. It is very much in Lider's spirit!
"Works on display, especially those of the later period, confirm Lider as a European artist. He was highly appreciated abroad, received the Gold Medal at the Prague Quadrennial jointly with other artists, chaired many international scenography committees, and his opinion was always taken into account.
"Two windows called 'Lider's World' use associative principle, which the artist used himself. They feature live rotating picture In Memory of the Holodomor-1933. White horse theme runs throughout his work, ending with a picture dedicated to Chekhov's story Melancholy. Small photo of a very elegant young man from a very hungry time – it sounds strange, but Lider looked so when studying at the Academy. A portrait of Joseph Stalin by Lider hangs in the background, although the artist always said that he liked to draw Lavrenty Beria more. To my question: 'Why?' he replied: 'Artists would understand this as Beria wore pince-nez, and there is a play of light.' To put it short, he lost the authorities' favor, and found himself in exile despite being Stalin's Fellow of the Academy of Arts. In exile, he miraculously got a job at a drama theater, became an artist and received the Stalin Prize in 1952. When the prize was presented to Lider in Chelyabinsk Opera House, all the German exiles abandoned mines and filled the opera! People took it as a sign of hope.
Strong, tough people are direly needed now and can live their lives with dignity to the end. Lider had lived a great life. He knew how to talk and how to listen, and most importantly, how to achieve his aims. He did it very correctly, delicately, and insistently, choosing his words well. We need to learn from him an example of life lived well, and everything in it was true. The truth is what we need most now. When assembled people chanted: 'We want a leader!' he was there at the exhibition "Return." I know that Lider has been with us..."