Kharkivite Oksana SOLOP presents a new art project at Kyiv's Karas Gallery
6 December, 2017 - 18:02
The exhibit "Sublimation of Feelings" combines the two cycles the artist did in various techniques, such as colored relief, linocut, photography, and even baking. The carrier of the image – common plywood – is also rather untraditional. But what arouse interest are not so much the techniques as the themes – the images show the closely intertwining figurative motifs from ancient Greek amphorae, courtyard esthetics, and references to the Soviet past.
Exhibit organizers emphasize that while every personality is a unique set of the sensory and intellectual experience etched on the layers of our memory, the term "sublimation" in the name also assumes a new meaning – the image creation process. Plywood, which is in fact the bonded layers of very thin wooden boards, becomes the bearer of the authoress' transferred unique, fresh, and diverse sensory experience.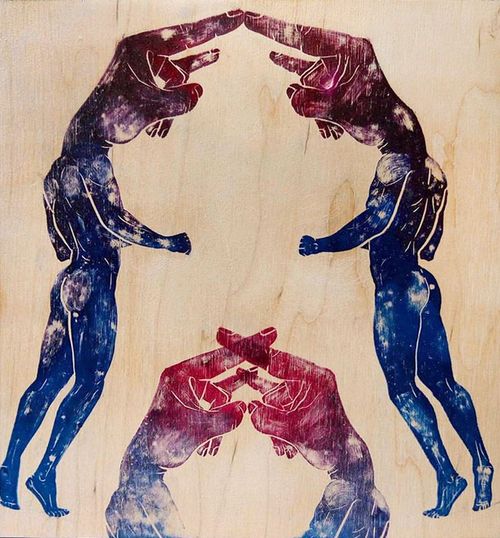 Illustration courtesy of Karas Gallery
Incidentally, the Luhansk-born Oksana Solop lives and works in Kharkiv. She entered the Culture and Arts College in 2000 and graduated from the Kharkiv National Academy of Design and Arts in 2011. One of her first exhibits, which caused a stir among art critics, was "From Christmas to Christmas." Then, almost annually, the mistress presented her new works and experiments at solo exhibitions and all kinds of plein-air shows. Solop is the winner of a contest in the Street Art nomination and an artist with an original style, and her installations, painting and graphic works supply food for thoughts and fantasies.
The exhibit will remain open until December 20.