Grand Festival AVE VERDI featuring opera stars from five countries to be held in Kyiv, Dnipropetrovsk, Donetsk, Lviv, Odesa, and Kharkiv from October 10 through 26
15 October, 2013 - 11:06
October of this year will leave music fans with the memories of the Italian masters' performances. On October 7 the famous ensemble LA VENEXIANA under the direction of maestro Claudio Cavina and with the soloist Roberta Mameli presented the "Monteverdi Meets Jazz" Program. And from October 10 through 26 a large-scale International Festival AVE VERDI dedicated to the 200th birth anniversary of famous Italian composer featuring the opera stars from five countries will be held in six Ukrainian cities. The Day reporter has already been to the concert and took a blitz interview with the great soprano singer Roberta Mameli, saw the installation of the exhibition in the lobby of the National Opera, which will feature unique designs and costumes from the Rome Opera Theater, and also invited our readers to listen to the majestic music by Giuseppe Verdi in a gala concert featuring Ukrainian and Italian musicians.
Concert of LA VENEXIANA Ensemble, held at the National Philharmonic Society of Ukraine, can be called a bold and very interesting creative experiment, because today we rarely have an opportunity to listen to the music by Claudio Monteverdi, Henry Purcell, Claudio Merulo, Nicolo Fontei, Evans, Jones, Barbara Strozzi, Marini Sanchez, and George Handel in jazz variations. Italian masters managed to combine baroque and modern rhythms, and did it in such a noble manner with great taste. The concert became a pleasant surprise for Kyiv music fans, which was presented to them by diplomats of the Embassy of the Republic of Italy in Ukraine, the Italian Institute of Culture, and the directorate of the National Philharmonic Society, who revived the very popular series "Golden Pages of Italian Music" this season.
This was the second visit of LA VENEXIANA Ensemble to the Ukraine's capital. Last fall they presented the program called "Captivated by Inspiration" (opera arias from Monteverdi to Handel), and this time they performed music by composers who worked in different centuries (from the 17th to 20th century). The "pearl" of this ensemble is Roberta Mameli (soprano). The singer has a great voice that simply captivates the audience. By the way, many of Kyiv music fans came specifically to hear this particular vocalist. The audience greeted with a round of loud applause the performance of "Alas, I am Falling, Alas" by Monteverdi (arranged by A. Lo Gatto), "Dido's Lament" from the opera Dido and Aeneas by Purcell, and "Let Me Weep" from the opera Rinaldo by Handel. After the concert The Day's reporter spoke with the singer.
Roberta, you have charmed the audience. How difficult was it to combine two different styles – baroque and jazz vocally?
"The music in time of Baroque was performed in different ways. Particularly, works by Monteverdi (1567-1643), who was considered not only a master of madrigals and one of the founders of the genre of opera, but also could be called a futurist composer. The maestro believed that a singer, to some extent, must improvise and choose the rhythm for performing a certain music piece. It wasn't difficult for me to combine different styles because it is very interesting. And I didn't violate any rules of, for example, the 17th century – back then musicians and singers always improvised at their performances. One of the most important achievements of the Baroque era was the formation of functional harmony."
It was quite unusual to listen to the aria from Handel's opera Rinaldo (1711) accompanied by trumpet and saxophone.
"We did not change the notes. The musicians played the way the composer wrote the piece. In time of Handel musicians played variations and jazz always means variations. That's why we all together improvised: musicians – with their instruments and I – with my voice."
You worked with different maestros, who have different styles, manner of conducting. With who was it most comfortable and easiest for you to perform and feel the music at the same time?
"I was fortunate to work with prominent conductors of the modern time – both Italian and foreign ones, including Claudio Abbado, Umberto Michelangeli, Fabio Bonizzoni, Filippo Bressan, Daniele Callegari, Claudio Cavina, Enzo Dara, Corrado Rovaris, Jeffrey Tate, and Tiziano Severini. For example, two years ago I performed Requiem by Mozart together with maestro Orwood. And in late September I recorded a music CD (opera The Coronation of Darius by Antonio Vivaldi) with the famous Italian conductor Ottavio Dantone, who specializes in ancient music. Indeed, each maestro has his own style and manner, choose their rhythm for performing a certain music piece. My function as a singer is to convey the nuances inherent by the author with my voice and listen to what the conductor does, because together with all the musicians we act as a team. But sometimes I even had to defend my vision of performing a composition. It is important to find a consensus then."
Please, tell us about your cooperation with the legendary Claudio Abbado.
"Oh, this was a great time! Abbado is a fantastic musician and a man. The rehearsals, not to mention the actual performances, were magical! He is rightly considered a modern classic, and in his manner of conducting he uses calm and imperious gestures, sometimes even restraint, but an orchestra conducted by Abbado always sounds fantastic. Musicians and singers reveal their talents in absolutely new ways with him. Tender lyrics of violin part, dramatic roll of brass groups, the might of an orchestra – such bright palette of diverse emotions allows the audience to feel the effect of true music. Communication with the maestro is a gift of fate! Together with him I performed the opera Thus Do They All, or The School for Lovers by Mozart. This opera is not as popular as Figaro or Don Giovanni, but the music of this comic opera (and it has been acknowledged by critics from different countries) is excellent!"
You sing chamber and baroque repertoire, religious pieces, and opera. What do you like the most?
"Opera! It is my greatest love. I love the stage, I love to perform, and my dream is to perform more opera parts, where I can show myself not only as a singer, but also as a dramatic actress."
Large-scale festival AVE VERDI dedicated to the 200th birth anniversary of the great composer launches in Ukraine. The festival will be held in all opera cities of Ukraine. Will you stay in Ukraine for this forum?
"I love Verdi as a composer, but it's not my repertoire. I am a young singer and still need to grow to the works of this great master. Today, my repertoire includes works by Rossini, Mozart, Handel, Monteverdi, and others. Unfortunately, I won't be able to stay for the festival because I have a concert scheduled in Rome and I can only envy the Ukrainian audience, who will have a chance to enjoy the brilliant music of Verdi performed by the best singers from different countries and, in particular, from Italy."
It is believed that all Italians are good singers and even an amateur can sing an aria from popular opera. When was the first time you sang and when did you decide to choose singing as your professional career?
"My parents say that I started singing when I was four. I loved music since I was a kid. However, I started taking academic singing at a later stage of my life – at the age of 20. I graduated from Singing Department at Nicolini Conservatory in Piacenza and from Violin Department at Scuola Civica in Cremona. I made my debut in the opera Dido and Aeneas in Alessandria."
Roberta, it is your second visit to Kyiv. Were you able to get a tour of our city, visit museums, theaters?
"No! We have a very busy touring schedule and I was able to see Kyiv only from the car window on the go. Before the first trip I read about Ukraine and, in particular, about Kyiv. I chose the places and museums that I would like to see, but then we just arrived, gave a concert, and had to go back home. I would like to get to know your city better and will make sure to do it next time we come. I felt the warmth of the Ukrainian audience, who carefully listened to the concerts and perfectly perceived the program. That's why I am not saying good-bye, but instead I say: See you next time!"
---
COMMENTARIES
Fabrizio ROMANO, Ambassador of Italy to Ukraine: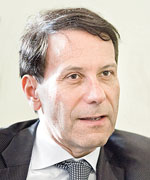 "LA VENEXIANA Ensemble under the direction of maestro Claudio Cavina and soloist Roberta Mameli (soprano) introduced the Ukrainian audience to the music that is rarely performed in its original jazz arrangement.
We will introduce music fans to the best bands, soloists, musicians, and artists of Italy. Our next event is the International Festival AVE VERDI, which was initiated by the Embassy of Italy, the Italian Institute of Culture in Ukraine, Ukraine's Ministry of Culture, and the National Opera of Ukraine.
Thanks to this large-scale project, which involves all Ukrainian opera theaters, your country, famous for its musical traditions, becomes one of the epicenters of music culture and worldwide celebration of Verdi's anniversary."
Nicola Franco BALLONI, Director of the Italian Institute of Culture in Ukraine: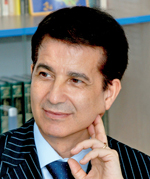 "I am pleased that the Kyiv audience appreciated the music 'experiment' and the concert 'Monteverdi Meets Jazz.' I would like to invite everyone who loves fine art and Italian music to our next artistic event – Festival AVE VERDI, which is a part of the world wide celebration of the 200th birth anniversary of the composer Giuseppe Verdi (1813-1901). It will be held from October 10 through 26 not only in Kyiv, but also in Dnipropetrovsk, Donetsk, Lviv, Odesa, and Kharkiv – six Ukrainian cities that have opera theaters. The grand opening will take place at the National Opera on October 10 (the actual birthday of the classic composer) in a form of a gala concert featuring Italian and Ukrainian opera stars. For the first time an exhibition of designs and costumes from productions of Verdi's operas from the collection of the Rome Opera House will be presented at the lobby of the theater (the exhibition will run until October 30). These are the works of the world famous artists such as Luchino Visconti, Franco Zeffirelli, Danilo Donati, and Nicola Benois.
"The program of the festival consists of 20 plays, including Aida, La Traviata, Macbeth, Il Trovatore, Nabucco, Rigoletto, Othello, Masquerade, and Don Carlo, which now adorn the posters of opera theaters in Dnipropetrovsk, Lviv, Odesa, Kharkiv, Kyiv, and Donbass Opera.
"The festival will feature the stars from five countries, including the famous Italian artists: tenor Francesco Anile, baritone Domenico Balzani, mezzo-soprano Cristina Melis, sopranos Rossella Ragatzu and Gladys Rossi, conductor Daniele Agiman, and others.
"The Festival will close on October 26 with the famous Verdi's Requiem, which will be performed by three choirs: Choir of the National Opera, Choir 'Dumka,' and Choir of the Pyotr Tchaikovsky National Music Academy of Ukraine together with the Symphony Orchestra and soloists from Italy and Ukraine."