The LvivMozArt festival has ended, one of its stars being the outstanding Ukrainian vocalist who is currently living in Vienna
30 August, 2017 - 16:04
This international festival, devoted to the creative legacy of Franz Xaver Mozart, the son of the genius Mozart who lived and worked in Lviv for 30 years (1808-38), became a major cultural event. The artistic director of the forum was a former Leopolitan, the chief conductor of the Graz Opera and Philharmonic Orchestra (Austria) Oksana Lyniv, and she bet its success on well-known musicians from many countries, but especially on Ukrainian stars who had obtained basic education in Ukraine, but live and work abroad where they are conquering the best stages of Europe.
The list of LvivMozArt's participants included soloist of the Vienna Opera, wonderful mezzo-soprano Zoryana Kushpler, who spoke to The Day about her choice of career, life abroad, mentality, Ukrainian citizenship, prominent partners on stage, little son and her father's instructions. But first of all, she shared her impressions of LvivMozArt. According to the singer, the festival was extremely powerful and phenomenal. So, by holding such events, Lviv can absolutely claim the status of the cultural capital not only of Ukraine, but also of Europe, like it was before the First World War.
DO NOT BE A SHADOW OF ONE'S PARENTS
How many years has it been since you have left Lviv?
"Nineteen. I came to Hamburg in 1998 to study at an opera studio, and I have been working in Vienna for 10 years."
You were born to a musical family. Did you ever think about choosing another career?
"As far as I remember, I always knew that I would be an opera singer. My parents started taking me to the Opera House when I was two. And I believe that I have left my heart there... And I wanted to be an opera singer, projected myself to the stage when I was still very young, even though my father said: 'Zoryana, this is a very tough job.' But, on the other hand, which job is easy? If you want something easy to do, you should stick to lying in an armchair at home... So, as for me, very job is tough. What you need is to do what you are made for. Now, we had a very hard, tight schedule at this festival. Rehearsals lasted from dawn to dusk. My day was organized as follows: rehearsals and a performance, followed by more rehearsals and a concert. Still, I repeat, I like it. I loved performing in Lviv, it was important to me that everything went very well. And this, in the end, gives one strength!"
What prompted you to move abroad?
"I thought about continuing education abroad and making a career in the West from the outset. There were many reasons for this. Firstly, I did not want to be a shadow of my parents. Obviously, I would have a 'cachet' on me if I stayed in Lviv. My parents came to Lviv from another city and made a career here. I understood that I had to go further, and not exploit what my parents had achieved. When I arrived in Germany at 22, nobody knew who Ihor Kushpler was and who Zoryana Kushpler was. However, when I sang at an admission exam, they asked who my teacher was and invited my father to conduct master classes. Of course, my parents developed and made their careers under the Soviet Union, living behind the Iron Curtain. Accordingly, they did not have the opportunities we have now."
How do you feel living in Austria?
"I left Ukraine when still very young. Also, student life is the same everywhere. It is interesting and a lot of fun... On moving to Austria, I felt the similarities between Lviv and Vienna. The time distance of 150 years is enormous! So many generations have passed! But I understand how much of this spirit we have preserved, how strongly this mentality has become rooted here... On arriving in Vienna and taking a look at architecture, I realized that I was at home! Everyone loves to talk, people go out for coffee, patronize candy bars, and love art. Everything is the same as in Lviv! Only it is much better. Although... the Austrians are much more open than the Germans or the Swiss. It is true. I know it because I lived in Germany and Switzerland. There is really a different mentality at play."
ABOUT CREATIVE WORK
What are your achievements?
"It is hard to say... I believe I made a count last year or so, and it turned out that I had sung in over 400 performances in the Vienna Opera, involving over 40 roles."
Which stars have you shared the opera stage with? Did you establish an understanding with all of them?
"I effectively shared the opera stage with all of them. I mean Placido Domingo, Anna Netrebko, Rollando Villazon, Ramon Vargas, Agnes Baltsa, Leo Nucci, Thomas Hampson, Samuel Ramey, Piotr Beczala, Roberto Alagna, Jose Kura, Elina Garanca, and Edita Gruberova. All of them are stars of the first magnitude, and I am still learning from them... I established understanding with all of them, because I am very communicative. We all are people, we all know the profession, we understand what it is, and, perhaps, are even more affable than people outside stardom…"
There is a lot of discussion in Ukraine about whether it is necessary to modernize opera art regarding how productions are done. How do you feel about this, and did you sing in such avant-garde productions?
"Opera productions need to be updated. And, of course, I sang in such performances. The Vienna Opera has five or six premieres each year, and there are no classical productions at all. Everything is modern. Only repertoire, old productions remain traditional in approach. In particular, I mean Madama Butterfly... The opera must develop. On the other hand, in Italy, for example, modern production is rather an exception to the rules. In the end, in Austria, too, not all viewers are adherents of modern, as the older generation does not accept modernization. In my opinion, both are needed. There is a charm to watching Tosca, or La Traviata, being performed in the traditional version... If the modern production is justified, and I have seen fantastic productions, for example of Shostakovich's Lady Macbeth of the Mtsensk District, then this is just fantastic!"
ABOUT UKRAINE AND FAMILY
Do you come to Ukraine often?
"I was here in June to receive the Pride of the Nation Prize, and performed in three concerts at LvivMozArt just now. In November, I will have a joint concert with my sister Olena [a pianist who lives in Hamburg, lectures and performs at concerts. – Author]. I am also holding talks with the new director of the Lviv Opera Vasyl Vovkun on joint work…"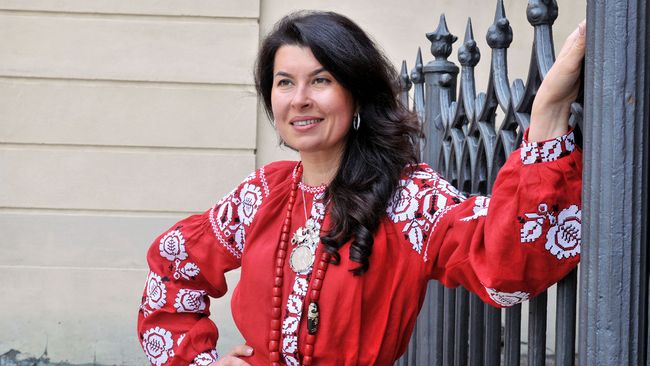 Photo from the website EXPRES.UA
Do you have a Ukrainian-speaking environment in Vienna?
"No doubt. I go to the Ukrainian Church of St. Barbara, which is next to my home. I am friends with the local Ukrainian community and officials from the embassy of our nation. I take part in all embassy events. I sing at concerts made of Ukrainian works, that is, I popularize our legacy as well as I can."
Have you noticed any changes in this country, and especially over the last three war years?
"Yes, and they are positive. I believe that we are finally liberating ourselves, leaving behind our inferiority complex. We are becoming an absolutely sovereign nation. For example, that same LvivMozArt which we managed to do shows the world that Ukrainians are an independent sovereign nation with talents and that we have a completely different language, different costumes... That is, everyone around knows that Ukraine is not Russia. That is new, because when I first came to Germany, Ukraine was identified with Russia there. Now I do not hear it at all!"
Unfortunately, we are paying an extremely high price for it...
"It seems there was no other way to do this. And in general, people attract attention if some extreme events occur. The first Maidan, the second one, the war... It astounds the world and attracts attention. Of course, we cannot do everything right at once, but has anyone did so? Still, we are moving forward, and I see that a free nation is being brought up."
Your little son is not even three yet... How, given the tight timetable of performances, do you manage to take care of him?
"With the birth of Mark-Ihor, I became another person. I experienced being a woman, and this female nature inspires me a lot. As to finding a babysitter... There is my husband, there is my mother, there is a very good nanny."
Son is not singing yet?
"He tries to do it, readily listens when I turn on a recording of me singing, but does not allow me to sing live. He wants attention. He sits on my lap, we hug, and he listens to his mom. It is very nice."
What are the main instructions you received from your father? [Ihor Kushpler died five years ago in a road accident. – Author.]
"He really gave me a lot, and I very often remember him. Of course, I will never recover from the loss fully. I see my father's traits in my son, it seems to me to be like reincarnation. Regarding the instructions... The chief of them is to always, in all circumstances, remain human. My dad gave me a very healthy soul, for which I am incredibly grateful to him. And he had a very healthy soul as well. He had innate intelligence. I see my parents as the measure of people... I always think: 'My dad would never do it, he would never say so...' So, for me, parents are the measure of the decency of people I communicate with. And, of course, of my behavior as well."
Do you see your career continuing beyond Ukraine?
"Of course. I have a family there, my son was born there. Both I and my son hold Ukrainian passports."
In what performances will you sing in the near future?
"In the operas The Player by Sergey Prokofiev, Samson and Dalila by Camille Saint-Saens, Aida by Giuseppe Verdi, and the operetta The Bat by Johann Strauss. On September 10, I will sing the Symphony No. 2 by Gustav Mahler at the 150th anniversary celebration of the National Opera in Kyiv. I am very pleased that the National Opera invited me to such an event. And on March 11, I will sing Hector Berlioz's Summer Nights with Roman Kofman in the Philharmonic. Also, I expect the aforementioned concert with my sister. So, I am glad I have the opportunity to sing in Ukraine."
You were born and raised in Lviv. You knew Lviv at different times... Now we are hotly debating the issue of Lviv being so open to the world that there is little room left for Lviv residents. What do you say about it?
"This is an absolutely global practice: you want to live with the world, you need to open to the world. It is another matter is that the city must be developed to attract tourists. Remember Venice – there are meter-wide streets there, but the Veniceans do not complain about the incredible number of tourists..."
 The Day's FACT FILE
Zoryana Kushpler was born in Lviv in the family of the People's Artist of Ukraine, soloist of the Lviv Opera (baritone), professor of Lysenko Lviv Music Academy Ihor Kushpler. She was educated in a college where she was taught by her father and mother (the class of Ihor Kushpler).
Her training continued abroad (the Music Academy of Hamburg, the class of Judith Beckmann). The vocalist is a laureate of international competitions and performs on the best opera stages of the world. She has performed on stage in Prague, Madrid, Cologne, Paris, Bernau, Shanghai, Seoul, Singapore, and Tokyo. In 2000, she received the First Prize at the Bavarian Radio and Television Competition in Munich.
In 2004-06, she worked as soloist at the National Opera House of Switzerland (Berne). Since 2007, she has been a soloist of the Vienna National Opera.
She won the Person of the Year-2016 award in the field of culture and art in the nationwide program of the same name.