Ukrainian art gets sold at a prestigious auction
7 March, 2017 - 12:08
Works of two Ukrainian artists were put up for sale in New York on March 2 among nearly 200 works of art offered at the Phillips Auction of Contemporary Art, considered the world's third most influential after Sotheby's and Christies. Roman Minin's painting All for Vita, which depicts a stylized alphabet, was sold for 3,750 dollars, while Yehor Zihura's bronze sculpture Colossus which Awakens, part of the series "After Today," was sold for 20,000 dollars, more than double the starting price.
Ukrainian artists, in particular Anatolii Kryvolap, achieved even higher selling prices at the Sotheby's and Christies, but it still is an unquestioned success for two unknown foreign artists, as well as for our art community in general.
Minin was born in 1981 in Dymytrov (now Myrnohrad), Donetsk oblast, and graduated from Kharkiv Academy of Design and Fine Arts in 2008. In 2009, he won a Talent and Calling medal, awarded by the World Peacemaker Alliance. He participated in many group exhibitions and festivals, organized a festival of street art in Kharkiv, and led the program Izolyatsia in City Space at the Izolyatsia Donetsk Center of Contemporary Art in 2012. One of his first exhibitions, which took place on the premises of the Donetsk Oblast State Administration, was shut down by officials. Minin creates a variety of compositions, ranging from graphics to stained glass and exploring miners' life by presenting it as a mythology of sorts.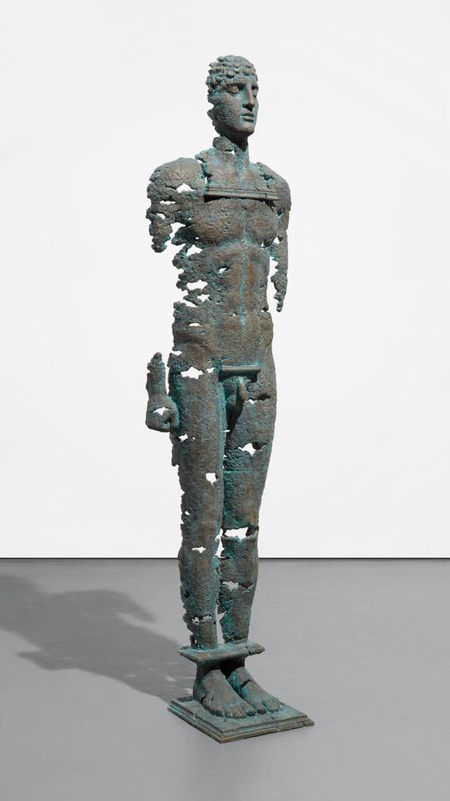 COLOSSUS WHICH AWAKENS. YEHOR ZIHURA
Zihura (known in the West as Egor Zigura) was born in Dnipro (formerly Dnipropetrovsk) in 1984, graduated from the Shevchenko State Secondary Art School (2003) and the department of sculpture of the National Academy of Visual Arts and Architecture (2009), and has been teaching drawing and sculpture at the Karpenko-Kary University since 2011. He has created both indoor and outdoor sculptures; some of his works have been installed in the streets of Kyiv.