The first issue of our newspaper was published on September 11, 1996. Has the Ukrainian society used the quality alternative correctly?
12 September, 2017 - 09:31
We have been holding our standards high for 21 years. While it is no major anniversary, it is still quite significant. This age is considered to be one of majority and entails important legal consequences, primarily related to personal responsibility and the ability of a person to weigh their decisions and control their actions. Den takes full responsibility for its 21 years. However, has the Ukrainian society reached its civic maturity? Has it used in full the quality alternative that our "intellectual holding" has been offering throughout all these years? According to editor-in-chief of this newspaper Larysa Ivshyna, Den set itself the goal of educating the Ukrainian society and raising its standards effectively in our first issues. Now, looking back from the present towards 1996, one can say with certainty that Den has "raised" its reader – one who is thoughtful, one who does not look for cheap sensations, but seeks to establish causal relationships and find the essence of phenomena, often using historians' toolbox to do so. One who is in favor of the Ukrainian statehood and does everything one can to increase the Ukrainian agency. One who is not afraid to "look beyond the horizon" and design the future, as Ivshyna often does herself. But, unfortunately, our reader is not forming the political demand yet, and therefore we are witnessing shameful political games and leaders drowning real issues in much talk, distracting the society from really important topics which we need to understand, and making it to behave to the benefit of political scammers. The responsibility for this lies with major parts of the domestic media field as well...
Why do Ukrainians "like" uprisings, social upheavals and Maidan protests held every 10 years, but "do not like" state-building? Why are our revolutions "going backwards"? What are the national idea and the nation's strategy? How to protect ourselves from falling into an information and emotional vortex and make sure to address the systemically important stuff, skillfully hidden behind the maelstrom? Den asks edifying, non-superficial questions and keeps looking for (and finding) answers to them...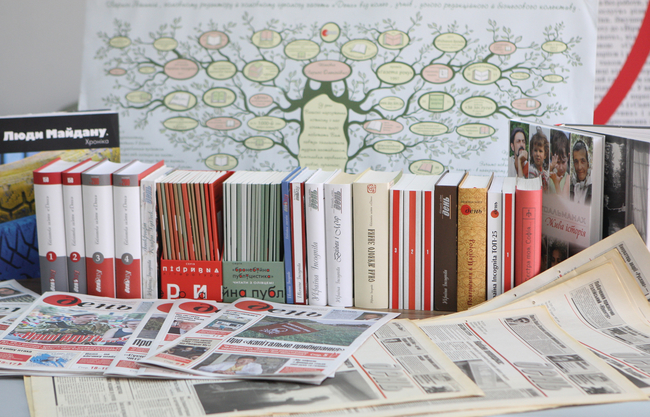 Twenty-one years are already a major page of the history of this country. Actually, these 21 years contain almost the whole of Ukraine's contemporary history, when we always offered a different approach, different heroes, and our own quality alternative.