Den's days in Dnipro: hundreds of townspeople have already seen the best pictures of the International Photo Exhibition of 2016, while 200 cultural establishments have received sets of books from Den's Library series
16 February, 2017 - 11:45
Hundreds of townspeople, including researchers and creative intellectuals, teachers and schoolchildren, attended the opening ceremony of the 18th International Photo Exhibition Den-2016 at the Museum of Ukrainian Painting on February 10. Our publication held such exhibitions in Dnipro before, the previous one taking place a year ago. The current exhibition is timed to mark the 20th anniversary of Den. The pictures on display, taken by professionals and amateurs from all over Ukraine, have already been shown in Kyiv and Sumy. As Den's editor-in-chief Larysa Ivshyna said at a press conference, the newspaper has been sponsoring a photo contest and arranging a traveling photo exhibition that has toured cities of Ukraine for 18 years. This year, the traditional contest brought about 3,000 pictures to the editorial office. These include works of professionals and amateurs from all over the country and even from abroad. Of these, about 300 have been selected as the best, and 160 photos made it to Dnipro.
"The focus of the exhibition is on the events of the past year. This country is at war, so many people in the photos are clad in uniforms. These are examples of heroism. I think the show will not disappoint. Still, it is very much my wish that the next year's event featured more photos of the peaceful life," Ivshyna shared her thoughts.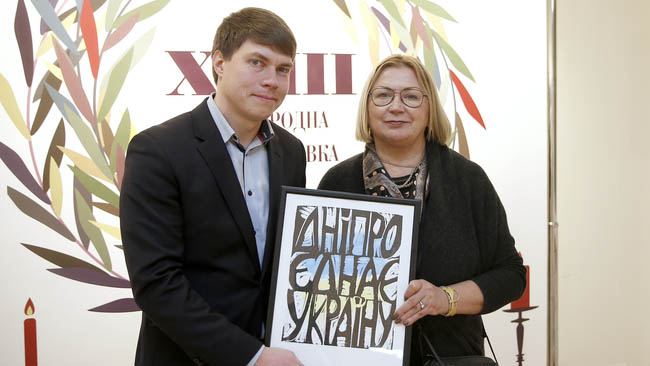 The exhibition, hosted by the Museum of Ukrainian Painting, which is located in the very heart of the city (5a, Troitska Square), was opened by Mayor Borys Filatov. He noted that he considered himself a longtime friend of Den/The Day. "This photo exhibition is very special for me. Once upon a time, when I could not even imagine becoming the mayor, there was a Den's exhibition at the Ukrainian House. I like photography as such and as an art, and it has long been an area of interest for me. But I could not have imagined then that I would open this beautiful photo exhibition in my hometown one day. I would like to thank Editor Ivshyna for organizing it all. To reveal a secret, I and Den are old friends. Sometimes they praise me, even unreasonably in some cases. Thank you very much for the fact that when assessing the results of the past year, the newspaper recognized me as the best mayor. I hope that this year, I will justify your trust," said the mayor.
PAST YEAR'S "HUMANITIES RECORD" HAS BEEN BROKEN
The hall of the museum which hosted the photo exhibition was also the venue for the handover ceremony for books of Den's Library, which, thanks to the support of sponsors and Dnipro Mayor Filatov, will reach the city's schools and libraries. History-themed book sets have been sent to 162 schools and 38 libraries! Thus, Dnipro has rejoined the grand sponsorship marathon of Ukrainian cities, also known as the "Donate Den's Library Books to Your Old School" campaign, and past year's "humanities record," set when all the schools in the city received Den's books, has been broken.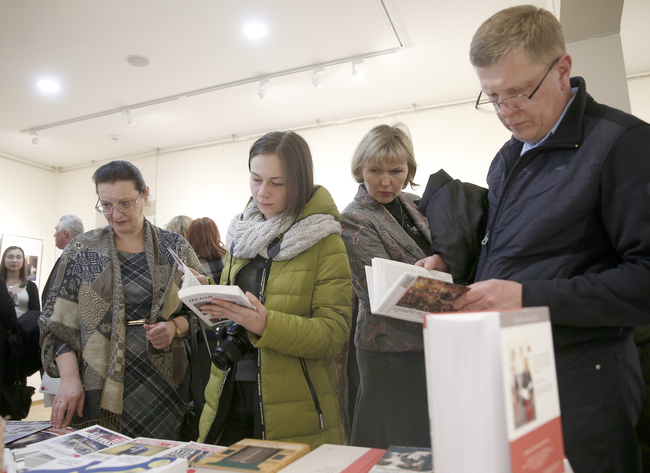 The editor-in-chief thanked the Dnipro mayor for the comprehensive support: "I am very grateful to Mayor Filatov and all the partners of the newspaper, because it marks the second time that all local schools and libraries will receive Den's books. Your mayor shows humanities horizons to look up to. All our books are not about the past, but rather about the future. They are intended to prove that Ukraine can become a great and successful country. We are trying to create the image of a dynamic society. Ukraine needs an elite of its own, a healthy 'aristocracy,' so to say, for without it, a people is like a headless chicken," said the editor-in-chief. She drew attention to the fact that at the initiative of the mayor, Dnipro's downtown recently got a street named after the outstanding Ukrainian philosopher Viacheslav Lypynsky, whose ideas remain relevant in the present century.
 MP Viktor Halasiuk decided to join the campaign initiated by Den and donated book sets to his school and the college which he graduated and then taught at. On behalf of the MP, a greeting was delivered by his representative, professor of the National Mining University Volodymyr Bondarenko. The university's rector Academician Hennadii Pivniak presented the newspaper with a birthday gift in the shape of a stone copy of the Earth globe which "has absorbed the energy of the Sun." "The anniversary of Den marks 20 years which involved not just development and decisive action, but also change, depending on the situation in the country. The newspaper has been shaping the civil society and offering interesting stories for young people and adults alike," said the rector.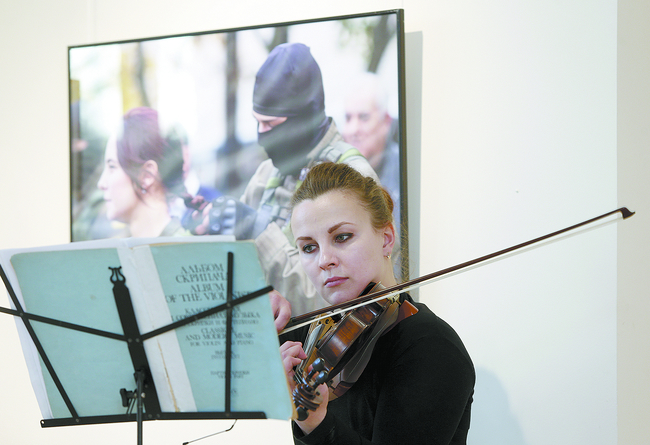 Another dignitary to offer a greeting speech at the opening of the photo exhibition was Bishop Simeon of the Ukrainian Orthodox Church, Kyiv Patriarchate's Dnipro Diocese. "This is a temple of memory, as the photos are highly informative. I wish that we photograph as many bright moments in our lives as possible, because by our nature, it is in such moments that we feel God's presence," he said.
Veteran of the anti-terrorist operation Yurii Fomenko was also present among the friends of Den at the event; a picture featuring him (Maksym Zaitsev's Antaeus) took part in the past year's competition and spread all over the internet. "Each picture tells a little human story," he believes. "It is a story of a moment, but taken together, all these pictures add up to the country's history and its present. It reflects a whole philosophy of our Ukraine through people who are depicted in the photos. They believe in the future and look into the future. These smiling and tearful kids also represent the future of our great country. I wish that there was no war, but peaceful labor instead, smiles on all the photos, parks and gardens, construction of subways, harvesters in the fields, kids in schools, and it would be a joy for all."
"I WANT TO LEARN TO TAKE PICTURES THAT WOULD BE AS PROFESSIONAL"
 While handing books to representatives of schools and libraries, Den's reporter was able to talk with both teachers and their students, among them young photographers and reporters. "I am a novice photographer, and that is why I really like Den's photo exhibition. I am impressed with what I saw and want to learn to take pictures that would be as professional. I came here together with my assistant principal, since we are here to get books for the school library. Of course, I have photographed a lot here, both the exhibition and visitors to it," student of the School No. 122 Danylo Lukianenko told us.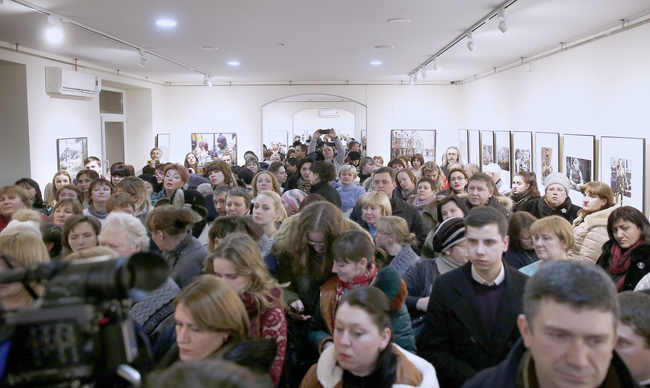 FEBRUARY 10, 2017. THE OPENING OF THE DEN PHOTO EXHIBIT IN DNIPRO DREW A CAPACITY AUDIENCE
Two school photographers Danylo Ardelian and Mykyta Yermakov, both studying at School No. 147, came to the photo exhibition with a specific assignment in mind, as they had to make a photo report about Den's exhibition. "Our school publishes its own newspaper, called Shkilna Shpora (School Cheat Sheet). We are really school photographers, though, and came here to look at pictures. I can say that the pictures are very good. Each reflects a particular point in time and very important emotions. Speaking for myself, I believe that the main purpose of the photo craft is to reflect some part of our lives. This is our first time at such an exhibition, but we will probably offer something to Den next year. I already have two photos which are fit to be submitted to the contest," said Ardelian. The boys and their history teacher Larysa Matvieieva told us that their school newspaper was a volunteer-based publishing project. It is a monthly with the print run of 100 copies. "We get together and discuss which articles and photos should be published in the next issue," the teacher told us.
"PHOTOGRAPHY GENTLY PUSHES PEOPLE TO REFLECT ON THE COUNTRY THEY LIVE IN"
We continued to communicate with Den's readers at the "National Dialog" discussion, held in a museum hall. Editor-in-chief Larysa Ivshyna presented the newspaper's latest books to residents of Dnipro. She said that Ukraine Incognita had stayed relevant for 15 years. "We have published the sixth edition of this book already, it being the initial issue of our Den's Library project. "Armor-Piercing Political Writing" and "Subversive Literature" series have been successful as well. These books were created back before the war. When asked what we were going to 'subvert' with our literature, I said: 'stereotypes,'" Ivshyna noted. The newspaper lately published the book series "Contemporary History for Dummies" as well, which targets today's youth. We did it because, according to Ivshyna, we need to tell the younger generation about the events of the 1990s. "Then we made the wrong choice, because it was necessary to combine the two lines. Leonid Kravchuk, for all his flaws, did two things for which he must be respected: the Belavezha Accords and the Communist Party ban. But Viacheslav Chornovil rejected the formation of a shared government, and it was a grave mistake. Then, all regions, even Crimea and the Donbas, had just voted for Ukraine's independence. Youths who gathered in Independence Square during the Revolution on Granite demanded changes, but out of all their demands, the only one to be implemented was the dismissal of technocrat Prime Minister Vitalii Masol. And thus, they cleared the way for Leonid Kuchma! The Orange Maidan again offered a real chance for change: following it, we had international support and a consolidated country, but the Orange wave was once again exploited by former Communists and Komsomol bosses or people who paid only lip service to the national values. Real changes are struggling to make progress now as well." "For how long will we keep losing our way in broad daylight and learning the ropes the hard way?" Ivshyna asked. Obviously, this is because we have not learned the lessons of the past yet and do not remember our prophets and thinkers. "Why was I so enthusiastic about Viacheslava Lypynskoho Street appearing in Dnipro? Because his ideas remain relevant, we need to combine his neo-conservatism with modernism. They must be the 'two wings' of Ukrainian politics. Incidentally, Lypynsky is my fellow Volhynian. Ours is a land where tradition of the Ukrainian elite and the memory of our proto-statehood were preserved," said the editor-in-chief. Ivshyna remarked that the enemies of Ukraine "like our anarchy most of all." Meanwhile, they are most afraid of our strengths that are personified by people like the famous aircraft designer Oleh Antonov or cybernetics researcher Viktor Glushkov. "These are my heroes," said Ivshyna. When visiting Ukrainian provinces, Den's editors look for like-minded people, serious and intelligent individuals who care about the fate of Ukraine.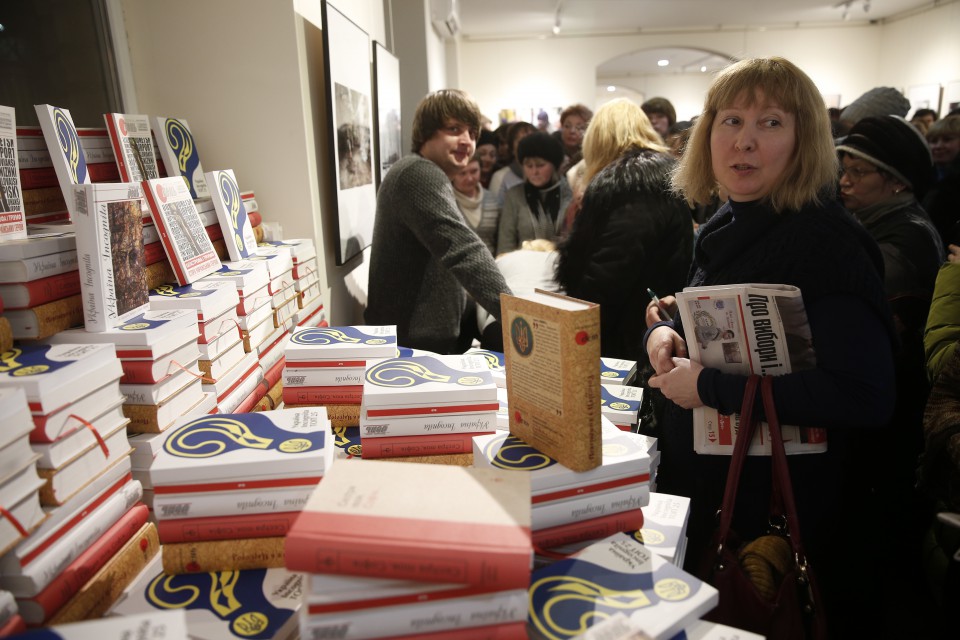 Speaking about the photo exhibition, the editor drew attention to the military themes reflected in the photos: "You have probably seen the picture A Brother for a Brother, which shows a little boy holding hands with a soldier. This is a truly exciting picture. How could it happen that yet another Ukrainian generation must go through a war? Not only specific politicians who bled the country white and weakened it are to blame. After all, the enemy would have never attacked if Ukraine was strong." In Ivshyna's opinion, "Ukrainians were not really involved in the country's affairs at that moment, although they had to be from the very beginning." Photo exhibitions and book distribution have a part to play, even if limited, in getting people involved. "Photography is the most straightforward way to communicate because it is not mentoring, and people do not really like to be admonished. Photography just gently pushes people to reflect on the country they live in. Acting as discreetly as a cat, we must quietly come and show a photo exhibition and tell people: 'May we offer you some intellectual reading as well now?' I find people who support our ideas, and we enter a great conversation afterwards," Ivshyna explained.
 IMPRESSIONS
"THIS IS A PHOTO EXHIBITION OF GREAT SOCIAL SIGNIFICANCE"
Serhii BURBELO, director of the Museum of Ukrainian Painting:
"Photo exhibitions are extremely rare events for us, but those which we do decide to host are socially significant. So when we got a request from Den, we postponed a few events in our tight schedule and decided to host this exhibition in any case. We did so because we had heard about it and wanted to provide our visitors, both locals and guests of the city, with an opportunity to see it. I like the fact that this photo exhibition is held in conjunction with book donations for schools. History-themed books are what we lack. Had we previously paid attention to it, the war might have been avoided. So I want to thank the newspaper and wish every success to the exhibition. Some of the photos on display just go straight to one's heart. I think this exhibition will not leave anyone indifferent."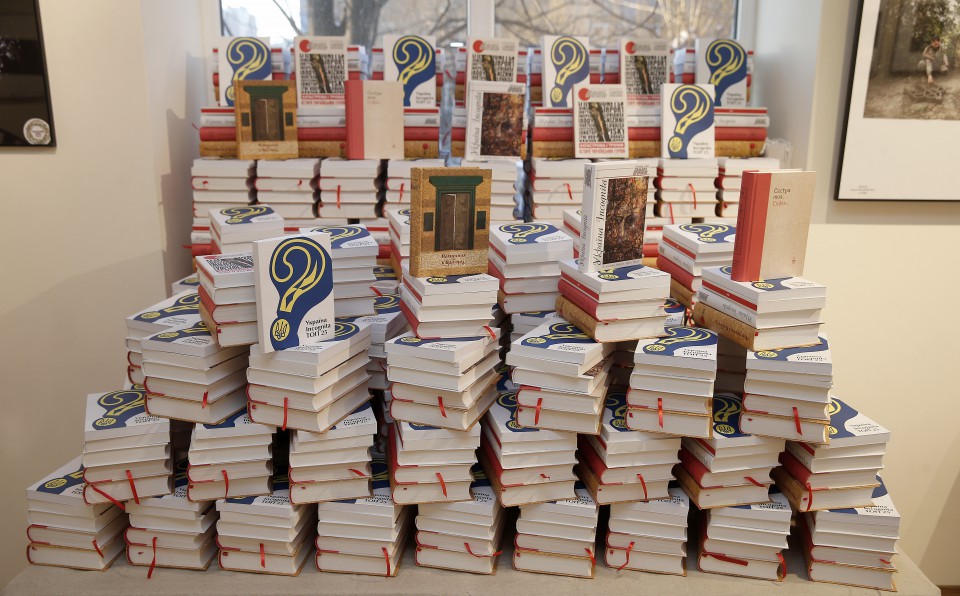 "THE EXHIBITION'S CHIEF STRENGTH IS PRECISELY ITS FAITHFUL REFLECTION OF LIFE"
Mykola MIAKSHYKOV, photographer:
"The works are interesting, they feature thought-out compositions and stories. Everything is alive and dynamic. Also, each photo reflects some idea. Even for professionals, there is a lot to see here and to learn from to enable one to shoot in the same manner. The exhibition's chief strength is precisely its faithful, totally hype-free reflection of life. It shows the prose of life and its poetry at the same time. If the photographer saw and caught the right moment, it marks them as a professional. To make a good shot, you need to walk about, to look, and to observe. It is such efforts that make such exhibitions possible. I would like to add also that there is a lot of irony here. One has not only to capture something, but also to come up with a caption. I especially liked the photo Supply and Demand – it has nothing special in it on the face of it, but in combination with the caption, it is simply masterful."
"DEN AWAKENS PEOPLE"
Valentyna LOBODA, director of the House of Arts:
"I am very grateful to Den, which, unlike other Kyiv-based publications, is active enough to go to other cities to 'awaken' people. Every year's exhibition is different, because they reflect the pulse of life. People care about it. Because of it, there are many of these works, and they have all touched their authors' souls. It is nice to see children represented here as well. This shows that we care about tomorrow's art. Organizers attract talented people, and they feel needed on this list. As I noticed, there are many photo reports here, and it is understandable because the event is organized by a newspaper. Speaking of the pictures that stimulate the mind, I liked the work Vicious Circle most; it features our leaders, who determined and still determine where and how we go. The author was able to capture a moment in time, such that we hear the thoughts of everyone pictured and see all of them. For me, it is the strongest work. The artist must feel the society's mood and be able to find various means to help them convey it. I think that the author of that photo was able to convey our expectations. The photos are thought-provoking, and the exhibition is always interesting overall. Today, other newspapers cover fires or something like that. Den is special because it always offers analysis. One can agree or disagree with it, but it encourages us to think and look for the answer."