The International Institute of Education, Culture, and Links with the Diaspora (MIOK) recently received a special guest – Lisa Shymko, founder of the Canadian Ukrainian Parliamentary Center, President of the League of Ukrainian Canadian Women, associated member of the Board of the International Council in Support of Ukraine, Master of Political Sciences
27 February, 2018 - 10:33
Lisa SHYMKO spoke of the huge scope of work the Ukrainian dias­pora is doing in the huma­nitarian, political, and cultural fields in support of the Uk­rainian state.
WHOLEHEARTED SUPPORT AND HELP
"We are going to officially present a new project soon – a literary competition under the auspices of Canada's Ukrainian diaspora. In general, I am involved in various projects aimed at building democracy in Ukraine and promoting development of the Ukrainian community in Canada. Our family has always been interested in Ukraine, and we are all taking part in the activity of civic organizations. Bringing us up, our parents emphasized that we must not forget about our origin. We are trying to defend our language and culture always and everywhere," Lisa Shymko began the conversation.
Incidentally, Lisa's farther Yuri Shymko, who led the World Congress of Free Ukrainians in 1988-93, is president of the International Council in Support of Ukraine (ICSU), was twice elected to the parliament of Canada, is the author of the Memorandum on the Decolonization of the USSR which he presented in 1978 to the President of the UN General Assembly and its member missions on behalf of the Baltic, Belarusian, and Ukrainian World Congresses.
"I worked as journalist for the Canadian national newspaper Globe and Mail. In the early 1990s, when Ukraine was a place of historic events, I wrote editorials in support of Ukraine and interviewed former dissidents. We were also doing our best to persuade the West to immediately recognize Ukraine's independence after its proclamation in 1991. In that period, we published English translations of Ukrainian fiction books, which was very important for the projection of the right image of Ukraine in the world. When the Soros Foundation was actively involved in Ukrainian projects, I carried out the program of Ukrainian journalists' sojourn in Canada. These steps were absolutely necessary at the time," our interlocutor emphasized.
Besides, Lisa Shymko worked in the nongovernmental organization Friends of Rukh which implemented various programs in support of democracy in Ukraine. This organization was later renamed Canadian Friends of Ukraine (CFU), which made it possible to more actively attract Western countries to the democratization of Ukraine.
CFU conceived the project of a model of Ukraine's development based on the Canadian model because it was believed that Ukraine should develop on the basis of European and North American, rather than old Soviet, models.
Lisa Shymko also worked as director of the Ukrainian public program Forum TV. "The main goal I set to myself was not only to spotlight interesting points in the life of the Ukrainian community in Canada but also, which is very important, to let non-Ukrainians speak on Ukrainian topics in our program," Ms. Shymko says.
"In 1997," Ms. Shymko continues, "we invited Yevhen Marchuk, former SBU chief, prime minister of Ukraine, an expert on NATO issues, General of the Army, to visit Canada and speak on Ukraine's vision of the prospects of joining the North Atlantic Alliance. It was a very topical question at the time. We arranged for Mr. Marchuk some very important meetings at the Fairmont Royal York hotel with not only the community, but also the Canadian minister of trade, the mayor of Toronto, senators, and other VIPs."
Let us recall that in December 2015 during his visit to Canada Yevhen Marchuk received the ICSU "Nation-builder Award" for his efforts to enhance Ukraine's ties with the North Atlantic alliance and build a democratic and secure Ukrainian state. According to Ms. Shymko, the crystal award was presented to Marchuk by the President of the International Council in Support of Ukraine Yuri Shymko. The guest also stressed the importance of the joint visit of Mr. Marchuk and US General Wesley Clark to Canada, which drew a wide response in the media and society as a whole.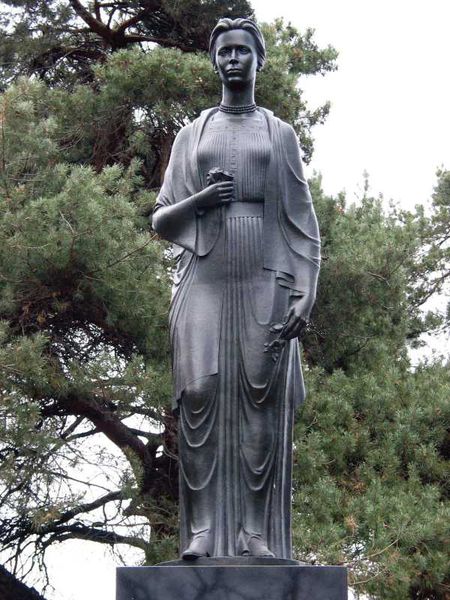 TORONTO. THE LESIA UKRAINKA MONUMENT
LOBBYING THE UKRAINIAN QUESTION
Lisa Shymko has visited Ukraine three times as part of official delegations. She recalls that she first came to Ukraine during the presidency of Viktor Yanukovych. There was a very tense dialog between Canada's Prime Minister Stephen Harper and Yanukovych. It was clear that democracy was being curtailed in Ukraine, censorship was reintroduced, and pressure was exerted on the media.
"That was a very significant visit. Prime Minister Harper spoke at the Ukrainian Catholic University and visited the memorial museum 'Prison on Lontskoho St.' It was very important, for the leader of Canada showed that he honored historical memory and understood what Russian disinformation was. In his speeches to Canadian audiences, he very often shared the fear that every new generation would know less and less about communist terror. This would create a grave danger for the further existence of even the Euro-Atlantic structures. He had foreseen it long ago. We can see these consequences now that Donald Trump came to power. It is easy for him to ignore the question of the Russian threat because the American public has forgotten what a totalitarian system is. That's why I think Ukrainians in Canada and the US have a very important mission to continue spotlighting these moments and get the Americans and Canadians of non-Ukrainian origin involved in the process," Ms. Shymko says.
INFORMATION WAR IS DANGEROUS AND ENDLESS
Lisa Shymko takes particular interest in the question of information war against Ukraine. She is convinced that the Kremlin's war and mass-scale investment in the information sector is the gravest threat. The television network of Russia Today (RT) is actively spreading in both Canada and the US. Russia invests at least an annual 300 million dollars in this project. Their propaganda is developing not only in English-speaking countries, but also in the Middle East among Arab states and in Latin America. This channel recently opened a branch in Australia.
"The downside of capitalism is that potential incomes blind you, and you will no longer take threats to national security into account. We can see this to some extents in our television networks. RT pays in Canada for this propaganda. For example, a package has been made in our country, which automatically includes this channel, and users-payers have no right to demand that it is disconnected. The same problem exists in the US. Yes, they passed a law that calls this channel a foreign agent, but this did not help much. Incidentally, RT does not beam outright propaganda but applies all kinds of manipulative techniques that divide society. Many people do not even know that it is Russian television and regard its information as a primary source. This essentially influences public opinion. Bullets are a real threat, but this kind of information and psychological nuances are also extremely dangerous. Information war will continue even when the hostilities in eastern Ukraine come to an end. That's why we must look for innovational ways of struggle. We must defend ourselves," Ms. Shymko says.
UKRAINE'S ACCESSION TO NATO IS A TOP PRIORITY
One more priority, which the Ukrainian diaspora in Canada is striving to realize, is Ukraine's accession to NATO.
"We are trying to reinforce the voices of those in Ukraine and in the West, who are saying that Ukraine must join the North Atlantic Alliance. We are trying to make it clear that there is no civil war in Ukraine but that Ukrainians are defending Europe. All sound-minded people know this. Everyone should work for this cause at their own place. A good example for everybody is the activity of Yevhen Marchuk who showed us what a single person can do even if s/he goes against the current. So Ukrainians in the diaspora must make an all-out effort to help in these processes," Ms. Shymko said.
IT IS OF UTMOST IMPORTANCE TO SUPPORT UKRAINIAN SOLDIERS
The diaspora is also making a strenuous effort to support Ukrainian soldiers.
"I dealt for a long time with humanitarian aid aimed at the physical rehabilitation of ATO veterans. I was president of the League of Ukrainian Canadian Women which launched the Guardian Angels Ukraine project. We carried out all kinds of programs to achieve that rehabilitation in Ukraine is based on Western patterns. Obviously, there were problems because the law prevented students from acquiring such specialties as physiotherapist or ergotherapist. We requested Queen's University in Canada, which plays the leading role in this field and has a specialized program of medical rehabilitation, to furnish the latter to Ukraine's institutions. They did it. We handed over this program to the Kyiv Polytechnic. I thus began my activities in veterans' rehabilitation. Now I lead an organization that deals with the problems of servicewomen in the ATO zone. It is important to us that Canada and Ukraine should exchange expertise. In September, we invited gynecologist Olena Burlaka, who is stationed at a field hospital on the ATO frontline, to a conference at the Institute of Military Medicine in Canada. She spoke at this forum about her research and is now looking for Western partners because there are a lot of challenges that may have negative consequences and, therefore, need to be tackled," Ms. Shymko says.
INTERCONNECTION AS A PANACEA
One of the questions that worry Ms. Shymko is assimilation of Canadian Ukrainians and the declining level of knowing the Ukrainian language. She believes that links between the younger generation of the diaspora and the youth of Ukraine can resolve this problem. She is convinced that everything must be done to keep the Ukrainian diaspora from losing their ancestral language.
"We should create mechanisms that will bring the younger generation closer to their peers in Ukraine. We need programs that enhance progressive processes in Ukraine aimed at helping what I call the 'lost generation' find the ways of 'joining' Ukraine. The trouble is that when they come to Kyiv, they do not in fact hear the Ukrainian language and feel themselves alien. But they want to make a contribution to the state. So, we must find some unique approaches to funding these programs, get our diplomatic corps and business sector involved, in order to form a coalition of governmental, business, and nonprofit organizations because no entity can do this on its own. Hence, there should be trilateral mechanisms capable of realizing the far-reaching potential of development and vision. Regrettably, such initiatives often appear and then disappear. Therefore, it is important to invest and to know that there will be continuous movement and development," the MIOK guest emphasized.
What also helps strengthen the Ukrainian community in Canada is the fact that young Ukrainians come to that country to study or to work. Their involvement in the community's activity is an "injection of vitamin." For when the pressure of assimilation is exerted, the young people who come from Ukraine help nongovernmental organizations get revitalized, find new strategies, and draw fresh energy.
In conclusion, MIOK director Iryna Kliuchkovska emphasized: "Our work is aimed at supporting Ukrainian communities in the world. Ms. Shymko has already mentioned the necessity of supporting and developing the Ukrainian language. This is what our institute is doing: we published Ukraine's first manuals of English as a foreign language, which Canadian Ukrainians also use, hold joint conferences, and are preparing for the 1st World Forum of Ukrainian Saturday and Sunday Schools scheduled for the coming August. There is also another important part: it is extremely important to us that Ukraine comes to know at last about the great work large Ukrainian diasporas, including that of Canada, and certain individuals are doing. For many people are still unaware that this is part of our culture, history, and being. If this awareness comes, it will be a major achievement for all of us, for the Ukrainian world as a whole. I dream that we will feel ourselves as a single body."