CANNES – This number one trendsetting filmmakers' event began on May 8, 2018, coinciding with V-E Day festivities. Ukrainian director Serhii Loznytsia's Donbass was selected to compete in the Un Certain Regard Section. It was an unprecedented event in the festival's history, considering that the man had it ready for screening literally one day before the opening date, and that noted film directors like Lars von Trier would have to submit theirs long in advance and endure endless heated discussions. Serhii Loznytsia's movie is a joint Ukrainian, German, Netherlandian, French, and Romanian project financially assisted by Ukraine's state company Derzhkino. The fact that it was accepted and screened as an opening film, contrary to set festival rules, is proof of, first, respect shown to the Ukrainian producer, Ukraine's filmmaking industry (being in the initial democratic phase), and, second, a political move, considering that Russia's critics will certainly stress all of the movie's "negative aspects."
I'm also sure that Donbass will mark a field day for the Kremlin-controlled media. This, considering that Mr. Loznytsia's production has nothing to do with flag-waving patriotism, just as it doesn't point a finger at Russia for invading Ukraine and its media for supplying sham information about what's happening in the east of Ukraine.
Mr. Loznytsia's new production, like the previous one entitled A Gentle Creature, isn't a political thriller, rather a burlesque that has a tragic touch to it. Russia emerges there as a malicious invisible puppeteer who makes his Novorossiya [New Russia] puppets move like monsters in human form, ranging from hired killers to marauders to members of parliament of a nonexistent state.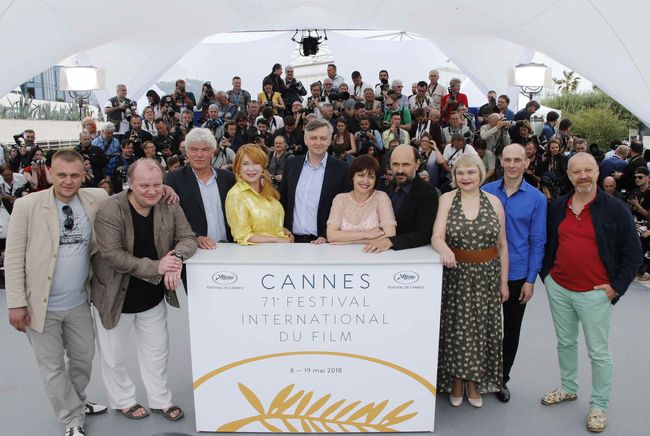 His film has 13 scenes varying on the horror scale, including extras hired to weep and beat their chest, posing for Russian media cameras, and a hair-raising one with a Ukrainian captive on a city square, exposed to mob violence.
Sergei Loznitsa remains true to his creative self as one of the world's most radical filmmakers. He leaves every dramatic scene without the logical finale: no blood, no dead bodies, no torture scenes, so the scene with the Ukrainian and a mad Russian crowd in his Donbass is a gripping exception from the rule. It is permeated with fear and I believe that it is his key idea – fear of falsehood that can destroy an individual and the whole country (although Russia is never mentioned in the film).
Russia is present there, even if never referred to. Vladimir Nabokov's "Let me go, I plead, don't deny me!" meant originally to convey one's longing for an aristocratic youth in tsarist Russia, acquires an altogether different, menacing overtone.
Like his Maidan (which I personally regard as a brilliant production that failed to be appreciated in Ukraine), Donbass doesn't have the main hero – the people [the masses] so loved by Soviet critics. Whereas in Maidan one sees the masses as a collective hero as the revival of a nation, in Donbass it is the other way around, the ugly face of the lumpen, something Comrade Vladimir Lenin loved and urged to rely upon [when plotting his coup d'etat in Petrograd, in 1917].