Hanna HOPKO: "Europe must not discredit PACE's fundamental principles with its hybrid diplomacy in order to please the Russian aggressor"
29 November, 2017 - 18:24
The other day the British Financial Times carried an article titled "European Council Bosses Worry Moscow Might Leave Organization." The assumption that the Russian delegation might return to PACE caused resentment in Ukraine. However, statements made by Thorbjorn Jagland, Secretary General of the Council of Europe, have already found support in Germany. In reply to DW's question on Berlin's stand on the role of Russia in the Council of Europe the German foreign ministry said that "Germany's government supports the COE Secretary General Thorbjorn Jagland in his effort to find a solution for future challenges." "Whether and with what rights the Russian delegation will again participate in the sessions of the Parliamentary Assembly of the Council of Europe, should be decided by the Russian delegation self or by PACE, which includes representatives of the European Council member states," reads the statement by the German ministry of foreign affairs.
According to Financial Times, talks of restoring the Russian delegation to PACE have been going on in that organization, while some leading members have already initiated procedures to make it happen.
"It would really be very, very bad if Russia was to leave... ?because the convention and court have been so important for Russian citizens. It will be a negative development for Europe because we will have a Europe without Russia. It would be a big step back for Europe," said Jagland in an interview. According to him, "Nobody wants to give a signal that we accept the annexation of Crimea. It is not about undermining this position of principle," it is only about human rights protection in Russia and Crimea, or "wherever people live on the continent."
In response to this Ukraine's MFA spokesperson Mariana BETSA reminded in a tweet that Russia has not fulfilled a single resolution in the COE, UN, or OSCE. "In what concerns the enforcement of international law and values, there can be no compromise," mentioned she.
"What a shame. Sec-Gen @coe @TJagland negotiates lift sanctions but hadn't demanded Russia to act accordingly to the rule of law and human rights principles. Start of indulgence sale. Black Friday for democracy generally and Council of Europe in particular," tweeted Volodymyr ARIEV, head of Ukraine's permanent delegation to PACE. "Queer Sec-Gen @coe @TJagland logic: let's permit Russia to violate human rights in Ukraine to defend human rights. It begs the question regarding real Jagland's intentions," added he.
Dmytro KULEBA, Ukraine's permanent representative to the Council of Europe, said in his commentary to Financial Times that reconciliation "without Moscow paying any price will mean that this organization will discredit itself both in Ukraine and across the region." "If it happens, Ukraine will review our relations with the Council of Europe," he added.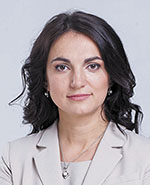 The Day asked Hanna HOPKO, chairperson of the Foreign Affairs Committee at the Verkhovna Rada of Ukraine, to comment on the attempts of restoring the Russian delegation to PACE and on Ukraine's preferable standpoint on this issue:
"Obviously, such attempts at restoring of the Russian Federation to PACE are part of an entire system, which reveals that some are simply ready to go all-in to secure that.
"We must clearly realize that previously Jagland held a series of meetings, visits, for instance, with the President of France Macron and the representatives of the UK.
"What matters for Ukraine is that Russia, should it desire to return to PACE, must fulfill a series of conditions. For example, implement the PACE resolutions which clearly recognize and condemn Russia's aggression. There were rather harsh resolutions which clearly blame Russia and no one else. Every day we see loss of life in the east of Ukraine.
"I wonder if the lobbying for restoring Russia to PACE, under the disguise of all manner of arguments about granting Russian citizens access to the European Human Rights Court, is being done free of charge. How can anyone grant Russians access to protection while the rights of Ukrainian citizens, Crimean Tatars in particular, are being violated? The conflict caused by Russia's aggression left Ukraine suffering.
"Fundamental principles are undermined, European institutions are being discredited, Russia has launched a systemic attack on the entire system of European organizations damaged by Russian influence via its payroll lobbyists and corrupt EU officials.
"For Ukraine, the Council of Europe is valuable as an organization protecting fundamental rights, principles, respecting territorial integrity and sovereignty, opposing the use of force and violations of international law. We closely cooperate with other COE institutions, such as the Venice Commission. If Russia forces its way back to PACE, with a tinge of corruption and without fulfilling any of the prerequisites (with hostilities in the east of Ukraine still going on, the rights of Crimean Tatars still being violated, and numbers of detained activists still growing), Ukraine will obviously raise the issue and discuss if it makes any sense for us being member of such an organization, and what it gives us.
"We have a separate project on implementing reforms with the COE. This will cast doubts immediately. You cannot use such hybrid diplomacy to discredit fundamental principles to please the aggressor, for it will only be seen as encouragement."