Film director Olesia Morhunets on the Dovzhenko Studios, greed as a curse, and justice on the screen
7 February, 2018 - 16:41
A new Ukrainian film, A Fairytale about Money, a screen version of the short story The Day of Atonement (Yom Kippur, 1890) by the Ukrainian-born Russian writer Vladimir Korolenko, is now showing in theaters. It is the second Ukrainian picture based on Korolenko's works: in 1983 Kira Muratova made a drama, Among Grey Stones, a free adaptation of his novella In Bad Company. That film was flatly rejected by Soviet censorship and put on hold.
The protagonist of A Fairytale about Money, Levko, is an ordinary Ukrainian rural guy. His uncle died but bequeathed a mill to his nephew. Once Levko saw the local Jewish tavern keeper Yankel disappear in a strange way. The guy seized the opportunity and took hold of the tavern. Word has it that the tavern keeper was kidnapped by the devil himself, named Khapun. But Yankel came back in a year's time, claiming that he had run away from the evil one. Meanwhile, Levko, already rich and noted, completely goes crazy over his profits. He wants more and more. He ruins his fellow villagers. He loses the desire to love, be a friend of, and help other people. Dark forces overcome him. Levko can only save himself if he becomes aware of his mistakes.
The film stars Andrii Isaienko of Cyborgs fame (commander Subota), Anastasia Karpenko (The Devil's Harvest, 2017), Mykola Boklan (Dinner Is Served, 2005; Firecrosser, 2011; The Battle of Sevastopol, 2015), and Dmytro Surzhykov (Khaitarma, 2012).
The film was directed by Olesia Morhunets. She was born in 1984 in Kozelets, Chernihiv oblast, graduated from the cinema faculty of Kyiv National Karpenko-Karyi University, taught at the Red Dog studio, made short films Molfar (documentary) and Violoncello. A Fairytale about Money, her full-length debut, was made at the Oleksandr Dovzhenko Studios.
FROM MOLFAR TO A FAIRYTALE...
Olesia, why did you choose to direct films?
"At first I dreamed of being an actress and then – a director. Back in school, I took an active part in all kinds of art events and played in a musical fairytale. Then I entered Karpenko-Karyi University to be trained as director. Directors Mykola Mashchenko and Stanislav Klymenko were to select students, but they both fell ill, and we were assigned to Mykhailo Pavlov, a documentarian and ICTV channel producer. Another master of ours, Stanislav Chernilevskyi, was with us from beginning to end. He had a very strong impact on our course and on me personally in the vision of cinema and in the general cultural sense as well. Then I worked for the company Technomedia a very long time – I did all kinds of work there: assistant director, editing director, etc. My first project in the second year of study was props director in the historical picture The Barrister. My graduation project in directing was a half-an-hour documentary Molfar."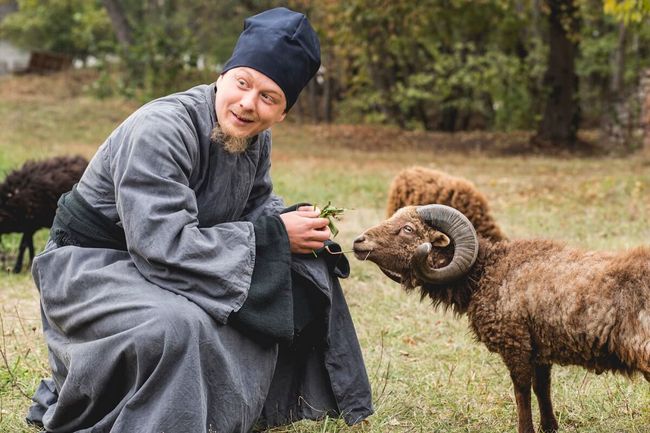 IN A FAIRYTALE ABOUT MONEY, ONLY THE SHEEP SEEM TO BE SINLESS CREATURES
And how did A Fairytale about Money come about?
"At first, Korolenko's Yom Kippur was to be adapted for screen by Viktor Hres. But he was soon taken ill, and the budget was drastically cut due to inflation. The studio was looking for a young and energetic one. They phoned me. I read the fairytale and saw roles for my actor friends with whom I could work. Many did not believe that we would do the job. But we did it in six months."
DOVZHENKO STUDIOS
How did you feel, working at the Dovzhenko Studios?
"Everybody wanted the project to be completed and funds to be spent as soon as possible. So nobody held me by the hands, I took on the cameraman and the actors I wanted, and I felt very comfortable."
Incidentally, what is your vision of the Dovzhenko Studios in future? There's so much talk about this now.
"I happen to love it awfully. My life is linked with it. At first we wanted to be taught by Mashchenko there, then the company Technomedia leased the premises, and I edited 80th-anniversary promotion trailers. It is almost a mystical thing – it is not all as good there as I would like it to be, but I developed a liking to it. So when it was time to apply for funding my debut, Violoncello, I applied on behalf of the Dovzhenko Studios. As for the future, I'd like films to be made there in the existing pavilions. They are rented in any case for various TV programs. Let them at least remain as they are. It's a place where Dovzhenko, Demutsky, and Parajanov used to walk. It's a monument of art. I think Karpenko-Karyi University's film faculty should be transferred there. They have huge premises, and the dormitory is a stone's throw away. At the moment the film faculty has just a couple of floors, and they are complaining all the time. I hope this will happen sometime."
And what do you think of the likely privatization of the studios?
"Everything that will benefit it is OK. For example, why not lease it out for 50 years on condition they produce films? But you know very well why facilities are privatized – not to develop film studios but to build shopping malls and expensive housing. They have already put up a highrise in Pushkin Park, although they had no right to do so. They just marred the landscape. There used to be wide passages on the studios' territory and a proper perspective onto the park – ideally for shootings, but now the passage abuts on the new building's wall. And I've heard not a single name associated with the film industry among the likely buyers."
A TOPICAL STORY
What are the specifics of making a costume film?
"We were supposed to take a certain historical region, but we decided that it would be a small town N. somewhere in central Ukraine. I told the costumer to use no bright things, no gaudy embroidery. We have a picture of faded colors. By all accounts, in reality people never put on festive clothes when they went to work. We chose what we call 'grays,' i.e. costumes of the gray-brown gamut. We sewed clothes for the main heroes only, such as the devil Khapun. But we made the scenery more in the spirit of that time."
Was it a challenge for you to work with many actors, including some well-known performers?
"It was very easy to works with them, for we knew what we wanted and what our budget was. Together with the director of photography and the production designer, we split the film into scenes at the very beginning. We knew how we would be shooting, for we were pressed for time. We held pre-filming sessions and discussed the role of every character. Then, on location, we put on a mise-en-scene and saw what would be interesting. We thought over each scene, taking into account not only the dialog, but also actions. I selected actors who fitted in with the type and could play the given character. It is important to pick up an actor who has an inner similarity with the character he plays."
In the film, you broach the still ticklish question of interethnic relations, with due account of the historical context.
"Korolenko described a tougher turn: a Jewish family is forced to move from the village to the city. They have no place to live, and none of the Ukrainians even approach them. I didn't like it much. I was born in Kozelets, a sufficiently Jewish town. I grew up in a house shared by my great-grandmother and a Jewish family. Incidentally, the door between their parts always remained open. They could visit one another whenever they wanted to. I revised this plot from the angle of my great-grandmother and my experience. When the Jews are leaving the village, women come out to see them off, give them some things, and help them. It is a touching moment, when it hurts the Ukrainians to see that this family has to go. It was very important to me. It is personal."
There is another film after Korolenko – Kira Muratova's Among Grey Stones. Did this weigh upon you?
"No. Our situation was totally different. Hres had his own version of the script, but we remade it. We had no time to fantasize and search for a form. We were trying to get as closely as possible to the very theme of Korolenko. I wanted more of fairytale, more of mysticism, although it is a serious, not exactly childish, story. After the show, a school principle came up to me and said: 'I understood what the movie is about. I want our leadership to see his film.' Spectators are saying: 'It would be good if members of parliament see this.'"
And can you say what the film is about now that it is finished and you saw it with the audience?
"It seems to me it is about atonement, when one receives a lot of money, gains power, but loses his senses. You no longer manage money, but money manages your life. It is a very topical story. Our hero turns out to be not just worse but sillier than his predecessor, a Jew. Having obtained wealth, he loses love and is tormented. We don't have unequivocally negative characters, and everybody has various shades. And hence is our irony or even self-irony. It seems to me that Ukrainians – both the leadership and the grassroots – clearly lack self-irony as well as the ability to criticize oneself, to look at oneself from aside. They lack the following viewpoint: it is not 50 hryvnias or a handful of coppers that can decide something – there are goals that are more important than material ones."
LIKINGS
Do you take interest in something other than cinema?
"I photograph. I've been in this for a long time. I had a film camera and developed pictures by myself. So, my hobby is photo portraits. I even used to make actors' portfolios. In general, I like people and, accordingly, like to photograph them. I can say it is my passion."