Only 11 masters can skillfully apply the almost 500-year-old manual technique of weaving original Poltava region carpets
4 December, 2017 - 17:42
In the early 19th century, there was a 3,000-strong cooperative in Reshetylivka, Poltava region, which specialized in making unique carpets ("kylyms"). About 1,000 weavers were making veritable objects of art. But today Reshetylivka carpet-making is on the verge of extinction. Only 11 masters can skillfully apply the almost 500-year-old manual technique of weaving original Poltava region carpets. They are all employed at Solomia, an arts and crafts studio founded in 2006 by Serhii Kolinchenko. He worked until 2004 as manager of the factory that wove Reshetylivka carpets and was shut down just six month before its centennial.
Three years ago, a family of the Donbas migrants Oleksandr and Maryna Dovzhenko joined the Poltava carpet-makers. While Oleksandr is mostly busy performing managerial functions – he drew up a project of preserving the ancient handicraft, initiated raising funds for carrying it out on a crowdfunding platform, – Maryna, a former travel agency manager, became an artist. She makes mockups of carpets. "This is an entirely new job for me. Of course, I once painted, but it was not on a professional level. I had to learn to dye threads, make technical drawings and mockups. It is very difficult to describe it in words, for these production processes are so fascinating that you should see them with your own eyes. There is only one loom in Ukraine, on which you can weave a 6-meter carpet. We also make tapestries, but our hallmark is monumental creations," Maryna Dovzhenko says. I asked Oleksandr, an economist by profession, why he had chosen to revive and popularize traditional handicrafts in Reshetylivka. His answer was short: "Because I like all things Ukrainian."
INIMITABLE
The unique Reshetylivka carpets adorn governmental institutions in Ukraine, but the Poltava region carpet-makers are mostly proud of the fact that the tapestry "Tree of Life," made by their now late colleague Nadia Babenko, hangs in the New York UN Headquarters' Blue Hall. "From beginning to end, our carpets involve handwork. They are made in the knotted double-sided braiding technique. They are, so to speak, 'read' from both sides. They have no knots because threads are finely placed one after another under the strong pressure of a comb. Then this woolen carpet is steamed-ironed. The carpet looks absolutely the same on both its 'face' and underside. Only a specialist can distinguish between the 'face' and the underside," Maryna Dovzhenko says.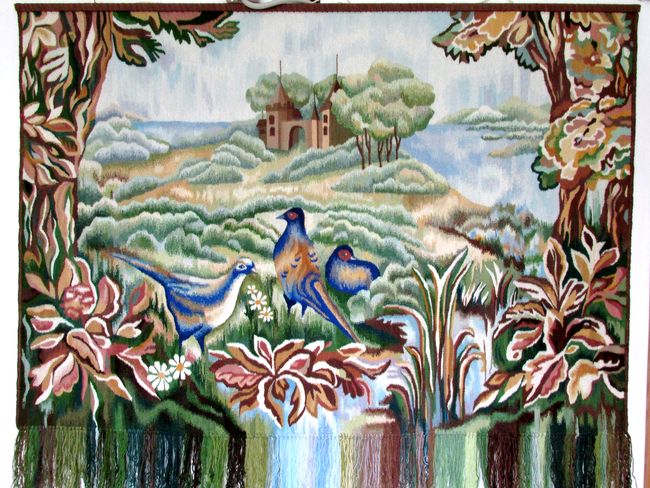 Reshetylivka carpets display pastel and grayish-blue hues, floral motifs, and a harmony of yellow, green, and red colors. What is fascinating is not only their beauty, but also the harmony they add to the space. Mistresses claim that it is not easy to make these "living carpets." It is not only a laborious, but also a physically hard task. Most of the Reshetylivka carpet-makers have more than 20-year-long experience. Only the best remain behind in the craft. Quite often, they represent dynasties of carpet-makers, for whom it is not just gainful employment, but also an object of pleasure. "When they go, this art will come to an end," Maryna notes sadly. She says young people are not exactly rushing to take up this craft. The girls who come to work at the workshop after finishing the local vocational school hold out for six months at most. They are dissatisfied with wages, work conditions, and non-prestigious status of the profession. To change the situation at least a little and keep Reshetylivka carpet-making afloat, funds are being raised on a crowdfunding basis for installing special lighting and air conditioning in the workshop. This will perhaps improve the health of the so far irreplaceable carpet-makers.
8 TO 10 CENTIMETERS OF FABRIC IN AN 8-HOUR WORKDAY
The Reshetylivka traditional arts and crafts workshop is always glad to see guests. There are excursions here, but the tourist potential of this place has been minimally tapped so far. Oleksandr Dovzhenko hopes that the situation will improve and tour operators will create routes to Reshetylivka, for there are things to see and learn here. The mistresses will be glad to share the secrets of their trade with those who wish to take it up. It turns out that, to make a carpet, they need about 100 shades of wool. They dye it on their own with natural dyestuffs. They buy wool in the Chernihiv region because Poltava oblast is short of this material. The basis of the future carpets is laid in Kharkiv. The most heartfelt work is assigned to the Reshetylivka craftswomen – they weave picture carpets out of these materials. By far the largest of them was a 300 sq.m. carpet on which the weavers depicted the history of Azerbaijan. They wove it at a time when the factory was still named after Clara Zetkin.
The price of Reshetylivka carpets varies from 5 to 10 thousand hryvnias a meter. It depends on how complicated the image is. It takes a very long time to make them, for the selection of colors demands that carpet-makers have a flawless taste and ideal lighting. For this reason, weavers often have to work on one carpet for not just one or two but for four solid months. An experienced weaver can usually do 8 to 10 centimeters of fabric in an 8-hour workday.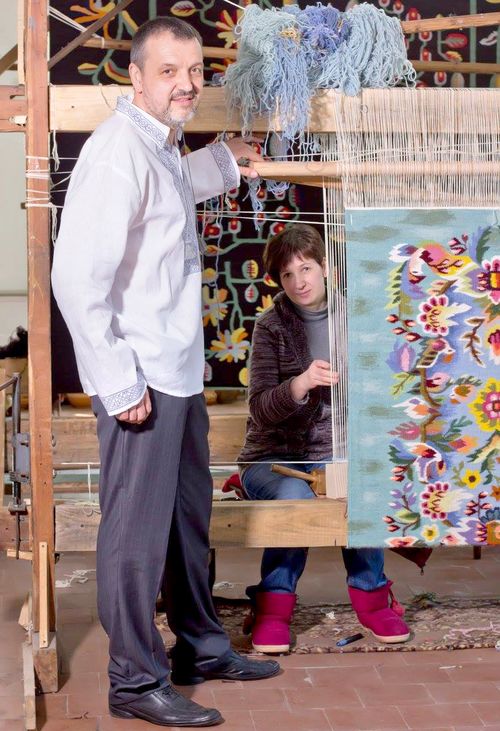 Maryna hopes that it is possible to save and preserve the technique of making Reshetylivka carpets, arouse young people's interest in this trade, and open up the potential of Ukrainian weaving to the world. For, in the view of Maryna, this craft's story is very sad – the best examples of our carpet-making have been taken abroad and can only be seen in the collections of New York or London... "And we have what we have. What are left are collections in Poltava and Kyiv. But this cannot give you the full idea of the uniqueness of Ukrainian carpet-making," the artist says sadly and calls for joining the effort to save the unique technique of making Reshetylivka carpets. Incidentally, they are still woven on the old-fashioned wooden looms inherited from the now defunct factory.