Protest leader Nikol Pashinyan has failed to get elected prime minister. The second attempt is scheduled for May 8. What is next?
8 May, 2018 - 11:20
Despite the continuing demonstrations in Armenia, an extraordinary meeting of the parliament, held on May 1, failed to elect protest leader and head of the opposition faction Elk Nikol Pashinyan as prime minister. A total of 45 MPs supported his candidacy, while 56 voted against him. He was the only contender for the position. Head of the parliamentary faction of the ruling Republican Party Vahram Baghdasaryan announced his political force's decision to vote against Pashinyan's candidacy for the office of head of the Armenian government, the DW reported.
While Pashinyan was answering the questions from legislators in the National Assembly of Armenia, thousands of people took part in rallies in the capital city. After it became known that Pashinyan would not become prime minister, he called for a campaign of total disobedience and urged protesters to block roads and civil servants to go on strike. Indeed, people blocked the road from Yerevan to the Zvartnots International Airport on May 2, so passengers were even forced to walk to the city. The railways have been blocked as well, and demonstrations continued in the center of the capital, the BBC reported.
Let us recall that the latest protests in Armenia began in mid-April, and initially, the main popular demand was to block the appointment of Serzh Sargsyan as the head of government after two terms as president; if appointed, he would concentrate all power in his hands, given Armenia's recent switch to a parliamentary form of government.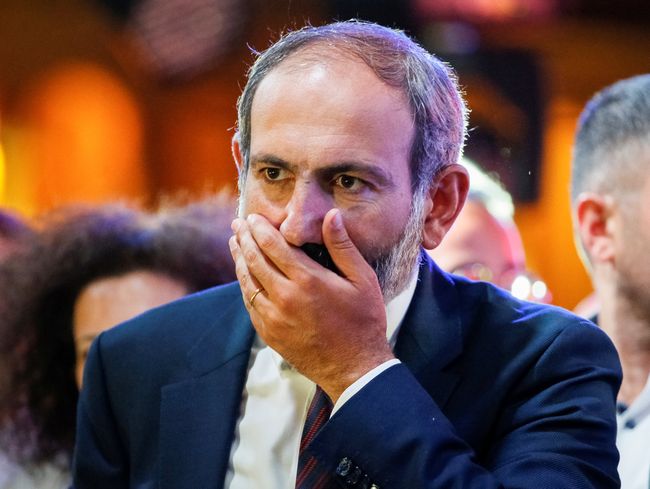 REUTERS photo
 The Day turned to Armenian experts with a request to comment on the parliament's vote against the appointment of Pashinyan as prime minister and tell us how events would develop now, in their opinion.
"THE POLITICAL CRISIS KEEPS GETTING WORSE"
Emil DANIELYAN, Armenian journalist and political analyst:
"The political crisis keeps getting worse. The parliament should hold another meeting and try to elect prime minister once again, which will happen on May 8. If again no one is elected, the parliament is automatically dissolved and the current government, headed by Acting Prime Minister Karen Karapetyan, should hold an early election not earlier than a month and not later than 45 days after that. This is one of the possible ways out of this situation. But it is too early to say whether the ruling party will elect a candidate of its own as prime minister, or opt for an early election, which will be organized by the incumbent government. This is a quite important point, because until now, Pashinyan's demand has been that he, as a transitional prime minister, organize the election, because, as he stated, only in this case it can be honest and fair. But this morning [May 2. – Ed.], he spoke more vaguely about this during a talk with journalists, and did not rule out outright the possibility of participating in such an early election if he was not prime minister. This is a potentially important change in his position."
What did Pashinyan mean when saying that unless he is elected prime minister, Armenia will face a political tsunami?
"This is what is happening now: people are blocking streets, roads, paralyzing transportation, the subway is not running, children are not attending school. At least until 5 p.m., traffic within and around the city is virtually paralyzed. He meant exactly this, and continues to emphasize that all these actions are nonviolent in nature and that they will not attack or encircle buildings, but instead will continue what they call actions of civil disobedience."
What will this pressure lead to, and what should we expect from the ruling Republican Party?
"Tens of thousands of people protest daily, streets are blocked, and this puts a serious pressure, as a result of which Sargsyan resigned.
"Now they are trying to somehow regroup their forces and seize the last chance they have to retain at least some power or a serious presence in the political arena. It seems to me that they think that if Pashinyan holds the new election and becomes prime minister, they will not be able to use their administrative and financial resources and the party will actually fall apart in this case. It is unclear even whether it will be able to get any representation in the next parliament. They have been playing for time so far, and May 8 is a very important day. If they will be able to somehow stay in power until then, then there will be no other constitutional solution: the only possible solution after May 8 will be to hold an early election and this government will remain, at least until the election is held. External forces, meaning Russia and the West, have constantly emphasized that the solution of the crisis should be constitutional."
 In the very beginning of it all, people demanded the resignation of prime minister and former president Sargsyan. What are the demands of the opposition now?
"Indeed, this movement was formerly called 'Reject Serzh.' The main argument for it was that giving Sargsyan another term in power meant dictatorship and authoritarianism. But these slogans changed immediately after his resignation.
"Now the main demand, and Pashinyan has personally announced it, is that he should be appointed prime minister and hold this post at least until the early election. He has been publicly rejecting any possibility of compromise so far."
"THE STREET, WHICH IS BETTER ORGANIZED THAN THE GOVERNMENT, WILL PREVAIL"
David PETROSYAN, freelance journalist from Yerevan:
"First of all, I believe that everything that happened in the parliament yesterday was almost exemplary from the perspective of the development of parliamentarism and democracy. The parties conducted the debate in the best way possible, no one said as much as one bad word regarding another member, but all kept their political views unchanged. Despite the extreme urgency of the situation, everything occurred within the framework of parliamentary culture.
"As for the political perspective, had the Republican Party yesterday supported Pashinyan's bid for the post of prime minister, it would have given him the opportunity to form a minority government and kept its faction consolidated. Then the leader of the minority government would depend on the Republican Party. That is, they would have had to negotiate. I believe that this would have been a good move. But the Republicans chose another move. I think it is less promising, because it is focused on the continuation of the confrontation. And in this confrontation, the street, which is now better organized than the government, will prevail."
What is happening in Yerevan and what kind of future developments should we expect?
"We have a transport blockade now. For example, the road that runs from the airport to the city is blocked, and many other important transport communications are also blocked, including in the inner center of Yerevan. As the rally comes closer, and it usually starts at 7 p.m., some communications are opened, so that people from the regions can come to participate in it. In my estimation, about 75,000 people took part in yesterday's rally.
"As for the future developments, the mass protest pressure as well as pressure on communications will ultimately lead to the Republican Party faction growing less consolidated, and most likely, some Republican legislators will support Pashinyan during the second attempt to elect a prime minister."