First president of Ukraine Leonid Kravchuk on the Belavezha Accords, nuclear disarmament, the war in eastern Ukraine, and the recent decision of the Polish Sejm
5 September, 2016 - 17:56
"We the Ukrainian society must learn to keep in mind the historical facts," first president Leonid Kravchuk stressed in his comments for Den, published as part of polemical article "When Quasi-Liberalism Becomes Total Sovietism." Indeed, when a given society has a poor grasp of crucial issues of the past, they tend to make a comeback. To mark the 25th anniversary of the Belavezha Accords, The Day prepared a series of interviews with the signatories of that international instrument, one of the most important of its kind in the 20th century. Also, we advise you to read our conversation with Gennady Burbulis, published as "On Responsibility of Russian Elite" (The Day No. 46, August 18, 2016) and "On Responsibility of Russian Elite – 2" (The Day No. 47, August 23, 2016). Next, The Day will publish an interview with Stanislav Shushkevich, who served as chairman of the Supreme Council of Belarus at the time of the Belavezha Accords' signing and opposes the Lukashenka regime now.
Kravchuk, Ukraine's first president, offered detailed description of the events of 1991, his take on the politicians' responsibility for the ongoing war in Ukraine and the Sejm resolution on the Volhynian tragedy, and his vision of more effective ways to settle the conflict in eastern Ukraine. Kravchuk asked us to start the conversation with the Belavezha Accords, believing that "if not for them, the very existence of independent Ukraine would have been at risk. The collapsing empire's rubble could have buried millions of people."
"THE KEY WAS NOT MY POSITION BUT THAT OF THE UKRAINIANS WHO VOTED IN THE REFERENDUM OF DECEMBER 1"
Gennady Burbulis and Stanislav Shushkevich say they spent that night trying to persuade you to sign a new union treaty, and failed at it. That is, your position was the key to the signing of the USSR Dissolution Agreement, was not it?
"When talking about the Belavezha Meeting, I always emphasize two fundamental items. Firstly, these accords have been surrounded by a great many myths and inaccuracies over 25 years, distorting their meaning; secondly, they are still not properly appreciated by the world community as an event that opened the path to democracy and freedom, peacefully at that, to many nations.
"Mikhail Gorbachev and communists found it useful to say that the three nations' leaders came together by chance and signed something, while people still wanted to live in the Soviet Union. This discourse has been adopted and actively employed by modern Russia. It is a big lie. I have always insisted that one should not single out individual signatories, since we were there only to carry out the will of our peoples. Think about it: had everything been fine in Russia at that time, would Boris Yeltsin even arrive in the Belavezha Forest? The country was in a deep economic crisis, the existence of Russia itself was at stake. I remember arriving at a party congress held in Moscow in mid-December. When passing through the wintry city, I saw an immense number of queues, which my guide explained as vodka queues. The economy had hit the bottom, there were widespread shortages and a political crisis. People rose up, with the Baltic nations making clear they did not want to stay in the USSR, and Ukrainians voicing independence demands. 'While part of the Union, we lost over 15 million people to the Great Famine, state terror and wars, so how may we stay in it?' Ukrainians asked.
"Imagine three governors of largest American states coming together and stating that the US no longer exists: would they have destroyed that country? Of course not, because Americans would not have come along with that decision. Meanwhile, the Belavezha Accords realized aspirations of entire peoples. The negotiation process was necessary, it was understood by all Soviet parties.
"The key was not my position but that of the Ukrainians who voted in the referendum of December 1. Had I gone to the Belavezha Forest not having the will and decision of the Ukrainian people behind me, my behavior and position would have been shaky. I was asked whether I would sign a new union treaty if Russia introduced amendments formulated by the Verkhovna Rada or me personally. I said 'no' because it would have been contrary to the actual political and moral logic. The Ukrainians had already decided.
"The collapse of the USSR was a result of objective conditions. We should only be credited for being able to see the inevitable coming in time and keep the process from turning spontaneous. We showed an example of effecting such a huge transformation in a bloodless, democratic, and tolerant manner. There were conflicts, but no global tragedy.
"Russians are trying to downplay these accords now. After all, what Vladimir Putin has broken by infringing Ukraine's territorial integrity is precisely the Belavezha consensus. We established the principle of inviolability of borders, so the recent invasion of Crimea and its whitewashing with nostalgic rhetoric are illegal and illogical."
"WHEN WE BROUGHT MILITARY COMMANDERS TO THE RADA AND ASKED WHETHER THEY WOULD SWEAR THE OATH OF ALLEGIANCE TO UKRAINE, ALMOST EVERYONE DID"
In military and defense provisions of the Belavezha Accords, the signatory nations reaffirmed their desire to "eliminate all nuclear weapons and achieve general and complete disarmament under strict international control." Thus, the principle of non-nuclear status was there long before the Budapest Memorandum. For whom this item was a matter of principle, and why?
"The non-nuclear status was a matter of principle for all parties. We proceeded from humanitarian reasons, I mean rejection of the world's most terrible weapons, as well as practical ones. For those who still think it was a mistake, I will explain. Ukraine had 165 nuclear missiles, each of them with 10 warheads, for a total of 1,650, on our soil. All of them had been manufactured and placed on the delivery vehicles outside Ukraine, namely in Russia. The command system was also located not in Kyiv but in Moscow. Thus, Ukraine had no control over them anyway. Secondly, warheads' working lives were to end in 1998. That is, they needed to be replaced by that date. Since we had no production facilities, should we have asked Russia to deliver some to us as an independent nation? Therefore, the main question for us was how to safely dispose of existing missiles. And thirdly, all the 165 missiles based in Ukraine were aimed at the US, which put considerable political pressure to make us rid ourselves of this terrifying weapon. Taking all these factors into account, I believe we were totally right to decide to sell the warheads. Perhaps 700 million dollars was too low a price, but we had to decide on it under conditions of dependence, political pressure, and danger of war."
How did uniformed services behave after Ukraine's proclamation of independence? After all, they were sworn to uphold the USSR.
"At the time of the independence proclamation, the high command of all uniformed services, including the Soviet Armed Forces, the Internal Troops, and the KGB, was controlled and took orders from headquarters in Moscow. Importantly, we in the Verkhovna Rada – immediately after the independence proclamation and realizing that any wavering on the part of these services was not only a sensitive issue, but also one making us vulnerable – passed eight special laws on the Ukrainian Armed Forces. We did it week after week, because we knew that the slightest mistake could have serious consequences. So, when the question of the oath arose, we already had all the necessary laws in place. When we brought military commanders to the Rada's meeting chamber and asked them directly whether they would swear the oath of allegiance to Ukraine, almost everyone did. So, thanks to consistent legislative work, we managed to prevent any strife within the military."
"ALL THE PRESIDENTS ARE TO BLAME FOR OUR SOCIETY BEING AS NEGATIVE IN ITS THINKING AS IT IS"
On the eve of Independence Day, Den conducted a poll through our website, asking the following question: "What have we achieved and failed to achieve in these 25 years since Ukraine's independence?" The first-placed answer is "We have had chances, but have never seized them." The second most popular is "We have not been able to build a strong country so far." What is your assessment?
"There is a weighty piece that always blocks one's attempts to clear one's mind from layers of negative thinking, that piece being the low standard of living. And it is not improving in many areas. Corruption, poor schools and hospitals, hiked-up utilities rates – they make for an explosive mixture when piled up. While in such a condition, people just cannot see any good. Although I would suggest a comparison of what we had 25 years ago and the current state of affairs, with people free to go to a church of their choice, kids free to choose their life paths, and much more open opportunities.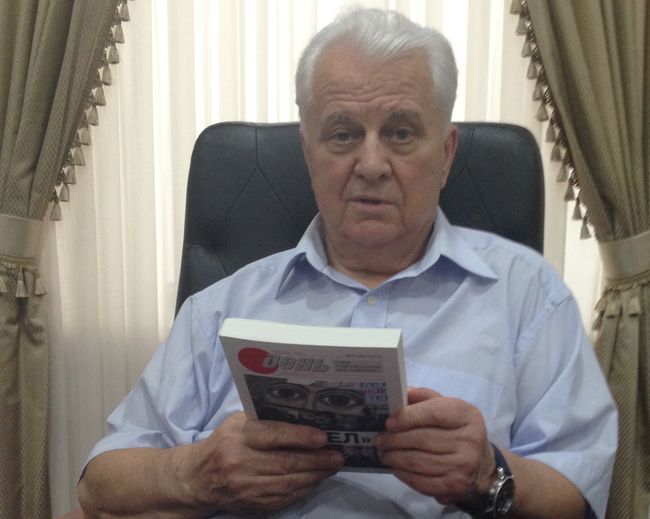 DEN PRESENTED LEONID KRAVCHUK WITH A COPY OF THE BOOK "THE TRAP," OR A CASE WITHOUT A STATUTE OF LIMITATIONS, PUBLISHED IN DEN'S LIBRARY SERIES. THE FIRST PRESIDENT NOTED THE IMPORTANCE OF CRITICAL ANALYSIS OFFERED THERE AND PROMISED TO READ IT. HE WILL FIND AN ASSESSMENT OF HIS OWN POLICIES AS WELL, THEN / Photo by the author
"We have won great victories in historical and civilizational planes. Firstly, what is conventionally known as east, west, and center Ukraine could not unite on a common 'road' for a long time. Now, we are all on the same path leading to Europe. Secondly, we started to break off from Russia regarding energy deals, pipelines, and values. By doing so, we have opened new life for ourselves. These are momentous events, of the Belavezha Accords' magnitude, which will determine the development direction for dozens of generations to come. Building roads and bridges is important, but not historically important. This should be done every day, instead of stealing. Otherwise, it turns out that having made history, we cannot get our house in order. People do not want to listen to the government explaining that they cannot jail a prosecutor owning piles of diamonds because it would conflict with another law. If they cannot do this, they are not really the government."
Now the nation operates under conditions of military and media aggression from Russia, we have to deal with occupied territories and active hostilities. But the groundwork for the invasion, maybe for a milder one, was laid earlier. Do you see former top Ukrainian politicians as responsible for the current situation in Ukraine? Were there criminal acts or criminal inaction?
"Yes, all the presidents are to blame for our society being as negative in its thinking as it is. Someone did everything to open to his henchmen the road to power and wealth, to generate millionaires who magically became rich in a short time. Much-maligned Viktor Yanukovych did not come to a clean and healthy field, but rather to one full of weeds and garbage. It was easy for him to consolidate his position amid such chaos. They made agreements and promises, and made good on them. It is hard for the current government to cope with those social and economic problems. All this negative fabric makes it very difficult to paint some beautiful things on it."
"I THINK WE NEED TO MOVE TO THE BUDAPEST FORMAT"
You have said that the Minsk Agreements have outlived their usefulness. What path to resolve the conflict in eastern Ukraine and de-occupy Crimea do you see?
"We must change the way we negotiate. The Ukrainian issue, including the Donbas, the war, and Crimea, is currently being discussed at two venues: the Normandy meetings and Minsk. The Normandy format involves four leaders who meet, discuss something but do not sign any documents. Information released after these meetings is limited and contradictory. The documents are then signed in Minsk, but by people without the requisite authority. The Minsk talks initially brought positive results, as they brought Russia to the negotiating table at least on some level. I think that even stopped Putin's aggressive plans to go beyond the Donbas. But now, the Minsk talks are dealing with one single issue, the prisoner exchange, and nothing else. This does not solve the main issue of ending the war, achieving return of territories, and re-establishing control of the borders. Neither the Normandy process nor the Minsk one can do it. So, I think we need to move to the Budapest format, to re-actualize the memorandum and use these guarantees to build the diplomatic process. Maybe the number of participants should be changed as well, because Germany was not a party to the agreement back then, but now its opinion is hard to ignore. The decisions should be discussed with full knowledge of the general public and mechanisms for their implementation should be provided in writing."
"MY POSITION IS THAT UKRAINE SHOULD RESPOND TO THE RESOLUTION OF THE POLISH SEJM"
After the decision of the Polish Sejm on the Volhynian tragedy, you called the resolution "a political dance." You were as clear regarding the Volhynian events of 1943 in an earlier conversation with Den which was included in the book Wars and Peace, or Ukrainians and Poles: Brothers/Enemies, Neighbors. What do you think the Ukrainian legislators' response should be? After all, the Verkhovna Rada opens its session in September.
"Making assessment of the Volhynian tragedy took decades, and we passed five joint documents over that time. They included three joint decrees of Polish and Ukrainian presidents, the two parliaments' joint statement and the appeal of Greek Catholic and Roman Catholic bishops, which defined, in a step by step manner, and completed our assessment of this tragic page of history. This does not mean that we have to stop and forget. I have always said that our historians, intellectuals, and even politicians need to continue to work together to ensure that the victims of the tragedy are not forgotten. We must know the truth to make the right decision, but the truth cannot be one-sided. The Polish Sejm has erased all the reconciliation work done before. As a Ukrainian and a Volhynian, I believe it to be wrong, ignoble, intolerant policy that ignores our past, present, and future. Some radical forces in Poland imposed it, and maybe outside actors 'helped' as well. It was no accident that Russia so quickly picked up this theme and applauded this decision.
"We should not forget anything done by anyone, and the parliament has to respond. Myself and a group of MPs of the 1st Rada and currently active politicians prepared a draft resolution and signed it. We should not swallow insults and turn the other cheek. This is my personal position."
"NOT EVERYONE UNDERSTANDS THE NATIONAL IDEA, BECAUSE THOSE HAVING TO ARTICULATE IT ARE THEMSELVES TORN BETWEEN MAKING MONEY AND STATE INTERESTS"
A quarter of a century has passed since the signing of the Belavezha Accords. Back in December 1991, how did you imagine Ukraine in 25 years?
"My then view can probably be described as romantic. It seemed to me that the Ukrainian people wanted democracy, freedom and nothing more, that we had only to get out of the Soviet Union and we would quickly succeed in everything, as we had the brains, hands, resources, and desire to do it. It turned out far of the mark so far, and I underestimated the depth of the post-Soviet inertia. People vote for bribes or on orders of their superiors, the government cannot decide who should hold office and who belongs in jail. I look at the situation more soberly now and understand that our path will not be easy. Transformation is a complex and far from painless process which should combine political skill, high moral and purely professional competence. We have always missed some corner of this triangle, and it has always harmed us. Victor Hugo wrote: 'No force on earth can stop an idea whose time has come.' Not everyone understands the national idea, because those having to articulate it are themselves torn between making money and state interests. They have gone as far as to try to wriggle out of their commitments, as in the case of e-declaration system. This is the cause of our problems, uncertainty, wavering, and understatements. We need to take the broad road of truth."