"Defending the orphans – changing the future"
This is the topic of the Eastern European Summit for Pastors to be held in Kyiv on February 6-7
05 February, 11:22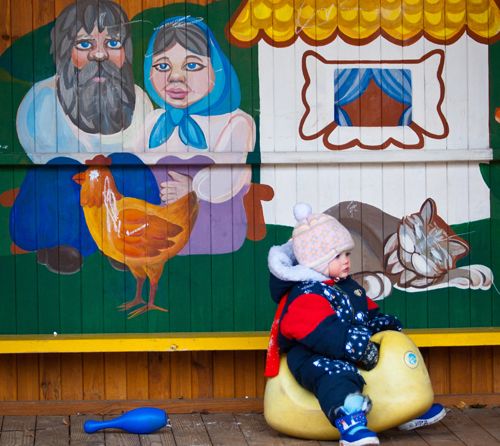 Alliance "Ukraine without Orphans," the Commission for Social Ministry of the Ukrainian Council of Churches and Religious Organizations, and alliance "Russia without Orphans" will hold Eastern European Summit for Pastors "Defending the orphans – changing the future" on February 6-7. (The summit will take place at the conference center at the President Hotel in the center of Kyiv.) Remarkably, it has tentatively been reported that parliamentary hearings will be held this week on Ukraine's ratification of the Hague Convention on Inter-country Adoption. Instruments of Hague Convention enable effective control and monitoring of the conditions in which children adopted from our country live in. (It has been already approved by 89 countries.)
Alliance"Ukraine without Orphans" provided The Day with the following statistics: in 2010 Ukrainians adopted 2,247 children, foreign citizens adopted 1,202 children. In 2011 Ukrainians adopted 2,114, while foreigners adopted 970 Ukrainian boys and girls. Last year's figures presented as a graph confirm the tendency of curtailing the number of adoptions by foreign citizens in our country.
"Today, the vast majority of orphans and children deprived of parental care subjected for adoption are older children and children with special needs," said Ruslan MALIUTA, president of the alliance "Ukraine without Orphans." "Unfortunately, Ukrainian citizens adopt children from these categories much less frequently than foreigners. Obviously, we have to put all the effort to change this trend, which, in fact, is one of the main objectives of the alliance 'Ukraine without Orphans.' That is why the ratification of this document cannot in any way be viewed as means of promoting inter-country adoption or rejection of the priority of national adoption, as it has been presented by some groups. [It is a well-known fact that the all-Ukrainian Union Svoboda opposes adoption of Ukrainian children by foreigners. – Ed.] We should remember that with the development of the culture of adoption in Ukraine, soon Ukrainian citizens will be ready and willing to adopt children from other countries. It is also another, very important reason for joining the Convention. Therefore, the alliance 'Ukraine without Orphans' urges the Ukrainian parliament to ratify the Convention on Protection of Children and Cooperation in Respect of Inter-Country Adoption based on the best interests of children. We believe that you cannot use the issue as a tool for political manipulation. After all, when adoption is in question, children often become hostages of political games."
Meanwhile, the summit aims at uniting the efforts of churches for giving an effective response to the challenges of social and spiritual orphanhood. It has been reported that the event will be attended by Dr. Wesley Stafford, president of Compassion International (USA), one of the largest Christian organizations in the world, helping more than one million needy children in cooperation with other Christian communities; Dr. Rick Morton, pastor of Temple Baptist Church (USA), father of three adopted children, author of Orphanology: Awakening to Gospel-Centered Adoption and Orphan Care; Dan Brewster (Malaysia), Doctor of Missiology, author of the book Child, Church & Mission… The event is expected to gather more than 500 participants.