ELibUkr
This project will facilitate information exchange between the international and Ukrainian academic communities
03 February, 00:00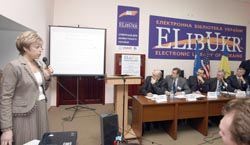 The unique project "Electronic library of Ukraine (ELibUkr): setting up knowledge centers in Ukrainian universities" was launched in Kyiv-Mohyla Academy on Jan. 26, 2009. ELibUkr aims at facilitating integration of the Ukrainian academic community into international science. In practical terms this means that scholars and students in Ukraine will have access to a global digital network of research information.
The library will subscribe to 13 most important databases and 11,000 digitized journals, such as journals published by Emerald, one of the most authoritative publishers in the area of economics and management. The information exchange system will work both ways, allowing international users will have access to research publications of Ukrainian scholars through open-access electronic archives and journals.
For this purpose knowledge centers will be created in university libraries. The centers of this kind have recently been launched in the Karazin Kharkiv National University, Fedkovych Chernivtsi National University, and Kyiv-Mohyla Academy. All of these centers are participants in the project "Electronic Library of Ukraine." By the way, since 2007 Ostroh Academy has been operating an electronic library, offering access to nearly all library networks in the world and also letting foreign users acquaint themselves with 18th-century publications, which have been digitized and kept at the academy.
The ELibUkr project brought together Northwestern University (Chicago), the United States Agency for International Development (USAID), Kyiv-Mohyla Foundation of America and the All-Ukrainan Association "Informatio-Consortium." The project will be carried out in three stages, involving new universities at every stage — there will be a total of 70 universities participating in the project.
"Most teachers have had an experience of bringing suitcases full of copied materials from international conferences. However, we have been using memory sticks and copying information onto them. Now ELibUkr will provide access to the most recent achievements in all spheres. This project also defines what a modern university in Ukraine should be like. There are 904 (sic) higher education institutions in Ukraine. That is why it is hard to overestimate the importance of ELibUkr," said Serhii Kvit, president of Kyiv-Mohyla Academy. US Extraordinary and Plenipotentiary Ambassador to Ukraine William Taylor added: "Ukraine will be benefiting from this project for a long time. It will give your country one more channel to access the rest of the world. It will bring Ukraine closer to Europe and other academic institutions and educational establishments all over the world."
Marta Farion, president of Kyiv-Mohyla Academy in America, said that ELibUkr is financed by USAID and three universities participating in the project and that the budget of the first stage is $1.5 million. To compare, Yale University pays $5 million for access to electronic resources every year. The organizers plan to enlist the support of the state, private businesses, and individuals.