Leader of the 1953 Norilsk GULAG camp uprising Yevhen Hrytsiak is celebrating his 90th birthday today
9 August, 2016 - 11:35
"Moral authorities" are a thing. This name is used for people who derive their power from principled position, life wisdom and rich experience, and use that power to convey correct and timely signals to their societies. In developed countries, these people are listened to and they are the ones to determine the nation's development direction. Ukraine, unfortunately, is not this way: we do have moral authorities, but no one follows their example. Also, it happens quite often that the public does not even know about the great deeds and positions of these people. Yevhen Hrytsiak is certainly one of such under-listened and under-asked authorities. He led the uprising in the Norilsk GULAG camp in 1953, was a long-term prisoner of the Soviet totalitarian regime, and is a deep intellectual, friend, and reader of Den/The Day.
Today, on August 9, the Ukrainian Gandhi, as he was dubbed by prominent human rights activist Mridula Ghosh during a talk at Den/The Day's office, is celebrating his 90th birthday. Hrytsiak has decided against any pomp on that day. Attempts to attract attention would be totally out of style for him. Still, he is always happy to host guests. He admitted that his brothers-in-arms from the raion center of Sniatyn would come, as well as guests from the capital. "I will accept and dine all who would come to sincerely greet me," the hero of the day said. "However, I have no plans for a celebration itself, since I have a number of conditions and I am too weak already. I should have held a presentation of my translation of the book Autobiography of a Yogi by Paramhansa Yogananda in Sniatyn, but I canceled it too. I am very weak currently. To be honest, looking at the situation in the country, one sees that this is no time for celebrations. I just see and feel that Russia is preparing a serious provocation against us, and possibly a full-scale war. We need to be ready to pay more attention to the armed forces, properly fund the military, not to rob it. Only force can stop Russia today, force combined with the willingness to fight to the end. We must understand that the future of Ukraine for 20 to 30 years to come depends on how this year 2016 unfolds. The government's actions, whether it will demonstrate readiness to defend our principles and standards, especially in the confrontation with Russia – the coming decades depend on it. Most importantly, we should not be afraid. You know, during the uprising a boy approached me and said: 'We need to talk, but so that nobody knows or sees it.' I chose a place in the hospital, under the stairs, which was dark and deserted. He came and said: 'What are you doing?! They will execute you. Why this sacrifice? Let the Russians overthrow their 'tsar' themselves. They brought him to power, built the 'evil empire,' now let them overthrow him. We Ukrainians have lost way too many people to executions already, let there be no more our deaths.' I immediately replied that I led nobody to their deaths, but had the right to sacrifice myself, for I knew that my fight was a just one, and was not afraid of a fair fight. I think that this rule applies today as well. There were almost 20,000 political prisoners there, half of them Ukrainians. Ukrainians spoke out then, and it was the right thing to do. And today as well, it is the simple Ukrainian people, but properly organized, who should unite and have their say."
Hrytsiak's lifestyle, thinking process, lofty desires and ability to self-educate are inspirational and should serve as an example for all Ukrainians, especially at that difficult juncture, one determining our development direction, which the nation is going through.
GANDHI STOPPED AT USTIE
Mykhailo TKACHUK, film director, creator of the series The Riddle of the Norilsk Uprising:
"I call the Norilsk Uprising a classic historic explosion, because one can perceive it in different ways, discover new facets. For instance, I was shocked at first to learn that people dared to resist in GULAG camps while enduring unbearable living conditions, and then I wondered who exactly had the inner strength to do it, and found out that 70 percent of the rebels were Ukrainian. And finally, I discovered the great figure of Hrytsiak. He led the uprising in his Camp No. 4, knowing that it was likely a death sentence. But as he wrote, 'I understand that nothing will happen if I stay away.'
"However, he commanded the rebels so well that almost no one was killed in his camp. It was because he was brought up on the idea that the most important thing was to keep people alive, to preserve the Ukrainian gene pool. Hrytsiak took it for his overriding rule: the victory means not dying a heroic death, but surviving to fight another day. After all, no one values a Ukrainian's life as high as their homeland. These ideas were for him not theoretical constructs, gleaned from works by Leo Tolstoy or Mahatma Gandhi, but products of his own thinking. And this fact reflects true spiritual resistance. I wrote the script for a yet-unproduced film which is called Gandhi Stopped at Ustie, similarly to the famous Italian film Christ Stopped at Eboli. Jesus never stopped at that small town, this was a metaphor, but a very apt one.
"The modern Ukrainian society especially needs such a spiritual rebellion. Ukrainians are scattering all over the world, promising young people leave this country, and this is a great calamity and a tragedy of our nation. People should have the responsibility to stay, to ask themselves Hrytsiak's question: 'If not me, then who?'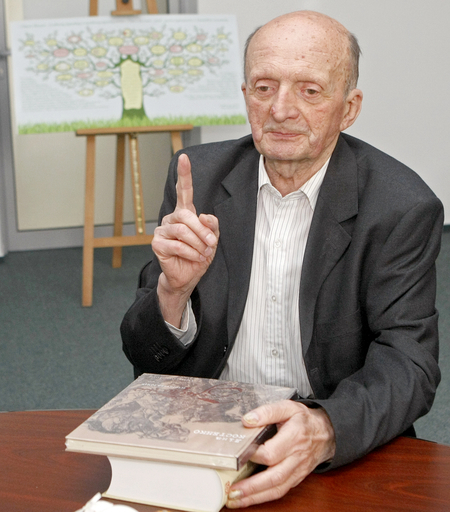 "The Norilsk Uprising forms an integral part of the chain of Ukrainian resistance. Outstanding son of Volhynia Yevhen Sverstiuk told me that the Sixtiers saw the uprising as a motivating example as well: 'When the authorities sent us to the camps, we remembered Norilsk and stayed strong, because they endured far worse conditions there, and still dared to resist.' I consider it necessary to name a street after the Norilsk Uprising, so as to arouse curiosity and encourage citizens to learn more about this page of our history.
"Hrytsiak continues to inspire people: his example shows that it is possible to acquire a good command of English and to strive for physical and spiritual perfection through the practice of yoga. If you ask him today what he believes to be the greatest achievement of his life, he would reply 'the publication of Autobiography of a Yogi in Ukrainian.' Think about it, he spent many years of his free life to have a book about these spiritual practices published in his mother tongue in faraway Los Angeles. This work by Yogananda was translated into many languages, including Russian, long ago, but not Ukrainian. And Hrytsiak fought to make it happen. Now his translation of the book has been recognized as the world's best, one that most adequately conveys the essence of the famous yogi's ideas. Even though translations of this book generally do not contain the names of the translators, the Ukrainian one has Hrytsiak's name on it due to top quality of his work."
"HRYTSIAK IS A STRONG-WILLED, COURAGEOUS, AND RESOLUTE PERSON"
Levko LUKIANENKO, Ukrainian former dissident and activist:
"I met Hrytsiak at the Sosnovsky Camp No. 7 in Mordovia. We were quite close, despite being assigned different jobs and living in different barracks. Nevertheless, we often met, discussed our struggle, in short, lived ordinary prisoners' lives. He is a strong-willed, courageous, and determined person. He then studied yoga, thus exercising his spirit. When we met, he talked about his case and the Norilsk Uprising, and impressed me with his perseverance that bordered on fearlessness. I remember well one episode. After the 1953 uprising started, top brass of the system came to the camp. They asked a political prisoner to step forward and explain the rebels' demands. At this point, there was total silence in the ranks, and people froze, fearing they would be executed for dissent. And then, it was Hrytsiak who approached the government commission and told them about the prisoners' complaints. He understood that they might shoot him dead, but still stepped forward. I respect Hrytsiak. He could never write a letter of remorse or apologize, repent before the empire. He is principled, proud, and has a sense of his own importance. For it, he deserves my respect and the respect of all Ukrainians."
"UKRAINIANS CAN OVERCOME FEAR"
Mridula GHOSH, chairperson of the East European Development Institute:
"Until one sees him and talks to him, one just cannot believe that we have such a person among us! It happened to me as well. After reading his biographies, numerous interviews and memories, all published by Den/The Day, I painted a certain image in my mind. It is not about looks, for I saw a film about the Norilsk Uprising which featured him. Finally, I saw him on the eve of the 60th anniversary of the Norilsk Uprising celebrations, which were held in Ivano-Frankivsk in 2013. It often happens that imagination uses brighter colors than the reality. It was rather the opposite on that occasion. There is no need to go to the holy places across the mountains and oceans, since Ukraine has a holy man here, one who is modest, quiet, laconic but extremely wise and spiritually rich.
"Hrytsiak's example and his whole figure is more relevant than ever at this juncture, when Ukraine is at a critical stage of its state development, when we are taking a fresh look at our past, when the archival evidence of the systematic destruction of the Ukrainian nation and statehood is being published, and when Ukraine, influenced by loss of thousands of lives, is deeply reinterpreting the valuable experience of previous generations' struggle for the rights and freedoms.
"Hrytsiak must be remembered because he was the first who led the first non-violent movement against totalitarian tyranny at the GULAG camp back in 1953. He is the oldest living prisoner of the Kremlin, heading the long list of those who have been released and those still awaiting release. History calls him the First Hero of Ukraine! And that is despite him lacking this award and official title.
"We must not just remember him and bestow awards on him, but study and analyze him as one of the phenomenal historical figures who created the history of the 20th-century Ukraine.
"For me, Hrytsiak is a personification of the indestructibility of human spirit, which is the key to the liberation of the individual as well as the whole nation. The true independence comes not from military superiority but rather from spiritual, intellectual, and cultural revival. He endured a lot, bravely going through the cynical repeat imprisonment and a lot of abuse and humiliation. He found the inner strength to complete formal secondary education, and did a great job for the world.
"Lacking nearby yoga studios, accessories, and other items needed for yoga training, he mastered the difficult exercises of pranayama himself to improve his broken health, and strengthened it. He did not end the fight at that. He developed intellectually and spiritually, studying English at the forced labor camp. He mastered English enough to read and translate the most famous book on yoga, Yogananda's Autobiography of a Yogi. The book was published in 2015 in the US. Sadly, it is not on sale in Ukraine, even though it should be.
"Through the example of his life, Hrytsiak has proven that Ukrainians can overcome fear. They can resist and wisely use peaceful, nonviolent methods of struggle for human rights, despite the Kremlin's propaganda claiming that they are fascists. By the way, he treats the philosophy of non-violence wisely and without fanaticism. Hrytsiak said that Russia's military aggression and intervention could not be opposed strictly through non-violent means. I remember the history of my own country, India. Yes, Gandhi's non-violent movement was the principal force and led the country to independence, although a lot of blood was spilled during the partition of India. But after it all, the country has never abandoned policies aiming at creating a strong and well-armed military, seeing that it has aggressive neighbors.
"Most importantly, I am astounded with his integrity and honesty. He lives modestly and quietly, has no wish for personal enrichment, self-promotion or a quest for glory.
"Has it been the reason for the 'Ukrainian Gandhi' being little-known in Ukraine after 25 years of independence, the only exceptions being publications in Den/The Day since 2009, interviews for Den-TV, and movies about him and the Norilsk Uprising, created by the Shevchenko Prize-winning director Mykhailo Tkachuk? It brings to mind Rabindranath Tagore's lines: 'Through many years paying dear travelling in many countries I went to see high mountains, I went to see oceans, only I didn't see, on the step of my door the glittering dew drop on the wheat ear.' It is time to finally notice the treasures we have at home.
"I am glad to see him turn 90. Many good years to you, Mr. Hrytsiak!"