Queen Elizabeth II turns 90 today
21 April, 2016 - 11:55
Queen Elizabeth II turns 90 today. She was born in London as the first child of the Duke of York Albert and his wife Lady Elizabeth Bowes-Lyon. In 2015, Elizabeth II was recognized as the most popular monarch in the history of the UK. Moreover, on September 9, 2015, she broke the record of her great-great-grandmother Queen Victoria, who was in power for 23,226 days, 16 hours and about 30 minutes. It should be noted that a majority of Britons support the retention of the monarchy, and this opinion surely has much to do with Elizabeth's commitment to serving her people.
Let us recall her first radio address, made on the occasion of her 21st birthday: "I declare before you all that my whole life, whether it be long or short, shall be devoted to your service. I shall not have the strength to carry out this resolution unless you join in it with me, as I now invite you to do."
Decades later these words still ring true for her supporters. For millions of people, the longest-serving monarch in British history is a part of the fabric of UK society and a steadfast constant in their lives.
"For many of us, in our lifetime, the queen is all we have known. She's on the stamps that we lick and put on our envelopes, she's on the coins that we pay for everything with … she is an institution, she is a national treasure," Katie Nicholl, royal correspondent for the Mail on Sunday newspaper, told NBC News.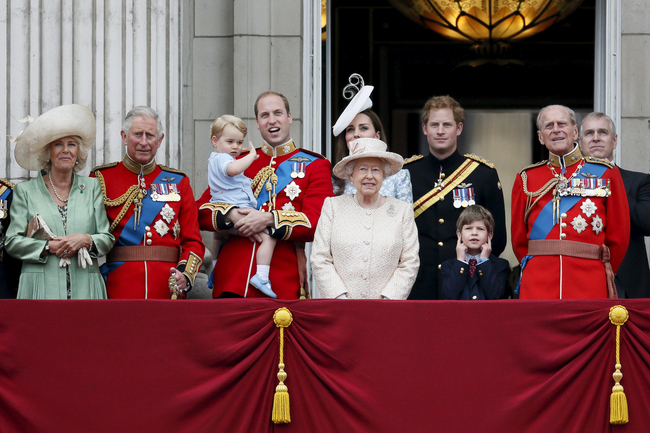 REUTERS photo
"As a nation we want to thank our queen for her boundless duty," said Ingrid Seward, editor-in-chief of London-based Majesty magazine. "A lot of people don't get near that [age], but she is still out there doing that, looking lovely in her brightly colored clothes, shaking hands, and talking to people."
Journalist and royal commentator Roya Nikkhah added: "She came to the throne in her early 20s and I think in this country the public recognize and admire and appreciate the fact that she has given pretty much her entire life to service."
Despite her age the Queen carried out 306 engagements in the UK and 35 abroad in 2015.
On his tour in India this past week, Prince William spoke about his grandmother: "I am incredibly lucky to have my grandmother in my life. As she turns 90, she is a remarkably energetic and dedicated guiding force for the family."
The queen will mark her birthday by meeting well-wishers outside Windsor Castle, west of London. She will later light the first of more than 1,000 beacons throughout the country in honor of the event.
To honor the 90th birthday of Queen Elizabeth II of the UK, the Royal Mint has issued commemorative five-pound coins, decorated with roses.