The Kyiv Museum of Hetmanship hosts an exhibit dedicated to the outstanding Ukrainian
17 May, 2018 - 11:08
An interesting thing is occurring to Hetman Pavlo Skoropadsky's political, state-formative, military, and literary (his Reminiscences) legacy: the more what he did becomes part of the "living" awareness of contemporary Ukrainians, rather than of "archival" history, the more energetically various myths, tendentious inventions, and doubtful tales circulate (in addition to lively debates which are, in a way, useful because they testify to the importance of the hetman's achievements in today's Ukraine).
The best way to counter this is to provide exact and trustworthy facts, as well as documents, photographs, letters, and other real testimony that history has left behind. This is basically the job of the Kyiv Museum of Hetmanship – not only because almost all research associates at this institution highly appreciate the figure of Skoropadsky, but also because it is quite logical and natural to pay tribute not only to the famed bearers of the mace in the 17th-18th centuries (Sahaidachny, Khmelnytsky, Doroshenko, Mazepa, and Apostol), but also to the 20th-century hetman, an outstanding statesman of Ukraine.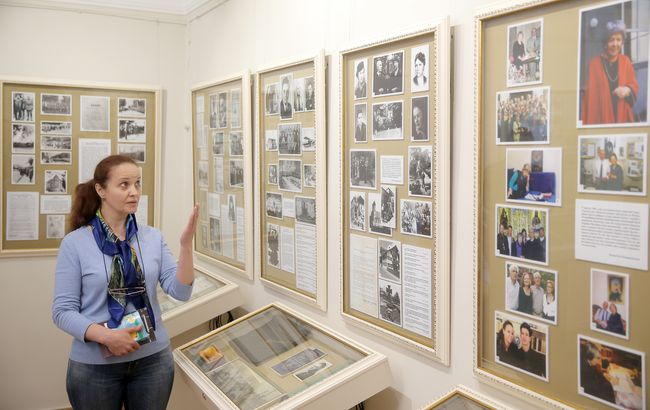 For this very reason and, undoubtedly, on the occasion of the 100th anniversary of the hetmanate's proclamation, a small (unfortunately!) room in a cozy building of the museum on 16b, Spaska St. (which exudes an inimitable aura) is now hosting a unique, without an exaggeration, exposition that focuses on Skoropadsky's life, ancestors, military, political, and state-formative career; his activities after abdication of power (1918-45), the evolution of his views, the last years of his life, the destiny of his wife Oleksandra, son Danylo, and daughters Yelyzaveta and Olena. If the words "unique exposition" seem too "pompous" to somebody, let them go and see by themselves. Here, on 14 stands, is the "genealogical tree" of the Skoropadsky family and materials about his parents, the beginning of a horse guardsman's career, participation in the Russian-Japanese war and World War One, and the future hetman's taking of a "Ukrainian position" in 1917. Naturally, in the center of the exposition are the brilliant seven a half months of the hetman's state, state-formation, military and cultural gains. There are very many photographs, printed and epistolary materials here – it is perhaps the only collection of this kind in Ukraine. Besides, visitors can see detailed materials about Skoropadsky's activities in exile (he chaired the Ukrainian Union of Agrarians-Statists), his son Danylo (there are unique letters from his parents to him), wife, and daughters. A separate stand is about Ms. Olena Ott-Skoropadska (1919-2014), a sincere patriot of Ukraine, and the selfless activities of this exceptional lady.
In addition, an all-Ukrainian scholarly conference on the occasion of the centennial of Hetman Skoropadsky's Ukrainian State opened in the museum. Read in one of the nearest issues of Den/The Day about the most illustrious thoughts expressed in the speeches.