Vadym Svyrydenko speaks of rehabilitation through sport and veterans' movement in Ukraine
7 June, 2018 - 11:04
Vadym Svyrydenko and I are speaking at the Soccer Federation of Ukraine. He has just come back from a workout at Bannikov Stadium. This stadium hosted Invictus Cup soccer matches a week ago. Wounded war veterans from various regions took part in this tournament held on Vadym's initiative. For Svyrydenko, who has been the president's authorized representative for rehabilitation of the wounded, shell-shocked, crippled or otherwise injured ATO participants for almost 18 months, the development of veterans' sport is a top priority.
Vadym's story is quite well known. Mobilized in August 2014, he served as a medic at the 128th Independent Mountain Assault Brigade of the Ukrainian Armed Forces. He was wounded in February 2015 in a battle near Debaltseve, when Balu checkpoint soldiers were trying to break out of encirclement. The evacuation team came under terrorists' fire, the surviving soldiers got on an Ural truck, but the latter hit a mine. Vadym was in hiding for three days in a 20-degree frost without eating. Three of his comrades froze to death, and he was severely frostbitten. "DNR" militants took him prisoner on February 20. He was given first aid in Donetsk and then turned over to the Ukrainian side as a seriously wounded one. Vadym had his hands and feet amputated in a Kyiv burn center. But he learned to use US-made prosthetic feet and hands.
Vadym is also known for many victories in international competitions. He twice participated in the Washington Marine Corps Marathon and won a prize in 2016. In September 2017 he won bronze in indoor rowing at the Invictus Games, an international competition for the wounded, injured or sick armed forces personnel and their associated veterans. "I was going to win silver, but the prosthesis came unfastened and fell out," Vadym says smiling.
It was the first time Ukraine took part in this competition organized by Prince Harry. It was held in Toronto, and 15 Ukrainian competitors won as many as 14 medals. The world media were awash with the photograph of Harry with Ukrainian athletes. Den's editor-in-chief Larysa Ivshyna commented on this as follows: "Prince Harry of the Windsors and the Invictus of the Monomakhs."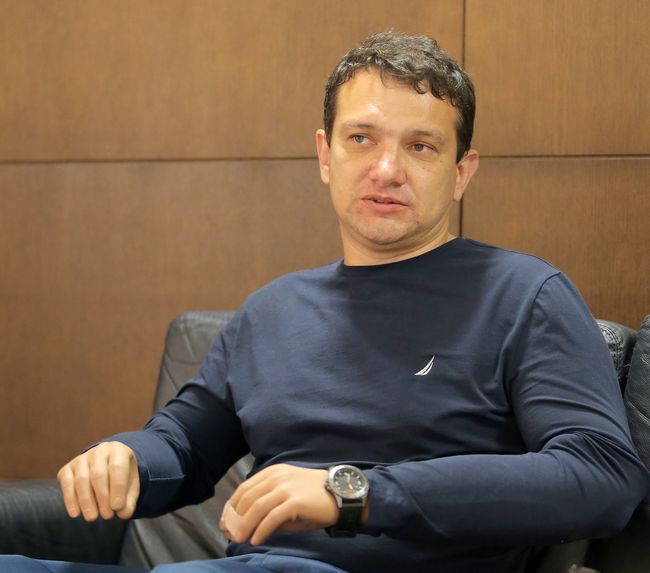 We in fact began the conversation with the Invictus Games. We also talked about rehabilitation of the military in Ukraine and the US and about what we have already learned in this field.
"PRINCE HARRY IS A MODEL OF HUMANITY, NOBLENESS, AND CONCERN"
"The Invictus Games is also a rehabilitation of sorts," Vadym says. "It is an international competition in six sports, where competitors are divided into categories, depending on their capabilities. Each can choose up to three sports. The main aim is to show not so much the result as your undefeatableness – you have overpowered yourself and live a full-fledged life.
"Don't forget that Prince Harry, who organized the Invictus Games, is a military himself and was once wounded. He saw other wounded guys. Sport means rejuvenation, so why not launch an international project, when the military from various countries come together and encourage one another, and states then chart new programs? It is a wonderful event, and we should develop this kind of national projects."
Incidentally, did you watch the wedding of Prince Harry and Meghan Markle?
"I surely did. I am not indifferent to his destiny because he has really changed our life. And it is very important to me what his further life will be like, whether or not the Invictus Games will continue. So we watched and kept track of it – it is an interesting worldwide event. It is an example of humanity, nobleness, and concern, when one wishes to do public good on the global level."
"COMPETITIONS KEEP OUR SPORT PROSTHETICS GOING AHEAD"
In addition to the Invictus Games, you took part in the Marine Corps Marathon…
"Yes, twice."
Was it easier to run the marathon for a second time?
"Our goal was to run 10 kilometers. We were to show Ukraine from the best side. So we were to run all the 10 kilometers and clock the best time. It was pleasant to run. It was a very great event: veterans and relatives of the dead came there; it is remembrance. When you run wearing a T-shirt that reads 'Ukrainian Army,' everybody can see that you represent this very army, and there's a war going on in Ukraine now, there are veterans, wounded, and killed in action. When people see this, they come up to and thank you for fighting for your homeland.
"These competitions keep our sport prosthetics going ahead – funds have been allotted for this at last. Together with the Ministry of Social Polices, we have drawn up some legislative acts, and guys can procure sport prostheses at the state's expense now."
How could the games influence prosthetic development?
"You see, there are a lot of guys who need artificial limbs, which gave impetus to ordinary prosthetics. But nobody cared about sport prosthetics. A couple of years ago, when we came back from the US, we showed prostheses of this kind. Volunteers began purchasing them for the boys, and we began participating in marathons both abroad and in Ukraine. For example, our Yevhen Koval organizes Games of Heroes CrossFit competitions. Ordinary prostheses cannot withstand this load. That's why sport prostheses came on the agenda. But this required altering the law and teaching our prosthetists. We received prosthetists from the Netherlands and from Ottobock [well-known German firm. – Author]. They are holding now seminars for our prosthetists. The Ministry of Social Policies has already allotted funds for sport prostheses to be made at the state's expense. But it took several years to do this job.
"We've take a step forward in the development of the veterans' movement. The boys who were wounded and have to use artificial limbs and wheelchairs are the undefeated, for they want to live, go in for sport, and work. And sport is a motive force of this all.
"In my opinion, as I myself underwent rehabilitation and actively practice sport today, sport is the most effective thing for the boys who were wounded and want to go on living actively. They thus rejuvenate both physically and mentally."
"IN THE U.S. REHABILITATORS NEVER TURN DOWN A REQUEST"
Veterans' competitions are also emerging in Ukraine. You mentioned the Games of Heroes and Strength of the Nation. Is this enough?
"There is also the national stage of the Invictus Games, and we want to expand soccer competitions. We will hold a regatta on June 9 and are planning to hold a marathon in Ukraine, are keen on developing wheelchair hockey and establishing the National Council for Sport Rehabilitation of Ukraine's Defenders. This nongovernmental league is the pipeline now. It will unite the associations of various summer and winter sports, including power lifting and athletics. This is being done to make a major high-quality project and hold veterans' competitions in various sports. These are some of the rehabilitation trends the president of Ukraine supports."
Could you single out the sports that are used more often for rehabilitation?
"Today, veterans go in for such team sports as soccer, sitting volleyball, and wheelchair basketball, and individual sports, such as archery, indoor rowing, and shot put. There are a lot of sports, and no barriers should be set up. There is no such word as 'no' in US rehabilitation centers. If an ex-soldier comes and says: 'I did it and I want it,' the American rehabilitator answers: 'OK.' They never turn down a request. Maybe, we can do it immediately or maybe, we will think it over and do it some time later. In the US, an all-out effort is made to rehabilitate a person for a full-fledged life, for the family."
"WE SHOULD OPEN REHABILITATION INSTITUTIONS FOR ALL"
I read in one of your interviews that things were different in Ukraine at least a couple of years ago. When you came to an American hospital, you were surprised because they asked you to put on the prosthesis by yourself, which you were not taught to do in Ukraine.
"When artificial hands were made for me in Ukraine, nobody told me how to use them. It is a major drawback. Artificial limbs are made, but too few therapists and rehabilitators can teach you how to use them. When I came to the US, I showed my prostheses. They told me to take them off. I did it. Then they say: 'Put them on.' But I don't know how. They showed me, and I learned to do it in three minutes. It is the job of rehabilitators called occupational therapy. There is also physical therapy. These specialists study for several years on the basis of a special curriculum, it costs a pretty penny, but the system works and develops.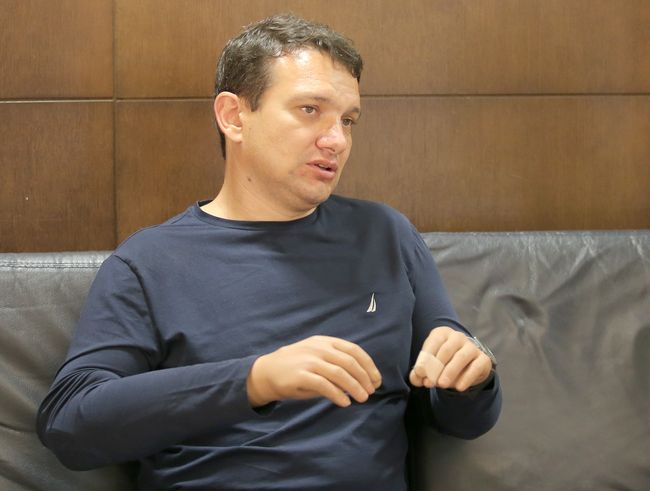 "I don't think we need to invent something new – we just should put the world's achievements into practice. This is of benefit not only to ATO fighters, but also to other people who met with an accident or suffer from certain diseases. Every hospital must have a rehabilitation division.
"In general, we need centers of comprehensive and psychological rehabilitation – one has already opened in Klevan, Rivne oblast. The state invested about 25 million hryvnias in it, and it works effectively. It is colossal work which produces a positive effect for the boys, for they can see the result of rehabilitation.
"There is a small rehabilitation center for people with amputations in Irpen. But it also caters to the military, while it's necessary to establish this kind of institutions for all. The process is underway, albeit at a slow pace. A lot of agencies are dealing with this, but you can't possibly train a rehabilitator overnight. Yet people come to us from abroad, we go abroad to study, and we are creating a new system of training."
"REGIONAL CHIEFS MUST CREATE CONDITIONS FOR VETERANS' SPORT"
You have been the president's authorized representative for rehabilitation of ATO veterans for almost 18 months. What do you think are your main achievements in this period?
"Firstly, the law on the rehabilitation of ATO veterans is in the offing. We can't develop rehabilitation without this because all protocols are to be signed. The bill will go through parliament, there will be changes and amendments, but the document is basically ready. The establishment of a rehabilitation center in Klevan is not an achievement of our office only – a lot of agencies worked on this. The Irpen center's construction is underway.
"Incidentally, there is a presidential decree on rehabilitation through sport. All regional chiefs must create conditions for ATO veterans – with or without serious wounds – to train and rehabilitate. The idea is to set up gyms and swimming pools and attract coaches and specialists."
As for coaches, they also need special skills to take into account psychological moments, etc. Do you have professional trainers?
"They really need special skills. Last year, when we were training for the Invictus Games, I and other guys wore artificial limbs, and trainers were a bit afraid of us at first. They were concerned about how to train us, read a lot, and were learning. This produced a result."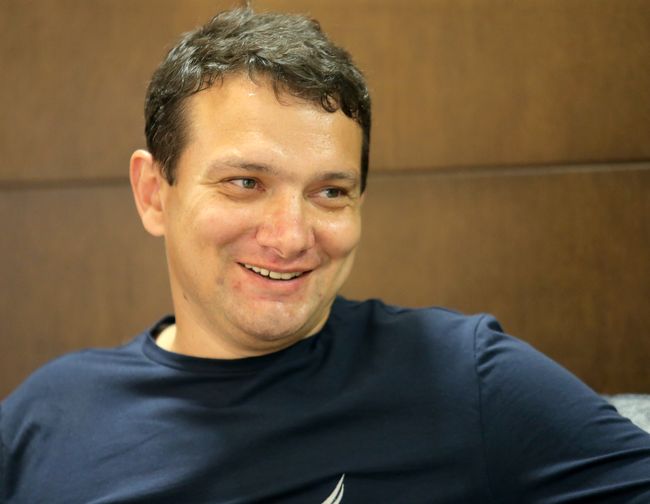 "PRACTICE SHOWS THAT A SPECIAL MINISTRY IS TO DEAL WITH VETERANS' PROBLEMS"
It is planned to establish a ministry for veterans' affairs in 2019. Are you involved in this process?
"This matter is being coordinated in the parliamentary committee for veterans. They hold panel discussions, frame concepts and a strategic plan. I hope this ministry will appear in 2019, which will enable us to help veterans more effectively in legal, medical, and sport-related issues.
"There are over a million veterans in Ukraine today. Among them are participants in not only the ATO, but also in the Afghan and other wars. Practice shows that a special ministry is to deal with their problems. We examined the American, Canadian, and Croatian experience. For example, the Croats established a ministry for veterans' affairs several years after the end of the war [the Croatian war was over in 1995. – Author]. At that time, helping veterans posed an acute problem, and there were a lot of suicides."
As for suicides, Chief Military Prosecutor Anatolii Matios recently said that, according to official statistics, at least 554 servicemen have committed suicide since the Donbas hostilities began. It's a large number. To what extent is the problem serious?
"There must be oversight somewhere. This means that what is needed is rehabilitation centers and massive psychological assistance to the military that came back from the Donbas. Incidentally, another rehabilitation center has opened today under the auspices of the Defense Ministry in Tysovets, Lviv oblast. Ukraine's Olympic team also trains at this complex. Now the guys who fought in the ATO can undergo rehabilitation with their families there. I came from there just a couple of days ago [we spoke on May 30. – Author] – 60 men with their families were undergoing rehabilitation at the center at the time. There are psychologists and physical therapists there. A swimming pool is under construction, everything is in high quality."
"AFTER BEING WOUNDED, I FELT AS IF THE WHOLE WORLD HAD COME TO SEE ME"
Even when we have the most up-to-date specialists and centers, the attitude of society as a whole will still be of paramount importance. Sometimes, for example, employers are chary of taking on veterans.
"They are not so chary today. For example, there will be a law soon, under which if a veteran wants to join the army again or doesn't want to quit the army after being injured, he must be given a certain job [in the army] within his ability. A question is being raised about rehabilitating the guys who don't want to go to the army but strive to realize themselves in society. There are a lot of projects, including those connected with launching a business. We would like to get more financial assistance, for it is dangerous now to take a loan at a high interest rate. I think there should be special conditions for veterans in this case."
What will you say about attitude of people to veterans?
"There are various instances. I can't say, unfortunately, that all Ukrainians support the Ukrainian army. But the greater part is thanking it for defending the country. We can see the way people help veterans. When I was wounded, I felt as if the whole world had come to see me. Ukrainians from all over the world were coming to me – from all the cities of Ukraine, from the US, Canada, Portugal, Spain, Italy, Japan, and other countries."
"I DON'T HIDE MY PHONE NUMBER"
Are you in touch with veterans from other countries?
"When I met those with whom I had undergone rehabilitation in America at the competition, we hugged as friends. We correspond via Facebook and watch the life of each other. My physiotherapist keeps asking what he can do to help me. I visited major conferences, in which members of the veterans' leagues of 16 countries took part. It is very pleasant that people approach and welcome Ukrainians, ask about the situation in our country and the way they could help. The world community is not indifferent."
You told journalists that you were appointed as the president's authorized representative on the advice of your veteran friends. Do they often turn to you for help now?
"Almost daily. They phone us and write to my Facebook official and private pages. I don't hide my phone number – I think it is very easy for veterans to find it. If I personally can't resolve a problem, I will say who should be phoned to receive, for example, legal advice. We write very many letters to the Ministry of Defense, the Ministry of Social Policies, and the National Guard to resolve the guys' problems."
To what extent difficult is it to communicate with governmental bodies? For there's so much bureaucracy there…
"There are responsive and helpful people there, too. Some problems cannot be solved quickly because this requires legislative changes. Sometimes this may take as many as six months. But they meet us halfway. I can't remember coming to an office and hearing: 'Go away! We'll do nothing for an ATO man.' They will listen to you and think over how to help."
"THEY ARE NOT AFRAID TO LEAVE ME HOME ALONE"
I read that when you were undergoing rehabilitation in America, you were taught to sew.
"I sewed wallets and handbags. There are special tool kits there – you take a needle and work. When you need to train your motor function and learn to use artificial limbs, you are given difficult assignments. And when you fulfill them, it will be easier to do simpler exercises. There were very many assignments during the rehabilitation course in America. One of them is to cook a meal. They have some specially-adapted kitchens – incidentally, they are also now in Ukrainian hospitals.
"Under the American system of rehabilitation, injured people must know how to cook a meal to their taste. I cooked pork chops and curd fritters – nobody even knew what it was. Other guys even cooked the borsch. This is a right system of rehabilitating a person. When this person comes home, he is not afraid. The acquired habits work. You remember that it was difficult, but you did it. My folks are not afraid to leave me home alone, nor are they afraid that I will be hungry or fail to cope with something. It is a matter of practice, learning, and attitude. But everybody must show patience – the one who teaches and the one who learns.
How much time do you spend on sport now?
"Frankly speaking, not so much, for I have a lot of things to do. But I haven't dropped sport – I try to jog in the evening and work out abs. I have a small gym with loaders at home. I try to spend at least 15 minutes for this. If I decide to run, I try to run three to five kilometers.
"We need adaptive gyms, for you can't possibly run too much in the winter. It is planned now to build this kind of gyms not only for veterans, but also for any kind of handicapped people, particularly children."
I know that you are keen on gardening. Please say a few words.
"I used to like gardening. In America, it is not enough to say 'I want' to get a prosthesis. You must explain why you need one. There are many varieties of prostheses. If I do the gardening, I need a specific prosthesis with special attachments. So I told the Americans that I had been doing this and showed the photo of myself working in the garden. But I broke this prosthesis, and it is under repairs now. Equipment tends to break, you know."
In general, how often do you have to replace prostheses?
"In Ukraine, prostheses are made and repaired. My prostheses can serve from a month to 20 years, depending on how you use them, whether or not you conduct preventive maintenance and minor repairs.
"World prosthetics is advancing. When I last went to the US, I saw that they had already stopped using stump sockets. The artificial limb is adjusted to the bone by means of a special adapter. This reduces the cost of the prosthesis and makes maintenance cheaper."
Still, if you need to use an up-to-date prosthesis, say, for sport, will you have to do this abroad?
"You can also do so in Ukraine. The current regulation is: if you have a double or triple amputation, you can go abroad on condition this has never been done in Ukraine. We have made good progress, up-to-date prostheses are being made, but we need more practice and experience."