James Mace helped create a new Ukrainian society of free individuals
21 October, 00:00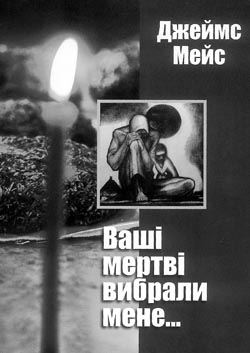 The Ukrainian version of James Mace's book Vashi mertvi vybraly mene... (Your Dead Chose Me), the latest addition to The Day's Library Series, was published only a few months ago, but many people have already become familiar with Mace's ideas. The book Day and Eternity of James Mace, published in 2005, sparked reader interest in Your Dead Chose Me at the Lviv book fair. A substantial number of copies sold out in a few days.
The Day's editorial office continues to receive orders for more copies of this book from various oblast and raion administrations, municipal and raion educational and cultural departments as well as from school libraries. Below, a number of Ukrainian writers, civic activists, educators, and other public figures reflect on what James Mace means to them.
Anatolii DIMAROV, writer:
In our country we often love the dead but do not love the living, especially when the latter are prophets, because they prevent us from enjoying a peaceful life. By publishing James Mace's second book, The Day has accomplished a feat. I lived through the 1932-33 famine and ate pancakes made from acacia blossoms. Now the Institute of Literature, the Institute of Ukrainian History, and other institutions and civic organizations must help promote Mace's book all over Ukraine, including in the remotest areas. This publication is like a church bell tolling for the dead, raising the alarm, and rousing people's conscience.
Yevhen SVERSTIUK, human rights champion and civic activist:
As far as I'm concerned, James Mace was an unbiased scholar. In other words, he was one of those scholars for whom research and exposing the truth was standard practice. I first heard him speak in 1990, when he addressed a conference in Kyiv, where he insisted that the famine of 1932-33 was an act of genocide. At the time, we, members of the Sixtiers movement, knew little about this concept, but we always said that the famine was a deliberately engineered act, and because we said this we all served prison terms.
James Mace and Robert Conquest were researchers swimming against the current because the political situation at the time was anything but favorable to revealing the truth. Mace paid for this courage with his career. As my friendship with James progressed, I realized that for him recognition of the Ukrainian Holodomor as an act of genocide was not so much a problem of scholarly appropriateness as it was a matter of the heart. Working with the testimonies of eyewitnesses to this tragedy — the living source of history — he became a passionate defender of our truth.
His book is valuable; of that there is no doubt. I think that our society is much traumatized. It has been observed that, for the most part, the people who are most concerned about the Holodomor are those who never experienced it. I am one of them because I grew up in Volyn, which was part of Poland in the 1930s. It is usually those people who realize the importance of memory. Other people, who were traumatized, follow the wisdom of not stirring up past troubles, which means that their families starved to death, they buried their dead, and they hope to God that nothing like this will ever happen again. But this is a primitive stand because, without understanding the truth of the past and the duty to speak about that past, there is no honorable future.
Petro KRALIUK, deputy rector for education and research, Ostroh Academy National University:
James Mace was not destined to live a long life. He could have lived a few years more. But what he accomplished during his lifetime deserves not the Order of Yaroslav the Wise, which was conferred on him posthumously, but the Order of Hero of Ukraine at the very least. We, Ukrainians — above all, the Ukrainian government — failed to appreciate his role during his lifetime, and we failed to do so after his death. I hope our descendants will do this. The book James Mace: Your Dead Chose Me is not only a tribute to this man. This collection includes not only research on the Holodomor but also articles, notes, and reflections on contemporary Ukraine. These fluidly written materials reveal Mace as an erudite and thinking individual, who was able to penetrate to the root of the problem. It is unfortunate that there is no James Mace in the situation that exists in Ukraine today, which is strongly reminiscent of the theater of the absurd. He would have had a lot to say and much advice to offer.
Alina PLIACHENKO, head of the civic organization Ukrainian Women's League, Odesa:
I sent in my order for a copy of James Mace's book by mail. I am the hostess of the program on Odesa Radio called "Shanuimo bortsiv za ukrainsku derzhavnist" (Let's Honor the Fighters for Ukrainian Statehood). My recent broadcasts were dedicated to Hetman Ivan Mazepa. In November, when Ukraine marks the 75th anniversary of the Holodomor, there will be a special broadcast dedicated to Mace, who helped create a new Ukrainian society of free individuals. Revealing the truth about the tragedy of 1932-33 to Ukrainians and the international community is like laying the cornerstone of a new society. Mace's voice was so strong that he will dominate Ukrainian intellectual thought for many years to come.
Valerii KOPIIKA, archpriest of the Ukrainian Autocephalous Orthodox Church and parish priest at the Church of the Nativity of the Blessed Virgin Mary, Kyiv:
When I think about James Mace, I am reminded of the Sermon on the Mount, when Jesus addressed all the people, declaring, 'Blessed are they that mourn: for they shall be comforted, Blessed are they which do hunger and thirst after righteousness: for they shall be filled, Blessed are the merciful: for they shall obtain mercy.' To this day these commandments strike many people as abstract statements. However, during Mace's life they turned out to be vital and active, which is why he was of service to the Ukrainian people and persecuted for this. When he spoke in the Verkhovna Rada of Ukraine, he was greeted with catcalls, like 'Yankee, go home!' He also overcame his physical infirmities and illnesses in order to establish the truth of his cause. He thirsted for truth! In our difficult times, of globalization and consumer mentality, Mace was able to nurture and manifest in himself the undying values of love, forgiveness, and mercy. Clearly, he was governed not by scholarly interests alone. "Your dead chose me," he writes. That is why his journalistic works are like medicine for our society, which Mace accurately described as a postgenocidal one.
Les SANIN, film director:
I read Mace's book with great interest because I already knew a lot about this scholar. What was most interesting to me was the world view of this caliber of individual. A film director is always looking for real heroes. To a certain extent, this collection of his works gave me another clue to understanding the horrific 1930s because the events in the film that I'm working on take place during this time. Mace did a great deal for Ukrainians. Clearly, it's high time we do something for him. This book, like the earlier one, Day and Eternity of James Mace, is a tribute to this distinguished individual.
Yaroslav PAVLIUK, writer:
I met James Mace in 1993. I had heard a lot about him, but I had no idea of the scope of his personality. I am ashamed to admit that he opened my eyes to the truth about the Holodomor in Ukraine, although I first encountered this subject when I was visiting Vinnytsia oblast in 1989, during the festivities to commemorate Mykhailo Kotsiubynsky's 100th anniversary. We were driving through Sharhorod raion and talking with collective farmers. That was when I noticed that people were very reluctant to talk about the famine of 1932-33 that had taken place in their region. Some simply refused to talk about it. I think that Ukrainians are simply obliged to publish Mace's works. These collections of articles are a living monument to him. He did more for Ukraine than anyone beyond its borders. I recommend everyone to read Your Dead Chose Me. In this book one can find answers to various topical questions and much food for thought.
Serhii ARKHYPCHUK, stage director:
To me it is very important to know that James Mace was a Native American because his people are still oppressed. Within Ukraine and outside it are forces that want to turn our country into a reservation, for example, so that in the Kyiv suburb of Pyrohove patriots will live there and resolve their linguistic and cultural problems, but the Russian-language pop culture will be dominant everywhere. What happened during the Holodomor was truthfully assessed by an Italian diplomat, who saw the statistics on the destruction of the Ukrainian people and arrived at the conclusion that Ukraine will be Russified and cease to exist as a state.
Volodymyr Vernadsky said that Ukraine had struggled throug­hout its history for a very small number of points that were important to the life of the people and the assertion of the state, namely: education, book printing, the church, and language. This was precisely what the Russian empire and the Polish and Romanian conquerors sought to deny Ukrainians. The Soviet government machine did such a thorough job of altering people's psychology that we still see the "Soviet man" almost everywhere.
Therefore, the publication of Mace's book is an important event in Ukraine because there are still many people who lie and refuse to recognize the Holodomor of 1932-33 as an act of genocide even though their own families suffered. I have reliable information that one member of the Party of Regions called his relatives, asking about the Holodomor. He wanted to know which of his relatives had starved to death. But a few hours later he voted against the truth. So the importance of this book is difficult to overestimate.
Dr. Volodymyr PANCHENKO, professor of National University of Kyiv-Mohyla Academy:
I am absolutely convinced that the title of this book, Your Dead Chose Me, best conveys its content. These words are impossible to forget. This is both a scholarly and a moral clue to everything that James Mace accomplished. Of course The Day's readers know that Mace was among the first — perhaps the first — to tell the world a large part of the truth about the Holodomor of 1932-33 in Ukraine. This newest book shows that Mace was a person for whom the concepts of truth and justice were extremely important. Some people viewed him as an eccentric or a Don Quixote. He was a Don Quixote who knew what he had to do, what his mission was all about because our dead were calling him.
I remember when the 70th anniversary of the Holodomor was being marked. Mace took part in a televised broadcast, and one of his op­ponents was the communist Valerii Mishura, who yelled at Mace, "Yankee, go home!" I think that this situation is significant. Ukraine still has not fully revised its understanding of its history when such people shout "Yankee, go home!" at Mace. Probably the knowledge of what happened to us in 1932-33 is not profound and widespread enough for our country's political and public life to become normalized. In this sense, The Day is doing a very important job. Starting from the time that Mace joined the paper and throughout the years since his death, it has been systematizing and popularizing Mace's scholarly heritage. It is extremely important for Ukrainians to be able to hear what Mace had to say. He did his utmost to get through to the enigmatic Ukrainian soul and tell us the bitter, purifying truth, without which we do not have a chance to understand ourselves.
Mykhailo SLABOSHPYTSKY, writer:
The publication of James Mace's work marks the beginning of the triumph of justice. I believe that we — our state, civic organizations, and the people who knew James personally — are indebted to him, in the sense that his books are not being published. The importance of both Mace books is difficult to overestimate. We are under the illusion that everyone knows the truth about the famine and that everyone has matured enough to perceive this truth. Wrong! Mace's works must be treated like handbooks by the establishment because they can straighten out the thinking of many people. These publications contain arguments for our discussions, when, for example, we are trying to decide whether we will be a nation like the Jews. The Jewish nation rallied around the idea of withstanding and surviving the challenge of the Holocaust.
Our unifying idea is also tragic: it is our knowledge about the Holodomor as an act of genocide, but it will allow us to remain a nation. I say without exaggeration that Mace gave us the code for our nation.
Ihor PALYTSIA, Member of Parliament:
Every nation has dark pages in its history that are tragic stages in the process of self-assertion. Ukraine's independence, its uniqueness and self-sufficiency were achieved painfully through the horrific sufferings of its people. The Holodomor of 1932-33 was not only an act of genocide against the Ukrainian people but also a phenomenon of lasting and purposeful cruelty against mankind, humanity.
The book Your Dead Chose Me is not just a collection of James Mace's works that were part of his scholarly research. Each article is the result of his personal experiences, part of his life, which he dedicated to analyzing contemporary events, striving to imbue himself with the Ukrainian national mentality. The impression is that Mace was seeking a way for Ukraine's national revival and progress, the way a person seeks self-perfection. This book encourages readers to study and perceive the Ho­lo­domor as a tragedy of a worldwide scope. Mace wanted to convey to the international and Ukrainian communities the facts attesting to the immense, artificially engineered famine in Ukraine, about whose existence people knew but for a long time were afraid even to think about it owing to the historical circumstances that had developed. Ukraine lost much, but it can gain a great deal by studying Mace's works, because those who do not remember their past have no future.