The Japanese cherry "relay race" now in Uzhhorod
About 2,000 trees will be planted in this country as part of the Year of Japan in Ukraine
19 April, 18:47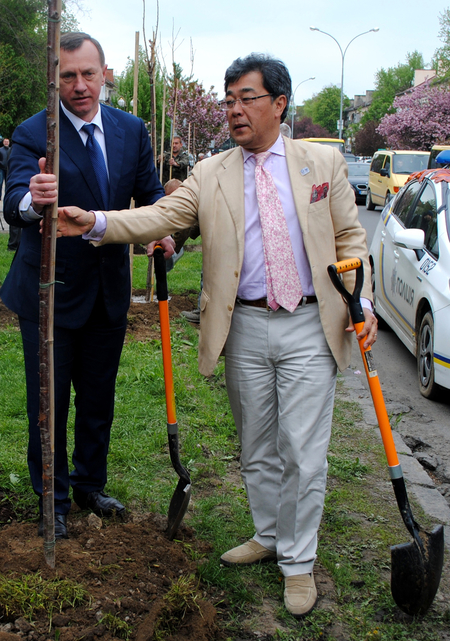 Minister-Counselor of the Embassy of Japan in Ukraine Michio Harada was the guest of honor at the event. With the participation of Mayor of Uzhhorod Bohdan Andriiv and other municipal officials, the first 10 trees were planted in Svobody Avenue and Pravoslavna Embankment. Another 20 cherry blossoms will be planted in the fall.
Mr. Michio Harada, who was visiting Uzhhorod for the first time, said that its citizens should be really proud of having such beautiful cherry blossoms growing there, added that the city had made an excellent impression on him, and stated he would be happy to come there again. Also, the minister-counselor of the Embassy of Japan said he was very pleased to see plantings involve not just cherry blossoms donated by the embassy, but ones purchased by the municipality as well.
In the morning, the cherry blossoms were planted in Pravoslavna Embankment near the monument to the police officers killed in the line of duty. The event was attended by Chief of the National Police Serhii Kniaziev, chairman of the Zakarpattia Oblast Council, the mayor, and other officials. Students of the Uzhhorod School No. 11, who happened to pass by the lane, contributed to the planting of trees with great pleasure. The kids took a souvenir photo of themselves with the Japanese diplomat.
Uzhhorod is often called a "little Japan" in springtime. Blooming cherry blossoms, which were first planted there at the beginning of the past century, greatly beautify historic downtown and principal streets of the city, attracting thousands of tourists to it. However, cherry blossoms frequently suffer from locals and guests of Uzhhorod, who in their quest for photos commonly break branches or climb trees. This year, volunteers have launched the social media campaign #sokoty_sakury: using this hashtag, everyone can read about the trees, find a blooming map, and learn how to take pictures in a safer manner. For those who do not use social networks or use them only infrequently, the volunteers have printed leaflets and left them in temporary stands in locations of the Japanese cherry trees' mass blooming. Such stands were lately placed next to the tree transplants donated by the Embassy of Japan in Ukraine as well.