Will the ongoing conflict between the main "beneficiaries" of the country weaken it, or lift it to a new level?
25 March, 2015 - 11:14
How to turn the Ukraine controlled by oligarchic capital into the Ukraine with civilized business environment without undermining the global stability? THIS is the justification for IMF loans to Ukraine. THIS is what Western politicians want to get when demanding reforms from our government...
Over the past year, The Day published almost 50 contributions dealing with the need to dismantle the oligarchic system and portraying it as a key issue of our time. However, it was just two weeks ago that we wrote that SOMETHING finally happened in Ukraine giving us hope that we were taking a path that would make that dismantling happen.
Following the suicide of former member of the Party of Regions and former chairman of the State Property Fund of Ukraine Mykhailo Chechetov, a meeting of the Special Parliamentary Control Commission for Privatization Affairs, headed by MP Borys Filatov, saw governor of Dnipropetrovsk region and the owner of Privat, one of Ukraine's largest business groups, Ihor Kolomoisky making a confession of guilt.
Literally at the door, he said he wanted to talk about how privatization of most delicious pieces of the economy took place under president Leonid Kuchma, how much money he spent then bribing the president's son-in-law Viktor Pinchuk and the president himself, and for what purpose, how were other oligarchs' assets obtained and how much they really cost to their new owners. Kolomoisky named dozens of corruptly privatized major energy concerns, mining and manufacturing enterprises, but his greatest revelation was the scandalous sale of Ukrrudprom, one of the most mysterious in the history of privatization in Ukraine. The group was priced at 40 to 50 billion dollars by independent experts in the early 2000s, but it was sold for just 500 million. By the way, this story involved all the major oligarchs, who, due to the rigged terms of privatization tenders, managed to get important commodity assets, which became the basis for the formation of their businesses, for a fraction of their real value. For example, it was in this way that Ukraine's largest metallurgical holding Metinvest emerged, now controlled by Rinat Akhmetov and Vadym Novinsky.
In fact, Kolomoisky's statements before the parliamentary commission laid bare the privatization stories of almost all core industry assets of Ukraine.
Kolomoisky did not even stop at that. He suggested to the parliament... cancelling the results of those corrupt privatizations and renationalizing unfairly privatized state assets, valued at dozens of billions of dollars, including his own assets as well.
The Dnipropetrovsk governor's confessions and proposals shocked and stunned even the most liberal groups. However, it seems that the "system," which Kolomoisky gave evidence against, took it as a challenge. Soon enough (literally in two weeks' time), it figured out how to deactivate the brave soul...
At least, The Day's sources suggest that the system's response may be behind the "two Naftas story" (the conflict involving Ukrtransnafta and Ukrnafta oil companies).
Knowing Kolomoisky's weaknesses, his enemies invented a way to provoke him into committing a public "suicide," while the Ukrtransnafta affair was to serve as a "detonator" for it
A source close to the Dnipropetrovsk governor's team told The Day that Hennadii Korban and Kolomoisky were in Kyiv on Thursday, March 19, and not by chance. They took part in "framework negotiations between the government and interested businessmen" on the future of Ukrnafta (as we know, the parliament has adopted the so-called "Kolomoisky law," that allows the state, which controls more than 50 percent of the company, to make decisions on the allocation of dividends without consulting Kolomoisky, holding a bit less than 50 percent of shares). So, Kolomoisky intended to hold a meeting in Kyiv on March 19, aiming to resolve the issue. Suddenly, the state decided to replace the Ukrtransnafta management team. Kolomoisky took this as a personal insult, and rushed, full of emotions, to protect "his interest." The video taken outside Ukrtransnafta's office on that night clearly shows that he was convinced that Petro Poroshenko did not know what happened to the company. Kolomoisky told reporters that he would go to the presidential administration with documents "to sort out it all."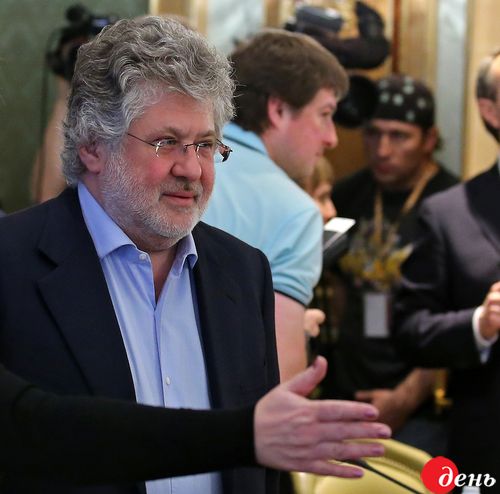 Photo by Mykola TYMCHENKO, The Day
In fact, it is possible that some people did actually make a disservice to the president, pitting him against Kolomoisky in a public conflict.
Any quarrel between the two would harm Poroshenko. First, the oligarch has actually become a national hero for many Ukrainians. Attacking him, and him alone, while leaving other oligarchs untouched, would destroy a lot of the president's popular support. Secondly, quarreling with Kolomoisky means losing control of Dnipropetrovsk region. Thirdly, attacking Kolomoisky means undermining Poroshenko's own Verkhovna Rada faction, which process has already started...
In an interview with the Televiziina Sluzhba Novyn news service, Kolomoisky said that the attempt to change management in the 100-percent government-owned company was masterminded by his competitor, owner of WOG company, MP Ihor Yeremieiev. It is doubtful, however, whether he acted alone in this situation, for he is not influential enough (due to not having any media of his own, in particular). Meanwhile, the group to which he belongs, which is associated with former chairman of the Verkhovna Rada Volodymyr Lytvyn, was easily capable of "launching such a scenario" and dragging the president into it. Through media controlled by other oligarchs, such as Pinchuk and Serhii Liovochkin, the situation has been fuelled and whipped up to such an extent that Kolomoisky has been painted into corner through his own emotions, and the president has suffered the same fate due to efforts of his team...
Of course, we should not forget that Poroshenko and Kolomoisky may at any time reach an agreement (let us ignore for the moment what may be the subject of these arrangements), and then everything will calm down very quickly... They may fail to reach it, though, thus plunging Ukraine into chaos of "internecine wars," which would be a life-threatening scenario amid foreign aggression...
It is very important for Kolomoisky not to cross the line. Firstly, one just does not fight the state, however dysfunctional it is, when it is at war. Secondly, to challenge the state in this manner, one should have a slightly better credit history.
It would be best, both for the country and for Kolomoisky, if this situation ends with a public agreement between the president and the oligarch to initiate the legalization of capital, with corresponding payments into the state coffers, and the establishment of new rules that would open the Ukrainian economy to Western investment and turn oligarchs into owners of socially responsible businesses, which adhere to free competition despite being big...
Such outcome would serve the national interest both tactically, and, most importantly, strategically.
So far, the whole story of Kolomoisky and oil companies is beneath contempt. This is not a war between the state and some "greedy" baron, even if it is portrayed as such in the media, especially the western ones [I mean Deutsche Welle's publication "Ihor Kolomoisky Challenges Ukrainian State." – Author]. On the contrary, it shows that the state has not started to act as a state so far, serving rather as a cover for another oligarchic team, competing with Kolomoisky's.
As The Day's editor-in-chief posted on Facebook, "other oligarchs are aggressively making a common cause against one of their own for trying to replace bespredel [total anomie. – Ed.] with ponyatiya [a criminal world-originated code of behavior. – Ed.]... However, they speak about rules while doing so..."