Artist Andrii Yermolenko drew a series of placards on the 2018 FIFA World Cup in Russia and explained why it must be boycotted
12 June, 2018 - 10:22
The ideal FIFA World Cup, to kick off in Russia on June 14, should look as follows: a boycott on the part of world leaders and ordinary soccer fans and the release of about 70 Ukrainian political prisoners. The example is being set by members of the British royal family and British ministers who will not go to see the tournament because of Russia's likely complicity in poisoning ex-intelligence officer Sergei Skripal. For the same reason, Iceland announced boycotting the World Cup. At the same time, 5,000 Ukrainians are going to the country that annexed Crimea and unleashed a war in the Donbas, enslaves and tortures thousands of their compatriots.
To bring the world to its senses at least a little, artist Andrii Yermolenko has drawn a series of posters about the world soccer championship. Instead of idyllic pictures, we can see the military in the goal, bombings, and a downed airplane against the suffocating red background. Andrii can be said to have struck a chord – his drawings went viral in the internet, and Facebook even blocked him. Andrii YERMOLENKO told The Day why, in spite of a wide response, he considers this a "one-man picket."
"I APPEAL MORE TO ENGLISH-SPEAKING EUROPEANS"
"You see, very many serious things have occurred in the past month. Firstly, it is the hunger strike of Sentsov and Kolchenko. This is one of the factors that catalyzed the creation of these posters," Yermolenko begins the conversation. "At first I joined the campaign of drawing posters in support of Sentsov. When you look at the Ukrainian information field, you can see that our Ministry of Information Politics is falling short of its targets. This kind of posters about the FIFA World Cup in Russia should have appeared long ago. I understood there would be none of them until the championship opening. And then we would be lifting our hands in dismay and saying that all those Europeans, Germans, or whoever it is, are bastards because they went to the championship instead of boycotting it. But all is very simple – nobody shaped a right information policy in Ukraine about this championship. And this was my small one-man picket against the tournament. I wanted more people to pay attention to this. I appeal more to English-speaking Europeans rather than to Ukrainians.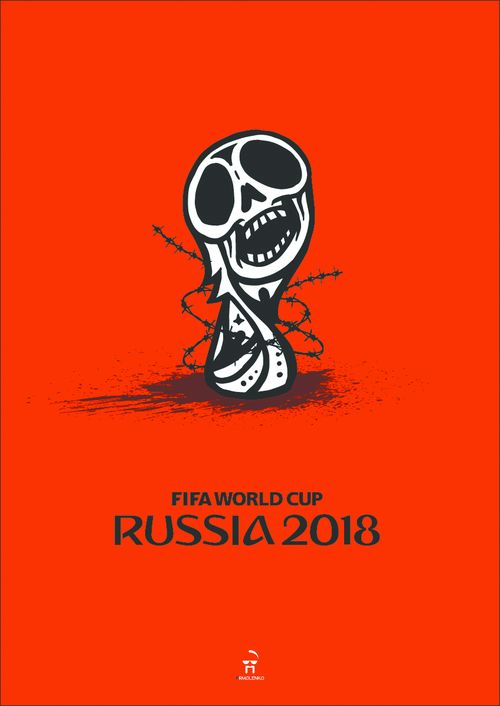 "To tell the truth, it is terrible that things have very noticeably changed for the worse in comparison with the 1980 Olympics in the Soviet Union, when a lot of countries boycotted it. Now, owing to various commercial and business interests, everybody is shutting their eyes to such obvious things as the war in Ukraine and Syria, acts of terror in London with a Russian trace, Russia's interference into elections in a number of countries. The impression is that when civilized people – you know, all wearing neckties – are sitting at the table, and a barefaced ruffian suddenly climbs up and dirties the table, they are all saying to him: 'Tut-tut, you shouldn't do so, we are warning you for the last time.' Then this ruffian says: 'And now let's go to my home place and hold a cool soccer championship.' And they say: 'Let's go. Maybe, this will salvage him. Maybe, he will become better if we come.' He won't – that's the point. This silence prompts him to go on behaving brazenly and disgustingly."
"SUCH SIMPLE THINGS AS PROBITY AND THE FEELING OF DIGNITY GO AWRY"
At the same time, 5,000 Ukrainians have bought tickets to the World Cup.
"It is a shock to me. I know that very many Ukrainians are saying it is not their war. This disgusts me. In the first days of the war, very may soccer fans joined the army. They took up arms for our Ukraine, while very many Ukrainians 'in the chips' bought tickets (which cost a pretty penny) and are traveling to the aggressor country that is killing your country. They are traveling there to watch this championship. In addition, I am sure that, what is still more disgusting, they will be saying to Russians: 'It's not our or your fault, it is politics. We know that you are good and Ukrainians are not fighting against Russians. It's politicians…' This is also a catalyst of my posters.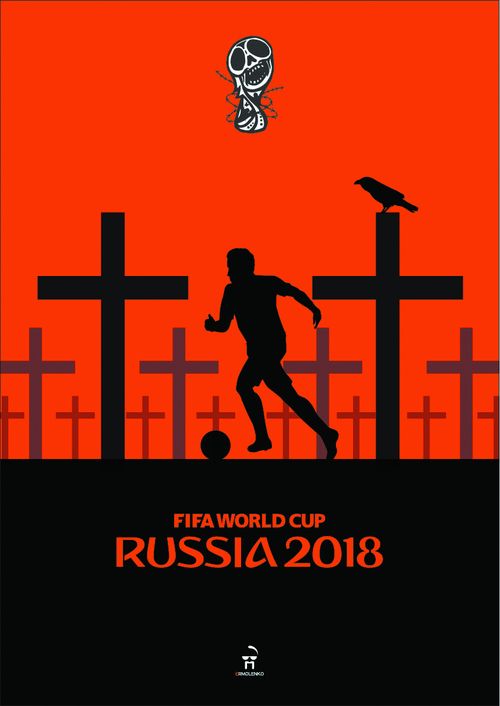 "Some people are doing something, but… My posters are really a one-man picket against all this. Such simple things as probity and the feeling of dignity – your own and of your country – go awry. They are trampled upon and killed day after day. I am sure still more of the Ukrainian establishment and politicians will push forward to this championship, which infuriates me still more.
"We are living at a moment when things regain their proper places. Black is black, and white is white. We must not be afraid to call things by their proper names."
"WE HAVE A BOYCOTTED BOYCOTT"
Did Facebook block you over the posters?
"It not only blocked me. Before that, I began to receive on Facebook various messages from the unknown people with all kinds of embeddings. I knew that those were viruses and did not accept them. The next day Facebook blocked me. I asked some people to hand out the posters, for I'd like as many people as possible to understand that it is a blood-stained soccer. I was unblocked, but not on the account, where I posted these posters, then they began to add some unclear files. I cleaned up my page the other day.
"To block means to be afraid. I was prepared for this and opened one more account to post messages from there in case they don't unblock me.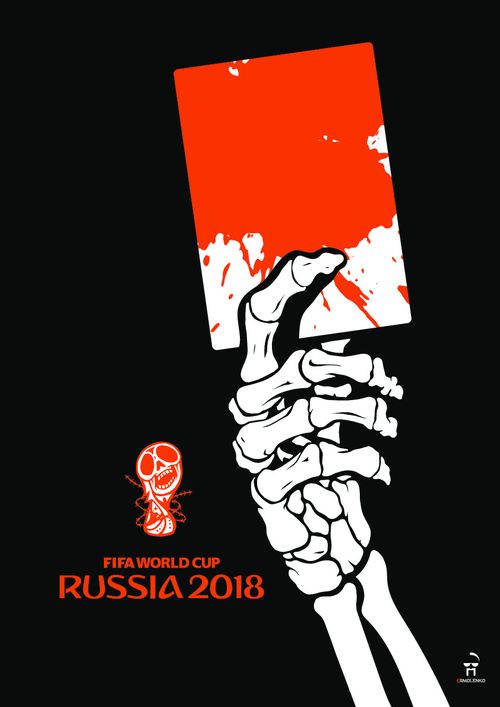 "We are living in an era of information warfare, when participants are still to lean how to handle it. I can't say we are losing. We are not losing. We just don't know so far how to wage this war. I'd like more people, who know how to do this, to get engaged in this war. I am one of these fighters. I know there are very many fighters of this kind. The state is not exactly paying attention to us, but that's all right – we must do our job."
How do the foreigners you address by way of posters react to them?
"It is some French and Belgian publishers and a Dane who asked me permission to use these posters. I also commented for Radio Liberty in the Czech Republic. A lot of people have been turning to me. The British asked to write about this. I allow using and spreading these posters free of charge.
"We have a boycotted boycott. We, Ukrainians and Europe as a whole are boycotting the boycott that was to have taken place. Schizophrenia pure and simple. I'd like to draw your attention to this not because I am so good and polite. I am just scared. At this very moment, some of my friends are fighting at the front, and other friends have died. I know that I must also do something. Oleh Sentsov is on a hunger strike in the country which hosts this championship and to which politicians from various countries will travel. They will travel to celebrate the 'feast of soccer,' while very many Ukrainian political prisoners are simply dying there. And should anything happen to Sentsov (I hope he will be freed anyway) or any other political prisoner, the concerned Europe will say: 'Tut-tut, how vexing and bad!' It's the most terrible thing, double standards, when a rapist is told not to rape, but he goes on doing so, the same people who say 'don't rape' visit his home to drink tea or cognac and talk about soccer. In my view, it is the same thing."