Viacheslav SHVED comments on the president's visit to Kuwait and Qatar
26 March, 2018 - 17:26
President of Ukraine Petro Poroshenko visited Kuwait and Qatar in mid-March. The president held talks with the emirs of these countries, local officials, and investors. The parties signed a number of bilateral documents, including the Agreement on Cooperation in the Military and Other Spheres with Kuwait. According to the president, the results of the visit testify that "a new page has been opened in the relations between Ukraine and Kuwait." He also reported that Kuwait supports deploying a peacekeeping mission in the Donbas. In Qatar, Poroshenko took part in the opening of the largest international specialized agricultural exhibition "Qatar International Agricultural Exhibition-2018," where Ukraine is represented as well.
"WE NEED TO LEARN FROM THE KUWAITI ELITE'S GOOD ORGANIZATION AND PATRIOTISM"
The Day asked head of the Asian and African history department at the Institute of World History of the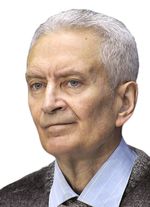 National Academy of Sciences of Ukraine Viacheslav SHVED to tell us about the importance of this visit and prospects of cooperation with Kuwait and Qatar.
"The state visit to Kuwait and the official visit to Qatar are a logical continuation of the visit to Saudi Arabia made by the president last year. That is, it is a continuation of his efforts to promote Ukraine and consolidate its position in the Arab world.
"Qatar and Kuwait are members of the Cooperation Council for the Arab States of the Gulf. This is the most successful integration structure in the Arab world, a kind of locomotive of its development. Firstly, these countries are quite successful, and secondly, there are a lot of important political, investment and energy aspects in the meaning of this visit for Ukraine.
"First of all, I will focus on the political aspect of the visit. Both Kuwait and Qatar have been consistent supporters of the territorial integrity of Ukraine and the idea that our country should get back the annexed Crimea and the occupied parts of the Donetsk and Luhansk regions. From 2016-17, Ukraine was a non-permanent member of the UN Security Council, and Kuwait will occupy such a position in 2018-19. For us, that country is a very important ally in the struggle against Russian aggression. This is due to the fact that Kuwait itself, almost 30 years ago, experienced virtually the same tragedy that Ukraine is currently experiencing. Led by Saddam Hussein, Iraq brutally occupied Kuwait in 1990. The Kuwaiti people courageously fought against it under the leadership of the ruling Al-Sabah dynasty, and almost all of the international community came to its aid. A large-scale operation called the Desert Storm was conducted in late 1990, which saw Kuwait liberated with the help of the international coalition forces, but the country was in ruins and it was necessary to unite the whole people of Kuwait, mobilize all its potential in order to rebuild the country, and this has been successfully done.
"It seems to me that we need to learn from the Kuwaiti elite's good organization, patriotism, and professional skills which allowed them to succeed so brilliantly. Yes, Kuwait has oil, and Qatar has gas. But we also have a lot of unique natural resources, and we are also a very rich country, but unfortunately, we have not been able to put our resources to good use so far.
"It is very important that Ukraine is reaching an understanding, primarily with Kuwait, to coordinate our efforts on the UN Security Council as we fight for the restoration of our territorial integrity.
"Another important aspect: President Poroshenko asked the Emir of Kuwait and the country's leadership to help Ukraine become an observer member of such an influential organization as the Organization of Islamic Cooperation. For us, this is important, and we also have grounds for this, because a large portion of our population are Muslims, especially the Crimean Tatar people, which plays an important role in our contemporary history, in the struggle for the return of Crimea. By the way, the leadership of Kuwait, as well as that of Qatar, have confirmed that they are ready to help Ukraine and the Crimean Tatar people in this regard in every possible way. If we become an observer in this very influential international organization (it includes 57 Muslim countries, by the way), we will enjoy truly major preferences in attracting investments from leading Arab and other Muslim countries.
"Regarding Qatar, we should note its great role in ensuring the energy security of this country. Qatar has enormous gas deposits, it sells about one third of all gas reaching the world energy market. Qatar primarily specializes in selling liquefied natural gas (LNG), which is exactly what we need, since it can be imported by tanker.
"Let us recall that we started working on it with Qatar in 2012, aiming to do major LNG deals, we were negotiating to build a LNG terminal, but unfortunately, due to several factors, that work has stopped. But today, it needs to be reactivated and brought to a logical conclusion, because this is important given that we are trying to abandon cooperation with Russia and its Gazprom in the energy sector. Therefore, it is important for us to look for reliable and powerful new flows of gas and oil. It is precisely our relations with Qatar in this area that could help us greatly.
"Thanks to this visit, we are entering a new phase of our cooperation with the leading countries of the Arab world. These relations are mutually beneficial, and given the strategic tasks facing Ukraine now, this visit should benefit us a lot."