The imitation of reforms provoked an acute political crisis
4 February, 2016 - 11:58
Early on February 2, one of the so-called technocrats in the Yatseniuk government, Minister of Economic Development and Trade Aivaras Abromavicius told reporters that he had tendered his resignation. "The reason is a sharp increase in actions aimed at blocking any systemic and important reforms in this country. It is not just the lack of support. They include active measures aimed at paralyzing our reform work," the minister said and began to enumerate the specific reasons that caused his unexpected statement (the press conference where it was made public had been reported to be devoted to privatization).
Among these reasons, he listed the unexpected recall of the protection detail guarding the minister and his family (?!), as well as "increasing pressure aimed to place questionable personalities on my team and into key positions in state-owned enterprises." "I can only consider such actions as reflective of a persistent attempt to establish control over cash flows, first of all in Naftohaz concern, as well as in the defense industry," Abromavicius explained. "I refuse to work in such a system. My team and I are not ready to serve as a cover for the resumption of old and creation of new schemes for the benefit of individual political and business players."
"When I was deciding on my entry into the Cabinet, I was assured [by whom? – Ed.] that the technocratic ministers, for whom a technocratic government would be formed, would have full autonomy in the formation of their teams," Abromavicius recalled, "and we will get full political support for reforms at the highest level... I relied on people who were not involved in any corruption schemes, and, most importantly, had principles and values incompatible with those existing among those people who had overstayed their welcome in government positions." "We have done a lot," the minister reported, "we have fulfilled our main task, as the macroeconomic stabilization has been achieved in this country."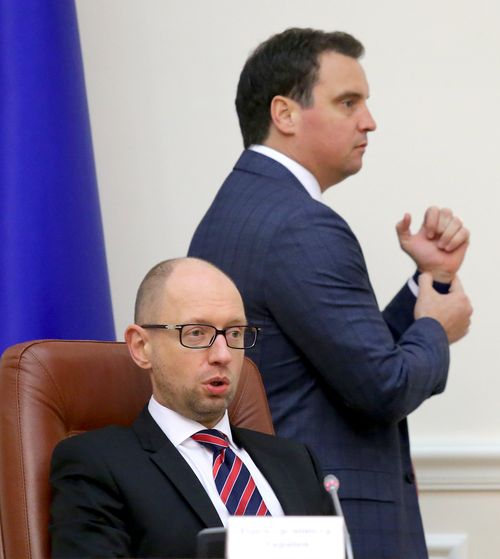 Photo by Artem SLIPACHUK, The Day
He recalled the system of electronic public procurement, which will provide savings of 50 billion hryvnias a year. The reform of state-owned enterprises, he said, allowed to reduce the losses from 101 billion hryvnias down to 16 billion in a year. As much as 2.4 billion hryvnias have been saved due to the abolition of the 15 percent oligarchic discount on the selling price of oil... "But the more radical steps we took, the deeper were our reforms, the greater was our progress, the greater was the pressure on us as well," Abromavicius told the press. "We have learned to cope with the resistance of the old system [whom does the minister mean? – Ed.]. But it has turned out that some of the new 'well-wishers' are worse than the old ones. I and my team do not want to be a cover for blatant corruption or controlled puppets for those who want to control public money, just like the old regime did."
"These people have names," the minister remarked, and announced one of them, "This is Ihor Kononenko [first deputy leader of the Petro Poroshenko Bloc faction in the parliament. – Author]. Despite being a representative of a political force which nominated me for my portfolio, he did much in recent months to block my work and the work of the ministry." However, the draft resolution on Abromavicius's dismissal, which MPs loyal to Kononenko passed to the Revival faction, gathered only 18 signatures. The culmination of Kononenko's outrageous attempts to influence personnel decisions was his attempt to appoint a deputy economy minister of his own who would have control of Naftohaz.
As a result, he said, this candidate brought a full package of documents for the appointment two days ago and said: "I am your new deputy, I am on Kononenko's team, and my candidacy has been agreed to at the top." "After that, I received a call from the Presidential Administration," Abromavicius continued, "urging me to appoint this man, and then another one to the post of the deputy economy minister for defense affairs." "I will not take part in this despoilment of the country," the minister replied (he mentioned in passing later that this call was from Borys Lozhkin). Admittedly, such a response was a courageous act, and it was impossible not to tender a letter of resignation afterwards.
It would be of use to recall now how the future head of the Economic Development and Trade Ministry entered the Ukrainian government and, therefore, politics. He, as well as head of the Ministry of Finance Natalie Jaresko and Health Minister Alexander Kvitashvili, were selected by consultancy "WE Partners," working in a professional alliance with international company "Korn Ferry." Recruitment for Ukraine was done by head of the company Tetiana Furtseva. Its services, according to media reports, cost 82,000 dollars and were paid for by the Renaissance Foundation. Interestingly, Korn Ferry guarantees its personnel decisions and reimburses its clients in the case of error. How will it qualify Abromavicius's resignation, as well as Kvitashvili's earlier similar letter?
Much here depends on the political weight and actions of the abovementioned Abromavicius's opponent in the parliament. His reaction was not long in coming. Kononenko called the statement of the economy minister emotional and "an attempt to shift the blame to others, to shift responsibility for issues that have stayed unresolved for a year to the MPs of our faction." However, he added that he would not go to court. "There were also positives in his work as the minister, but there were also negatives. I think this is due to my comment – the statement itself was not mine, but made by other members of our faction   – the statement of dissatisfaction with his work at the last meeting of the faction, which I commented on after the meeting."