US Vice President Joe Biden to visit Kyiv on November 20-21
"Ukraine has every right to defend itself against this continued aggression and we are providing security assistance to help Ukraine in this effort"
20 November, 12:49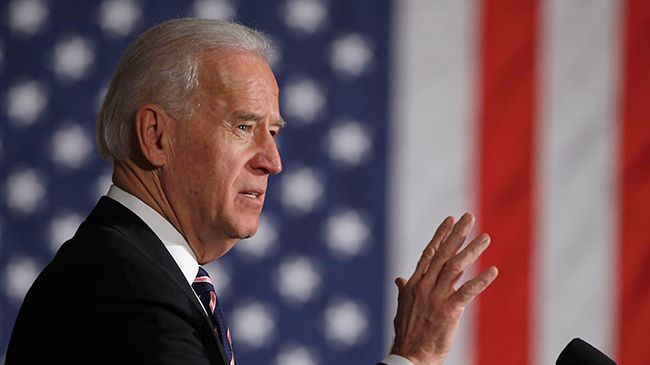 The politician was on a five-day tour of Morocco, Ukraine, and Turkey. It was the third visit of the US's second-ranking dignitary to this country this year and the fourth in the past five years. As noted in the Foreign Ministry's spokesperson Yevhen Perebyinis's comments for the press, this visit reaffirmed the strategic nature of the bilateral relationship, as well as the key role the US plays in the international community's efforts to contain the Russian aggression.
Let us recall that Joe Biden visited Ukraine for the first time in July 2009. His first stay in Kyiv was remembered not just for the speech he delivered at the Ukrainian House, planting of a viburnum bush with Viktor Yushchenko and their joint visit to a pub, but also for Biden's slip of tongue, when he called then-opposition leader Viktor Yanukovych "president" at a meeting. The US Vice President delivered a brief speech before representatives of NGOs in April this year, urging the Ukrainians to not retreat. "Democracy is not the final stop, but the road which you have to walk, and the US will walk it with you, if you go down this road," Biden stressed then.
According to US media reports citing the White House sources, the US Vice President was to express his concern that "Russia keeps breaking the Minsk Accords of September 5" during his meetings with Ukrainian President Petro Poroshenko and Prime Minister Arsenii Yatseniuk. In addition, Biden participated in a roundtable discussion on fight against corruption.
On the eve of his visit to Ukraine, US Vice President Biden gave an exclusive interview to The Day with support of the US Embassy in Ukraine. He discussed, in particular, his messages for Ukraine and how far the US was willing to go unilaterally to stop the Russian aggression.
Taking into account Moscow's illegal annexation of Crimea, Russian aggression in Ukraine, and the intimidation of NATO countries by provocative flights of Russian strategic aircraft and strategic missile launchings, many experts recommend to reread Pres. Reagan's March 3, 1983 speech, the essence of which was: "it is only possible to achieve peace in a face-off with the Evil Empire by demonstrating force." What you think about this?
"We have been clear from the beginning that there is no military solution to this crisis – despite the fact that this is obviously what Russia is trying to impose through its proxies in eastern Ukraine. Just look at the news in recent weeks: reports of the continued transfers of Russian tanks and heavy weapons to the separatists and the escalation of separatist attacks on the Ukrainian military. So, let me be perfectly clear, Ukraine has every right to defend itself against this continued aggression and we are providing security assistance to help Ukraine in this effort. But we are also taking other actions. We have worked closely with our allies and partners around the world to condemn Russia's aggression, and with our European and G7 partners, have imposed serious costs on Russia's economy that have had an impact and will have long-term consequences on Russia if it does not change course. As Ukraine demonstrates its own force of will, in standing up to defend its sovereignty and territorial integrity, in pushing through difficult reforms, in developing its democracy and undertaking to combat corruption, and restoring economic health, we will continue to stand with the people of Ukraine."
As US and EU sanctions have failed to stop Russian aggression, (not to mention the fact that Russia has not returned Crimea), what is the West going to do next and is the US prepared to unilaterally impose new sanctions to stop Putin? Could you reveal any details of what is being contemplated?
"I believe that sanctions have been impactful and continue to be a useful tool for raising the costs to Russia for interfering in the affairs of a sovereign state. No matter what its leadership may claim, the Russian state is integrated into the global economy and sanctions have had a powerful effect, which will be amplified over time. Russia still has the option of fulfilling its commitments under the Minsk agreements, which would lead to the rolling back of some of the sanctions we have imposed. If it does not do so, however, we are fully prepared to intensify the costs for Russia's aggressive actions in Ukraine. I also want to again condemn Russia's occupation and attempted annexation of Crimea, and the United States, in consultation with our allies, is prepared to consider additional measures to make clear Russia's actions are unacceptable."
Why is the US not frankly stating that what is going on in the Donbas is direct Russian aggression, or better yet, a war? You recently even said in a CNN interview "when the Russians invaded" and then corrected yourself with "crossed the border into Ukraine." Why? Moreover, you then added: "We've put it under control." Can you explain this more fully?
"I agree with you: this conflict was directly caused by Russian aggression, pure and simple. Let me be perfectly clear so your readers understand our position. We know that the separatists – many of whom are recruited in Russia – receive heavy military equipment, training, and financing from the Russian government. In addition, Russian combat forces with Russian weapons and Russian tanks crossed the border into Ukraine and have directly assisted separatists fighting Ukrainian forces. And I have said consistently that Russia is blatantly violating the sovereignty and territorial integrity of Ukraine. There is an international norm at stake here, which is that sovereign governments respect the borders of other sovereign governments, that countries do not change their borders by force. Russia has acted in a way inconsistent with that international norm, and as a result, the international community has spoken with one voice and taken steps to impose economic costs on Russia for the failure to uphold those basic international norms."
What messages or perhaps what concrete assistance are you going to bring to Ukraine?
"I will be bringing a strong message of support to the Ukrainian people and government, about which I will have more to say when I am in Kyiv. One year ago the Ukrainian people demanded dignity; a better future, a European direction, an end to corruption and sweeping reforms. President Poroshenko and Prime Minister Yatseniuk began that process. In the coming days, as a newly elected Rada prepares for its first session, it is vital that it deliver on reforms in various sectors – energy, agriculture, and business regulation for example. By cutting out the cancer that limits Ukrainian economic growth – corruption – the Rada, in concert with the Government will begin to realize Ukraine's potential and bring the vision shared by so many on the Maidan into being. The United States will stand with you and support you in this effort, and we are working to provide additional support for your economy, for the implementation of reforms, and also for your security."