World's strongest boy lives in Sumy
Yehor Leonenko set bench press power lifting record for eight-year-olds. However, doctors warn against following his example
05 February, 11:25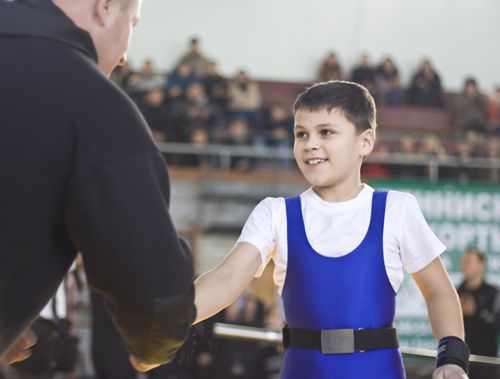 The record was set during the regional powerlifting competitions held at the Institute of Physical Education of Makarenko Sumy State Pedagogical University on January 26 by the eight-year-old Leonenko who resides in the city, weighs 39 kilograms and trains under the guidance of his father Andrii Leonenko, a senior lecturer at the institute.
The result, which is the world record, too, has been officially verified by the National Registry of Records of Ukraine's experts. At the competition, Leonenko had consistently and confidently lifted 37.5 kilograms, equaling the then-world record, set in 2007 by the eight-year-old American Rakeem Waddington. The young Sumy resident went on to break this record, conquering even bigger weight of 40 kilograms. He performed even better in the final attempt, lifting 41 kilograms and thus setting the new world record which looks unlikely to be easily broken again.
Vice President of the Sumy Regional Powerlifting Federation Pavlo Mohylnykov presented Leonenko with a cup inscribed For the World's Strongest Boy. By the way, Leonenko is the first representative of Sumy region on the National Registry of Records.
"The boy has been powerlifting for six years," his trainer father says. "We exercise at the institute's gym three times a week." We have learned also that painting is the young record-holder's favorite hobby.
COMMENTARY
Volodymyr BERSENIEV, neurologist:
"I see human tragedies daily that have much to do with people's recklessness regarding their own health and the health of their children. I had a patient recently, a 21-year-old young man, very successful and highly educated, with the intervertebral disc herniation that happened during a powerlifting session. He was virtually paralyzed by it.
"More generally, I am now seeing quite a few patients who have physical load as the immediate cause of various neurological symptoms' emergence. I believe that physical load must be treated very, very carefully, without even a hint of recklessness. It is especially so when it comes to children, because the human spine grows up to 22 years. Therefore, the spine of an under-22-year-old may be loaded, but never overloaded. Overloading is safe only for persons older than 22. Any earlier overloading will cause a problem, that is, spinal osteochondrosis. It is the most prevalent pathological condition. As much as 90 percent of Americans have it, and it is no less prevalent in Ukraine. It mainly arises when a child's growing spine gets overloaded. That famous Ukrainian saying "A burden of one's choice is not felt" has caused virtually all of Ukraine's population to have this condition. Osteochondrosis is accompanied by as much as 172 neurological syndromes. Further to that, 10 percent of those suffering from osteochondrosis became disabled. What sports overload the spine? These are the ones involving jumping, and also weightlifting. Besides, stretching the spine is another current fad. It is also very dangerous because spinal ligaments get overstretched, which will cause problems down the road, too."