He challenged Stalinism to a fight – and won. On May 16, we will part forever with the leader of the 1953 Norilsk Uprising in Gulag camps, prominent intellectual Yevhen Hrytsiak
16 May, 2017 - 12:38
Leader of the 1953 Norilsk Uprising in Gulag camps, long-term prisoner of the Soviet totalitarian system, prominent intellectual and true moral authority, and longtime friend of Den/The Day Yevhen Hrytsiak passed away on May 14. Filmmaker and creator of the documentary cycle Mystery of the Norilsk Uprising Mykhailo Tkachuk was the one to break this terrible news to Den/The Day's editor-in-chief Larysa Ivshyna. Hrytsiak will be buried in the village of Ustia, Sniatyn raion, Ivano-Frankivsk oblast, where he lately lived, at 10 a.m. on May 16.
He was connected to Den/The Day by an old friendship. At the initiative of Ivshyna, this newspaper has done its best to make the name of the prominent intellectual known in Ukraine and the wider world. Unfortunately, this indomitable man of the legend, who demonstrated in practice effectiveness of unarmed resistance to the dictatorship which led to dismantling of the Gulag and the emergence of open dissent, is still little known in Ukraine. The crucial event, which started the acquaintance of this newspaper and its editor-in-chief with Hrytsiak, occurred during the opening of Den's exhibition in Ivano-Frankivsk. "I remember that many years ago, when our Photo Exhibition came to Ivano-Frankivsk, I really wanted to see the Norilsk Uprising leader Yevhen Hrytsiak, since I was aware of his residence there... Having asked local authorities for assistance with inviting him, their answer left me somewhat confused: 'Do you mean that healer?'" Ivshyna recalled on Facebook. "I understand that they have many heroes in that region... And still, and still... His high ethical stance and moral ground were needed to improve the country, and he really could have been seen as a Healer from that perspective... Den did our best to help the country learn about it..."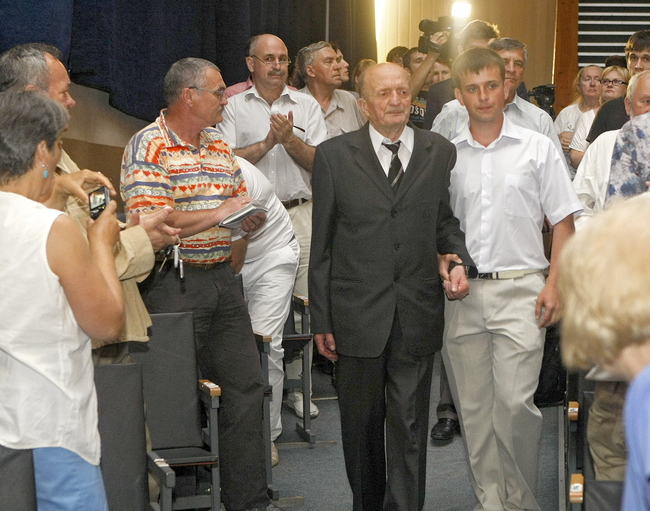 YEVHEN HRYTSIAK WITH HIS GRANDSON TARAS AT THE PUBLIC HEARINGS HELD TO MARK THE 60th ANNIVERSARY OF THE NORILSK UPRISING. MAY 21, 2013, KYIV / Photo by Mykola TYMCHENKO, The Day
Between then and his death, Hrytsiak was a frequent visitor at Den's office, and the newspaper produced hundreds of major contributions about him, his lessons and high ethical stance, intelligence and wisdom. Thus, Hrytsiak's name and his story is nothing new for our regular readers. This newspaper published lengthy interviews with the leader of the uprising in the Forced Labor Camp No. 4 and organized roundtables in which he took part. Our journalists went to Hrytsiak's native village to film a few videos for the Den-TV project, while no national TV channel seems to have done so. In the latest video interview, he said, in particular, that "the war with Russia could not be avoided." All his contributions and comments were full of hundreds of aphoristic sayings, predictions, forecasts... Unfortunately, despite the best efforts of Den and some other enthusiasts, his story has not yet become common knowledge. For an example of this, one can point to the 60th anniversary of the Norilsk Uprising, which was not celebrated at the national level. This page seems to be absent from the modern history of Ukraine, and from school textbooks as well.
Hrytsiak has rightly been called the "Ukrainian Gandhi," while his life, his desire and ability to educate himself ought to become an example for young Ukrainians, especially in such a difficult time which this country is currently living through. He lived modestly, never receiving national recognition or high government awards. Most likely, Hrytsiak did not really need them either. It is us Ukrainians who would benefit from them. To explain his importance, Ivshyna once said: "In fact, Hrytsiak is even more important for us than Nelson Mandela is to South Africa. Their names can be properly set side by side. We lose out due to the fact that Hrytsiak is not as commonly known abroad as Mandela is. Hrytsiak loses nothing from it, but we Ukrainians, and primarily Ukrainian journalists, lose greatly."
"I submitted a petition to president of Ukraine just once. I asked him to award a Hero of Ukraine title to the leader of the Norilsk Uprising in Gulag camps Yevhen Hrytsiak. It failed, but because my good friend worked for the Yushchenko administration, they responded to the letter. They bestowed an order on him and invited him to a reception in Baturyn. What an event it was for him! How much justice means in the life of a noble man! And the current president ought to respond too. Are you reading this, his advisors?" Ivshyna posted on Facebook. Immediately after this post, a report of an irreparable loss appeared on the official webpage of President of Ukraine Petro Poroshenko… Citing the presidential condolences, dozens of information agencies posted news on this sad occasion. Through such small efforts, we are gradually making his name recognizable.