Seven more teams have entered the program of "incubation" for the following six weeks: a unique project to support young IT-professionals
1 June, 2016 - 18:18
Just a few days ago Ukrainian startup circles were busy discussing a new agreement between the Agri Eye project and Oleksii Svyryd, co-owner of EasyPay. The latter had just invested 150,000 dollars into the agro-startup that became the first alumni of the "1991 Open Data Incubator."
On Saturday came the news that two more projects that had been enlisted in the "1991" incubation program will relocate to Toronto for the next four months: Adtena, a platform for managing advertising campaigns in Wi-Fi networks; and Navizor, world's first navigation device that takes into account the quality of roads through which the route goes. The teams were accepted into the International Zone Fellowship Program at Ryerson University.
Meanwhile, "1991 Open Data Incubator" has launched a second incubation program for Ukrainian developments in open data. The last qualifying stage for summer startup school of "1991" was held past weekend.
DENYS HURSKY, CO-FOUNDER OF "1991 OPEN DATA INCUBATOR": "WE PLAN TO OPEN TWO UNIVERSITY INCUBATORS WHICH WILL BECOME AN ALTERNATIVE TO STUDENT'S PRACTICAL ASSIGNMENT"
"The experience of the first incubator has shown that the projects have quite interesting themes. Many of them are socially oriented, and they demonstrate the desire to do good things for Ukraine. We see a good progress in all of the teams; projects related to the agricultural sector show particularly good results. Some agreements with agricultural companies have already been made, some teams are moving abroad. All this shows that there are a lot of opportunities for new teams," said Iryna Ozymok, WNISEF project manager for local economic development.
For two days, 16 teams from all over Ukraine competed to prove that they deserve the support of the incubator's mentors. Based on the results of the hackathon competition, seven teams were selected to work on improving their projects for the next six weeks. The projects include: UA KPI, a tool for assessment of government's effectiveness and coordination of strategic objectives with tactical tasks; Ukraine Traffic Fines, a tool to test, control and pay traffic fines; and Satellite Monitoring, a system for problem identification in different crop fields using satellite images.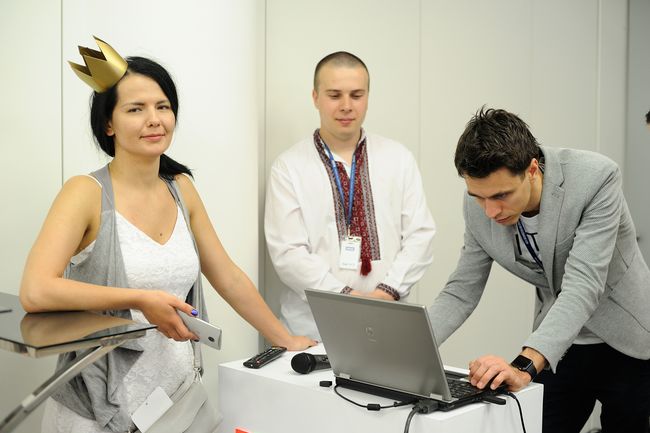 "The next selection had fewer non-profit projects. At the first hackathon we were engaged in the team development, and we had two lines of registration – for people who want to make a project, and for those who want to get involved in a project. This time the competition had fully formed teams only. This is a very good development, because this way the participants know what they want, and understand the roles of every team member," Denys Hursky, co-founder of "1991 Open Data Incubator," the program to develop open-data startups.
It is noteworthy that the second incubation program included startup projects designed to revolutionize medicine. Those are: Medics, an online platform for clinics and electronic services to patients; Medication Control, a consumer drug protection system against counterfeiting and uncontested appointments; MyHelix, a project for implementation of personalized medicine in Ukraine based on human genetic data; and Clinics Without Queues, a control system for queues at polyclinics.
The selected teams also demonstrate better professionalism. "There are better prepared teams. And this is not very good, in a way. The essence of the incubation program is to bring an idea to the business, to give it a real value. And when an almost ready commercial project comes along, it actually refers to us as to a fundraising platform. This is not the purpose of the incubator. On the other hand, it is very good, this fact shows that '1991' has proven its value on the start-up market, and everyone sees it," says Mykhailo Shmeliov, Director for Technology Policy at Microsoft Ukraine.
After the incubation program, "1991 Open Data Incubator" will hold Demo Day in early September, during which teams will present the finished products. They will also be able to find investors or to win a grant or an opportunity for incorporation at the state authority or in the corporate sector.