Participant of the Kyiv – Monte Carlo marathon Oleksandr Kravtsov discusses peculiarities of electric travel on our roads
24 May, 2016 - 11:34
The Ukrainian Tesla, electric vehicle Synchronous, was presented in the capital city on May 16. The new model was completely designed and assembled in Ukraine, we heard from the vehicle's developer, Electric Marathon International.
But this is not the first victory for Ukrainian enthusiasts of electric road travel. For instance, they have been working for several years already to popularize these "wheeled smartphones" in this country and develop necessary infrastructure. Co-founder of ElectroCars Oleksandr Kravtsov is one of them.
He participated in the Kyiv – Monte Carlo marathon in 2015. Incidentally, a similar marathon, which will start in Lviv, will begin on May 22, while most recently, Kravtsov returned from the three-day electric-powered trip between Kyiv and Vienna.
He revealed to The Day the ways of electric road travel in Ukraine and Europe, and offered his suggestions on how to encourage Ukrainians to switch to environmentally-friendly vehicles.
How many days did your trip take, and what was the route?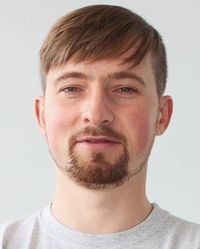 "The Kyiv – Vienna trip took three days, and the way back took as much time. My route was as follows (I stopped to recharge the battery in the listed locations): Kyiv – Zhytomyr – Novohrad-Volynsky – Rivne – Brody – Lviv – Skole – Mukacheve –Uzhhorod – Kosice – Presov – Poprad – Ruzomberok – Banska Bystrica – Nitra –Trnov – Bratislava – Vienna. The mileage totaled 3,500 kilometers, of which 2,000 kilometers were driven in Ukraine."
What is the longest distance you have been able to cover in a day?
"It was the Uzhhorod – Vienna stretch, where I drove over 700 kilometers from dawn to dusk, because Slovakia has high-speed charging infrastructure. Such feats are not yet possible in Ukraine."
What do you want to achieve by embarking on such long-distance electric-powered trips?
"Our goal is to popularize environmentally-friendly transportation in Ukraine. We met with businesspeople during our trip and urged them to participate in building infrastructure. In addition, we agreed on a partnership with European companies, which will provide Ukrainian electric vehicle drivers with access to charging infrastructure of the EU."
Is it difficult to travel by electric vehicle in Ukraine, compared with European countries?
"Ukraine has seen a considerable progress in terms of electric vehicle service over the past year. The electric vehicle market has grown, and it is not just statistics. Yes, in the absence of high-speed charging infrastructure on our highways, journey from Kyiv to Lviv still takes 18 hours. But businesses stand ready to invest in electric vehicles or related services. Incidentally, the two European countries that I traveled through, Slovakia and Austria, provide examples of two different models of electric vehicle market.
"Slovak entrepreneurs, I mean company GreenWay, realized the need to develop its own high-speed infrastructure. They installed over 20 fast chargers on all major roads of the country and in cities next to shopping centers, and it was the emergence of high-speed infrastructure that stimulated development of the electric vehicle market. I noticed that one of the stations on the route where I charged my vehicle had 3,000 kilowatt-hours of accumulated use, that is, it had been used more than 200 times.
"However, regarding infrastructure, Slovakia still has old three-phase sockets carrying the operator's logo remaining in locations where they now have fast chargers. They have deployed a slow charging network a few years ago, just like we did, but then switched to the new standard. Slow chargers have been left in operation near private homes only.
"Austria develops in a symmetrical manner, that is, they have both a good infrastructure and relatively high electric vehicle sales, running at 400-500 a month. It is still a small business on the national scale, covering approximately 1 to 2 percent of the motor vehicle market, but there is a high demand for new electric vehicles. Austrians realize that the transition to environmentally-friendly vehicles is inevitable, and it suits the nation's multicultural nature well."
Were there occasions when you had to tow your vehicle on this trip, like during your earlier trip to Odesa?
"It did happen during previous trips, but I was very well prepared this time, so no towing was required. First, the route was well thought-out, and secondly, we took a ChargeU portable charger with us, which allowed us, for example, to get charged up to the maximum in Novohrad-Volynsky. There is a three-phase socket at Topolia Hotel there, and we were able to charge fast from it, spending just three hours at it. Without this device, we would have to spend five to six hours at the task."
How difficult or easy to implement are such initiatives as yours in Ukraine?
"The electric vehicle theme is welcomed by customers, but since the import duty on electric vehicles was lifted late in 2015, no other incentives have been introduced. Meanwhile, the most important market incentive would be the abolition of VAT on this type of vehicles, like they have done in Norway."
How to convince Ukrainians to switch to electric vehicles?
"Ukrainians are no strangers to self-reliance, but progress on the relevant bills which have been stuck in the Verkhovna Rada since 2015 and the inclusion of electric vehicles in government programs on energy efficiency would allow thousands of drivers to change to environmentally-friendly vehicles. The data showing growing presence of electric vehicles speaks for itself: there were almost 700 registered electric vehicles this February, while the market participants' projections see at least 2,000 of them by year-end."