Domestic IT developers change the rules of the game in one of the least reformed industries
28 March, 2016 - 17:37
Just like energy, domestic healthcare remains the least reformed in Ukraine when it comes to private medical institutions. Ukrainian innovative developers are trying to change the situation by offering new projects, many of which are already successfully working abroad.
The Day invites its readers to get acquainted with new tendencies defining healthcare revolution in today's Ukraine.
According to expert estimates, next year the proportion of Ukrainian owners of mobile phones will reach 90 percent. In 2009, they made up only 12 percent of the population.
In this case, various online applications, designed to control the phone owner's health or provide him with urgent healthcare information, will be gaining more and more popularity. "We think that a digital case history, available to every patient via a mobile app, will prove absolutely necessary," remarked Petro Konovalov, CEO at Doctor Eleks.
According to Konovalov, contemporary health care begins to focus on the patient who is increasingly more inquisitive about the services he has received, the related charges, the details of his insurance policy, and the administration of the prescribed medication.
Thus, digital case histories could considerably relieve doctors and save patients' time. "The patient receives medical information from various clinics where he has been. Moreover, there is information available on his family, the clinic's services, or the administering of the prescribed medicines. This enables clinics to communicate with every patient. The patient, in his turn, gets access to all the information concerning his health," added Konovalov.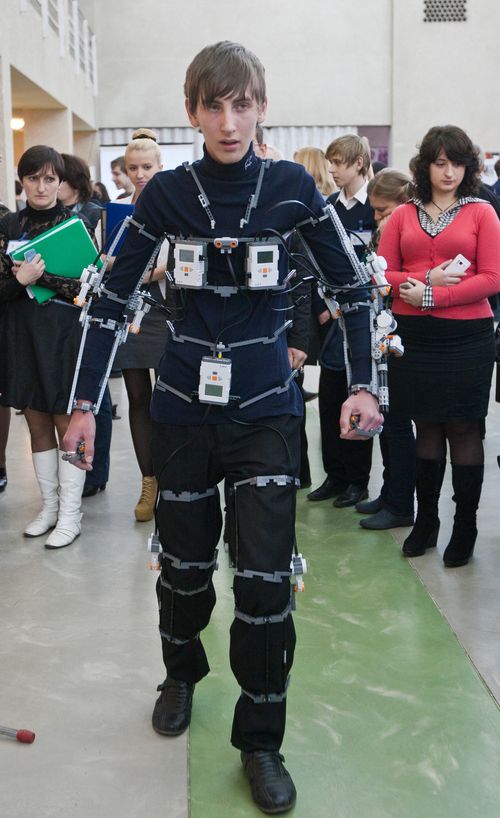 ANTON HOLOVACHENKO, STUDENT OF THE NATIONAL AVIATION UNIVERSITY, DEVELOPED AN EXOSKELETON FOR PATIENTS WITH MUSCULOSKELETAL CONDITIONS / Photo by Kostiantyn HRYSHYN
Among Ukraine's best-known IT projects in health care is the free online service for finding a specialist and making appointments, Doc.ua. This service has been working for 2 years already and has united more than 4,000 doctors from 600 clinics in 9 cities of Ukraine. On an average month the web-portal is visited by some 500,000 persons. Since the launching of the service, visitors have left over 36,000 reviews.
"Thus, we deal with the best doctors' base in Ukraine. Our data are not just garnered in the internet, they come directly from doctors and patients," explains Oleksii Huk, deputy project leader at Doc.ua.
At present, one can make an appointment with a doctor via this service by phone. However, Huk goes on to say, in this way the clinic cannot immediately satisfy many patients' needs. "That is why we are working on the so-called application exchange which, on the one hand, provides all clinics with access to anonymized patient applications and enables them to offer lower prices and better services, creating a competitive market. On the other, the patient wins, as he can now receive multiple offers to choose from. And it helps our service to reduce the time for handling the patient's application," explained Huk.
Another invention was made by Anton Holovachenko, student of the National Aviation University. The young man developed an exoskeleton for patients with musculoskeletal conditions.
"Currently we have developed an alpha prototype, tested at the National Children's Specialized Hospital Okhmatdyt, which has some 2,500 potential users, a part of whom are prepared to rent one. We have arrangements with China, Taiwan, and Japan. We also cooperate with other experts in the industry," added Huk.
According to him, the cost of the devices already present in the global market equals 50,000 dollars for one exoskeleton. Holovachenko's project is much cheaper, starting from 3.5 dollar for one part (say, for a hand or foot). "For patients who need partial rehabilitation, this would cost up to 350 dollars per day. In foreign clinics 500 to 700 dollars per day," explained the inventor.
Another interesting invention christened Cardiomo was proposed by Roman Bielkin. His instrument, which monitors the health of an individual's family members, appeared several months ago.
Cardiomo is a smallish sticker placed on the patient's chest to transmit information about breathing and heart activity. If the device registers heart failures, it alerts the family. They can call and inquire about the patient's state or call an ambulance.
"At the moment we are oriented on the US and European markets, because Ukrainians' purchasing power is not so high. However, at this stage of the project we are looking for investments. By the end of May we want to use a crowdfunding platform in order to attract more funds to finish the device. We are planning to ship our product to the first buyers before Thanksgiving Day," tells Bielkin.
Telemedicine is another health care technology which is rather new for Ukraine. It enables the doctor to consult the patient distantly online, as well as perform a preliminary physical examination.
Since 2007 Ukraine has had a single specialized healthcare institution which was created for the implementation and development of telemedicine: the state-run Medical Center for Telemedicine at the Ministry of Healthcare of Ukraine. The specialists of this center provide comprehensive consultations to the populations using up-to-date information and telemedicine technologies.
At the moment the project for developing telemedicine in Ukraine covers 12 oblasts.
"Distance consultations enable mass screening of the population to identify pathology in those individuals who would never make an appointment with a doctor. Mobile laboratories, mounted on mini-buses, would not have to ride to every far-away village, bringing a doctor who would examine the samples. But this method could help bring medical consultation to each village," adds Olha Bohomolets, chief medical officer at the Dr. Bohomolets Institute of Teledermatology. According to her, telemedicine and distant diagnostics are much more efficient, because a doctor can hold a consultation within 3 minutes instead of the conventional 20 minutes or more.