Fresh ideas and fresh "blood"
Danylo Lubkivsky on opposition proposals and election prospects
28 February, 00:00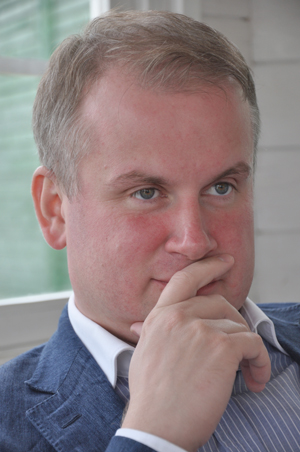 Small opposition parties are in for hard times today. They will be unable to go through to parliament on their own, and participation in the Committee to Resist Dictatorship (CRD) cannot secure a seat at the Verkhovna Rada. The CRD has not become an opposition rallying platform. In all probability, oppositionists will "march" in several columns. The main advancers of this idea are the top-rated Front of Changes and Fatherland, plus Freedom in Western Ukraine. All the others should make a choice: either to join the leaders or to form their own columns. It is clear that Vitali Klitschko's UDAR will be another creator of oppositional ideas and disgruntled individuals, which will march in its own column. And the rest? Valentyn Nalyvaichenko's partner Danylo Lubkivsky is one of those who favor a broad-based united opposition that also includes civic organizations. It is in this format that he pictures the future of Our Ukraine. Otherwise, the latter will have no prospects. "If this does not happen, I will have nothing to do in a political framework like this," Lubkivsky adds. The following interview with Danylo LUBKIVSKY, member of Our Ukraine's political council, is on the united opposition, the "fresh blood," parliamentary election prospects, "the two years of Yanukovych," and opposition proposals.
"WE HAVE AN ARENA – THE CRD – BUT IT SHOULD NOT BE JUST A GUISE"
Mr. Lubkivsky, what is a sore point now is degradation on all levels – from elementary things in the infrastructure to politics as a whole. Degradation has assumed the nature of a national problem. What can the opposition do?
"Degradation is a very precise definition. We have already reached the lower limit, and it will be dangerous for the state, society, and the individual to go still lower. This is the diagnosis. What is the remedy? The current government and opposition are, first of all, the reflection of societal problems. One of the remedies is unification of the opposition. I support the proposal of Larysa Ivshyna to hold a meeting of the united opposition with, incidentally, the participation of moral luminaries who share the December 1 initiative and civic activists. This is a very good approach.
"What is the united opposition? It is, first of all the Committee to Resist Dictatorship. The CRD is an attempt to streamline the opposition and draw up a joint plan of actions. But this is only an element. We should view the opposition in broader terms. What makes the man in the street flinch from what is going on in the opposition? It is amorphous and bland actions, morbid reactions, and pretentious behavior. Moreover, we can all see that there is a high degree of 'grievousness' in the opposition milieu. To make matters worse, there are no high-profile goals.
"Speaking of the united opposition, we must take into account the initial position. A united opposition means the CDR, UDAR, Civic Position, and numerous civic organizations that represent the most active forces of society. This kind of a united opposition should be a tone-setter for the entire society. If a united opposition is formed, inner grievances will vanish – this will mean that common sense has prevailed."
Do you think it is realistic? What are the instruments?
"Various. One of them is consolidated lists on the national level and in the first-past-the-post constituencies. For example, I can see encouraging signals from the Front of Changes and Fatherland about the possibility of drawing up a consolidated list. And all the dwarf parties, which have no potential for development, must go."
Who do you mean?
"I mean the tiny parties whose leadership are the only members. We have an arena – the CRD – but it should not be just a guise. We need a viable inter-corporate entity. A consolidated list should be drawn up on the basis of the CRD. The consolidated list should not be confined to western and central Ukraine alone. The united opposition should nominate its representatives in all the 225 constituencies of this country. It is very important because the opposition is standing a chance to achieve unexpected results in the east and the south. Besides, we should make a collective deal about the candidates."
You mentioned dwarf parties, but, judging by the rating of Our Ukraine, it can also top up this list.
"I agree that we must face the truth. Indeed, Our Ukraine and other similar-caliber parties are not doing better. I am sure we need a strong national party. Some people call it right-wing. But the left-right distribution usually concerns the economy rather than values. Many of the current political figures, who are still thinking in the 1990s categories, do not understand this.
"Our Ukraine has now received an invitation from the Ukrainian People's Party, the Ukrainian Sobor Platform, and the Congress of Ukrainian Nationalists to discuss the form of unification. In my view, this is possible under three conditions. Firstly, one must be part of the united opposition. Secondly, there should be no alternatives if a consolidate opposition list has been made up. Thirdly, there should be no stratagems that will look like a 'fifth column' disguised as a national movement. What prevented all these parties from uniting one or five years ago? Unification will only be good if it is aimed at forming a new political force. Otherwise, it is just a phantom."
Can inability to draw up a consolidated list be viewed as admission of one's non-competitiveness?
"If we are setting ourselves a high-profile goal, such as changing the life in this country, we must overstep all minor problems. A consolidated list is one of the technical tasks. The next task is to form a CRD-based headquarters which will make sure there is no vote rigging and stay in contact with international observers. This process is now underway in every opposition party and, as far as I can see, it is only about exchanging information in the future. It is quite possible to form a single headquarters. There are experts who know this process very well, such as, for example, Yevhen Zherebetsky. Experts like he and his colleagues, who have gone through more than one election, know how the election mechanism works."
We should still put the record straight. You are a member of Our Ukraine which is now negotiating with the Ukrainian National Party, the Ukrainian Republican Party, Sobor, and the Congress of Ukrainian Nationalists. What is your standpoint?
"I am convinced of one thing only. These talks should result in a new political entity which will be an integral part of the united opposition. If this does not happen, I will have nothing to do in this political framework. In other words, if this is being conceived as an alternative to the CRD and the opposition, I see no prospects for myself. I believe many of my colleagues also think so. In general, if there is no united opposition, there will be no Our Ukraine, either."
"WE MUST PUT AN END TO THE ERA EXCLUSIVELY DOMINATED BY THE NAMES OF YUSHCHENKO, YANUKOVYCH, AND TYMOSHENKO"
Now about the content of the united opposition you are speaking about. Does it hold a place for new figures? To what extent is this possible?
"A time of generation change has come to Ukrainian politics. This may pass in a peaceful way, as a mutually wise behavior, but it may also trigger a conflict. I feel respect for many current politicians, but the political veterans, who have been in parliament for 20 years, must go. We need fresh ideas and fresh blood. Speaking of the Verkhovna Rada's future lineup, I would like to see there such people as journalists Vakhtang Kipiani and Tetiana Chornovil, civic activist Sviatoslav Pavliuk who represents the Polish-Ukrainian Foundation, economists and managers Pavlo Sheremet and Yurii Zastavny. I would like to see in the newly-elected Verkhovna Rada such uncommon and knowledgeable people as culture and art researcher Kateryna Botanova, historians Oleksandr Paliy, Serhii Hrabovsky, and Volodymyr Viatrovych, regional development and local government experts Anatolii Tkachuk and Yurii Tretiak. This is a list of at least 10 people who are capable of changing the world, not only Ukraine. And, undoubtedly, people like these can show expertise that will help the new parliament tackle concrete problems.
"I do not think the lists now being made up by the opposition include this kind of people. Instead, there are full of businesspeople and political veterans – those who know how to make deals with the leaders of this process. It is the first mine under the entire process. For the people with Soviet and post-Soviet mentality, who have failed to create an effective state in 20 years, will be also unable to solve the problems that the united opposition is facing. Their mindset and experience are overburdened with huge problems of the past. We must put an end to this practice as well as to the era exclusively dominated by the names of Yushchenko, Yanukovych, and Tymoshenko (whom I still want to be freed). And I do not agree with those who say that 'politics should be dealt with by politicians.' If politicians fail to play their progressive role, they will always be replaced by the closely-related professionals."
What are the mechanisms?
"We don't need to dream up things. We should speak always and publicly about the necessity of new figures. There are very high-skilled and efficient people in the regions. I recently met Vasyl Kashevsky who represents the Volyn Resource Center. This person is prepared to come to grips with the problems of local government right now. There are dozens of people like this, and they are able to change the situation. One must pressure the opposition because there is no use pressing the government."
What are the selection criteria?
"Firstly, I would like to introduce such a thing as 'asceticism of leaders.' We prefer not to speak of this at all. For the highlife of party leaders lays the groundwork for enormous societal mistrust, which later brings about a situation when even the good ideas of these people fail to receive proper support in the country. Secondly, we must speak about political 'purity,' or in fact about the unwillingness of people to betray their moral and political principles. Thirdly, we must speak about the clarity and progressiveness of viewpoints and professionalism. I want to emphasize that the Honesty movement was one of the first to formulate five or six criteria, including a zero record of human rights and freedoms violations, a firm political standpoint, non-involvement in corruption schemes, transparency of the declared incomes and their compatibility with the lifestyle, work in parliament, etc."
What chances do you think the opposition stands in the coming elections?
"In reality, the opposition has every chance to win a parliamentary majority. But the main goal is to take new actions in politics. For this reason, parliament is in bad need of new people who are aware of the importance of new tasks. And the fundamental goal for the entire country is to reform the local government – this will radically change the political landscape. A new parliamentary majority is also a step towards the advent of a new president."
What lists are you personally going to choose to run for a parliamentary seat?
"It is not up to me to answer. It is the united opposition that should collectively submit the list of its candidates."