Babyn Yar Memorial and Yalta European Strategy?
Why government should take part in the construction of the Babyn Yar Memorial, or what surprised us about Marek Siwiec's letter
19 April, 18:20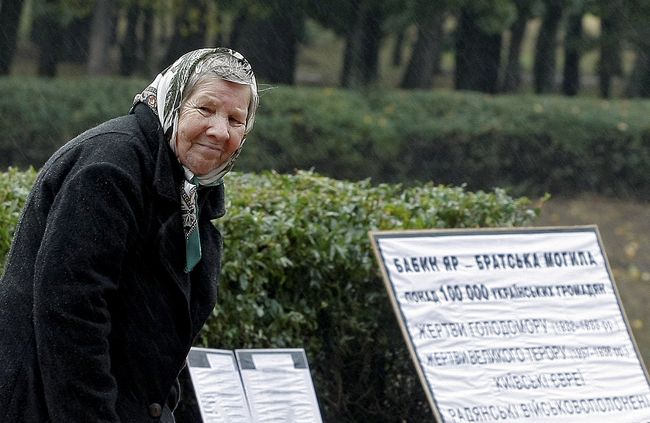 On March 21, The Day published an article headlined "Babyn Yar Memorial and Yalta European Strategy" (https://day.kyiv.ua/en/ article/society/babyn-yar-memorial-and-yalta-european-strategy). This publication was prompted by the first meeting of the supervisory board of the project Babyn Yar Memorial. The opening of the memorial is slated for 2021, the 80th anniversary of the tragedy.
This newspaper welcomes the implementation of such a project in Ukraine, which is important due to several reasons. Firstly, it will mean honoring all the victims of Nazism, first of all, those executed at Babyn Yar. And secondly, such a memorial will play an educational role and prevent the repetition of similar crimes in the future. At the same time, we expressed a warning that such a complex project which, according to its initiators, would have a global significance, must be ethically flawless. In particular, in what concerns the project's donors.
We also noted that for the most part the supervisory board of the memorial comprises board members of the Yalta European Strategy, the brainchild of oligarch Viktor Pinchuk, founder of the foundation bearing his name and EastOne Group. And this is a controversial figure in the eyes of many Ukrainians.
Firstly, this Ukrainian philanthropist (this is how Pinchuk will position himself) earned a fortune during the presidency of his father-in-law, Leonid Kuchma. Moreover, his business activities were often linked to scandals.
Secondly, this Ukrainian oligarch is known for his generosity when he invites retired Western politicians to his forums or internationally renowned artists to perform in Ukraine. He must most probably do it in order to whitewash his father-in-law, founder of the clan oligarchic system which frustrated for years Ukraine's integration into Euro-Atlantic structures, rather than for the sake of improving Ukraine's image.
Of course, there is nothing wrong in Ukrainian oligarchs' willingness to sponsor the construction of the Babyn Yar Memorial, but Ukrainian public would be interested to know, for one, how much Pinchuk donates to the needs of the ATO. The Kyiv Post did some research and found out that Pinchuk, just like the famous cartoon figure Uncle Scrooge, gives incomparably less to charity than donates to the foundations of renowned Western politicians in order to get them to give a talk or participate in a forum in Ukraine.
Thirdly, there are some considerations concerning Pinchuk's strategic thinking and his pursuing the interests of state. The abovementioned Yalta European Strategy (aka YES) predicted that by 2020 Ukraine would have joined the EU. However, not only did the Yalta strategists pitifully fail to bring the country closer to this goal, they also lost their venue after Russia's unlawful annexation of Crimea in 2014. And if you recall his recent article in the Wall Street Journal, which caused a wide public reaction and in which he urged to find a compromise with Russia and suggested that Ukraine yield Crimea and give up its ambition to join the EU and NATO for the sake of settling the conflict in Donbas, all this magnanimous Babyn Yar project raises suspicions about possible manipulations. It is so easy to use a noble goal as a smokescreen for political technologies.
The presence of several Russian oligarchs (who pay taxes in the aggressor country) on the supervisory board of the Babyn Yar Memorial also raises a lot of questions.
That is why we expressed an opinion that Ukrainian state must be extensively involved in the implementation of this project.
Recently we received a very strange letter from Marek Siwiec, CEO of the Babyn Yar Holocaust Memorial Center. The readers can get acquainted with this document below. We have known Mr. Siwiec for many years, since his time as the Chief of the Polish National Security Bureau, Vice-President of the European Parliament, and also as member of the supervisory board of the Yalta European Strategy. The first page (or more precisely, preamble) of the letter, addressed to the editor-in-chief, raises no questions and evokes no surprise. Yet further, in the letter proper (which was written in English and Ukrainian), we could not recognize our author of so many years. Where are his clarity and brevity of arguments gone? Whence those emotions? We would rather not think that this text was written under the influence of someone or something.
This situation highlights (for an umpteenth time) the importance of a public discussion of this issue. Here several moments come to the light.
First, it is necessary to pay attention to a warning letter by Ukrainian historians concerning the plans to build the Babyn Yar Holocaust Memorial Center (http://prostir. museum/ua/post/39104). The signers, just like our newspaper, emphasized that Babyn Yar, the grave of many Ukrainians, Jews, Roma, people of other nationalities who became victims of Nazis, is part and parcel of Ukraine's history. "The Holocaust museum in Ukraine must be included in the history of the Second World War and the Holocaust in Europe, which will facilitate the all-round incorporation of this complex problem into the new historic memory of the Ukrainian nation," emphasizes the letter.
Besides, the authors warn against an artificial separation of the so-called "Holocaust by bullets" from the general Holocaust history in Europe. "Should such an approach be adopted, it will become another attempt at restoring, on the level of historic memory, of the single Soviet civilization space, and will thus exploit the painful Holocaust theme to promote the neo-imperialist ideas of the 'Russian world.' We believe that the Holocaust Museum and the Babyn Yar Museum must be two separate institutions disclosing different aspects and various contexts of the tragic history of the 20th century," says the letter.
Second, with regard to the abovementioned reservations, we believe that maximal involvement of Ukrainian state in the implementation of this project is of utter importance. With all respect for Mr. Vakarchuk or the Klitschko brothers, who are all members of the memorial supervisory board, they cannot exclusively represent the position of Ukraine. Right is Volodymyr Viatrovych, head of the Ukrainian Institute of National Remembrance, when he says (in his commentary to The Day) that "this complex must be built with the participation of Ukraine, and it has to be a government project." According to him, such a promise was made by the president past September.
In conclusion we would like to emphasize the importance of the Holocaust theme. In this respect Babyn Yar is part of the global history of the 20th century. But should we let foreigners forsake all tactfulness and dictate what kind of memorial we must build in our own country, or even worse, what Ukrainian journalists must write?
We urge all the interested parties to continue the debate on this issue, given that the initiators themselves spoke about a maximal involvement of public in the discussion of the Babyn Yar Memorial.
---
The Day's Mail*
Editor-in-chief "Den" Newspaper
Ms. Larisa Ivshina
Dear Madam,
Being respectful to you and to the "Den" newspaper, I would like to express you my thoughts regarding the situation around Babi Yar Holocaust Memorial Center topic.
With this letter I am sending you my response (in Eng/Ukr) to the article written by Mykola Siruk on 21st of March 2017. It reflects my point of view on this matter as a person who is deeply involved in the process.
Best regards,
Marek Siwiec CEO
Babi Yar Holocaust Memorial Center
---
Holy truth, truth as well and bullshit.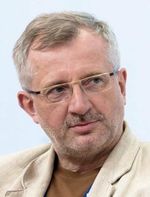 I have been in charge of BYHMC Foundation for over half a year now. It's a difficult job, because it is a memorial institution. It strives to acknowledge not only the memory of crimes committed against the Jews. It is, mainly, meant to honor the memory of the brave nation of Ukraine, which, despite the influence of Russia, is fighting to reveal and deal with the sad and difficult past. According to a Polish philosopher Joseph Tischner, who was also a mountain man, there are three types of truth:
♦ the holy truth
♦ the truth as well
♦ bullshit truth (not true)
After reading M. Siruk's article from 21st of March 2017, I am not sure how to qualify it. The author does say that he agrees that the crimes should be commemorated. But than goes to says the commonly known issues: not only Jews were killed. Why initiate something new, when 20 years ago the president L. Kravchuk called for this tragedy to be remembered and his successors carried a ceremony of putting a foundation stone of future monument? According to J. Tischner, this is all "holy truth". Later, on Mr. Siruk starts to get picky: the project should have more Ukraine it, the best would be if only Ukrainian institution were to finance it…
"Truth as well" (still according to Tischner). Our budget comes from the income that all the founding members acquire in Ukraine and pay taxes for, also in Ukraine. Among the members of the council are Slava Vakarchuk, Volodymyr Klitschko, Victor Pinchuk and Pavel Fuks. All these people have Ukrainian passports. For Siruk, that doesn't seem to be enough. I won't even get into all the other things that this group of people had already done for building and supporting new Ukraine.
I could end my monologue right here, if it wasn't for the fact that this article was published in DEN, a newspaper whish I respected and have read for many years. So, to end it right, some notes for Mr. Siruk.
With all due respect to your "truths", you have failed to notice that nothing has been built for over 20 years. We have a chance to change it. Of course, we will do so with help from Ukraine's authorities, Ukrainian historians, and its society.
This initiative is not a beauty pageant where you are the single-handed jury. It goes far beyond that. You are not in the position to take away the right to be commemorate from people who were born in Ukraine and whose families and loved ones have been buried here. 13 relatives of G. Khan were killed in Babi Yar. V. Pinchuk's parents managed to ran away and it spared their lives. What, in a sane mind, had Yalta European Strategy to do with all of this? What kind of "Pinchuk's bad reputation" are you insinuating? It's him, not you, promoting Ukraine all over the world, and let art be an example here.
There's a never-ending line formed outside the Pinchuk Art Centre (yes, in Kyiv).
And to end this, there's the personal aspect of mine. I have been asked to fulfil this mission to tell and show the truth. The "holy truth". And I am doing it, please believe me.
The most off-putting aspect of all this is to receive the immense support for this project throughout the whole world but to consistently face petty squabbles in Ukraine when speaking regarding its destiny. The fact that this project elevates so many controversies is indicative that we must get to the truth and create it.
Ukraine, Yours and mine, will simply be a better place with BYHMC than it is without it.
Marek Siwiec CEO
Babi Yar Holocaust Center
* The author's spelling, punctuation, and style remain unaltered

---
"Babyn Yar is part of Ukraine's tragic history"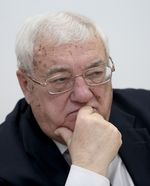 Yurii SHCHERBAK, public activist, publicist, writer, former ambassador of Ukraine to Israel:
"In his article 'Babyn Yar Memorial and Yalta European Strategy' Mykola SIRUK raised fundamental questions concerning the creation of a memorial center for the Holocaust victims at Babyn Yar, and he is very compelling.
"The first and foremost is that Babyn Yar is part of Ukraine's tragic history, just as it is part of global Jewish history, and Ukrainian government cannot dodge and leave this issue in dubious hands of some individuals who have no moral right to take part in it.
"Big dirty money in the hands of some people does not entitle them to being great connoisseurs of art or play an important role in global politics or European soccer.
"The Ukrainian nation, of which Jews have always been, and will be, a constituent part, must be an active player in the formation of a strategy of the creation of such a memorial.
"The involvement of odious Russian and pro-Russian oligarchs in this sacred case is intolerable. There is a risk of violent interventions on the part of various public organizations, in particular, associations of ATO veterans, which may result in international scandals with unpredictable consequences.
"I would like to see a supervisory board made up of persons with a flawless moral reputation, such as Katja Petrowskaja, author of a sensational German-language novel about the history of a Jewish family from Kyiv (Ms. Petrovska is the daughter of a renowned literary historian Myron Petrovsky and a well-known Kyiv-based teacher Svitlana Petrovska); or Leonid Finberg, director of the Kyiv Institute for Jewish Studies; or Polish publicist Adam Michnik, or renowned American writer Anne Applebaum – these people would doubtlessly become a priceless asset for the supervisory board.
"The creation of the Holocaust victims memorial center at Babyn Yar is a matter of honor for Ukrainian society and state, and may not be left to dubious dealers eager to earn political dividends on one of the most horrible disasters in human history.
"The ashes of the Babyn Yar victims demand the expulsion of traders and Pharisees, supporters of Russia's aggression against Ukraine which threatens our nation with a new genocide."