International community helps Ukraine take first step toward making exclusion zone environmentally safe
6 December, 2016 - 14:29
The modern structure called the New Safe Confinement (NSC) is now in place of the old crumbling Soviet era "Sarcophagus" that poorly served to contain radiation on the Chornobyl disaster site and save Ukraine and the rest of the world. Thirty years after the 1986 nuclear catastrophe the international community combined efforts and practically sealed the ruined lethally irradiating power unit, placing it within a unique structure, the New Safe Confinement. It has 100 years of service life and its cut cylinder design is awesome. It is the largest movable structure ever built, 257 meters wide, 108 meters high, 162 meters long, weighing 36,000 tons.
"There is more to the New Safe Confinement than its arch shape; the outer and inner casings are made of stainless steel," says Serhii Kondratenko, deputy chief engineer, Chornobyl Nuclear Power Plant (AES), adding that "some of the components were made in Ukraine, others in Italy. This arch-shaped design involves a number of innovative techniques and its unique equipment was made using the latest technologies. There are two 100-ton bridge/overhead cranes installed in the upper section of the arch. They'll help dismantle the unstable parts of the old confinement structure. There are six crane girders at 85 meters in the annular space and equipment to maintain set temperature and humidity, with 12 meters between the outer and inner casings. All this will keep the New Safe Confinement ticking for another hundred years, long enough for us to solve a number of problems that can't be solved today."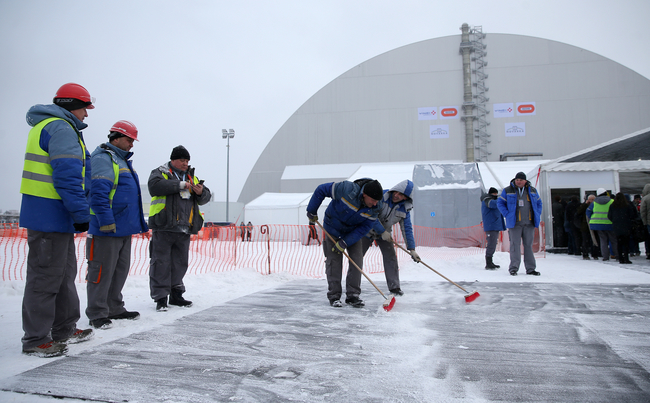 He went on to say that they have until November 2017 to complete the project and actually seal the power unit, installing elastic membranes in the existing gaps. Also, they have to finish the assemblage and testing of the equipment, to make sure it answers the design parameters. Then, toward the end of 2017, the project will be fully operational and under AES command.
"Our end goal is to contain all sources of radiation, primarily what's left of the nuclear fuel – what we know as fuel containing materials and high radiation sources. There are no technologies to cope with this task. The confinement upgrading strategy, adopted by an interdepartmental commission in March 2001, formulated the end goal as the creation of an environmentally safe area. This means the absence of any radiation sources, but it's a very long road to travel," said Serhii Kondratenko.
When asked by The Day why tourists and media people were banned access to the site, as the arch-shaped structure was being installed – moved on top of the "Sarcophagus" at one centimeter per hour, taking 21 days – he replied: "Safety measures had to be taken. The structure weighs 36,000 tons, it could make the foundation sink, something else could happen, even though we were reasonably sure that nothing would happen, that the design was good enough. As it was, no red lights flashed. Everything proved stable. The arch was moved in place and didn't damage any other structures, contrary to many wary expectations."
"We applaud our Ukrainian partners and the contractor and we thank all donors to the Chornobyl Shelter Fund whose contributions have made today's success possible… The spirit of cooperation gives us confidence that the project will be completed on time and within budget a year from now," said EBRD President Suma Chakrabarti during the NSC launch ceremony.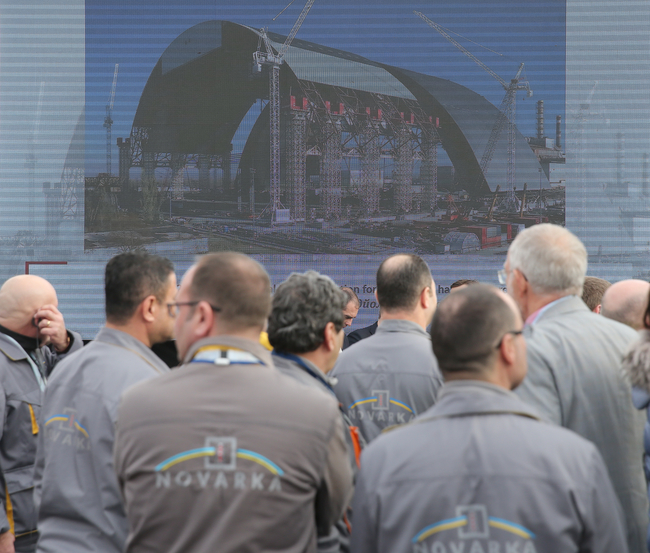 Nicolas Kai, CEO of Novarka and NSC project coordinator, delivered an emotion-packed speech, saying he'd learned about the Chornobyl nuclear disaster as a student and wouldn't have dreamed of taking part in a project involving 10,000 workers and engineers from 30 countries. He thanked them and the Ukrainians present for their professionalism and dedication. "We sacrificed our interest for this project," he added enigmatically.
The ceremony culminated in President Petro Poroshenko's address. He said NSC was "an absolutely historic event" and that "a coalition of 28 countries raised a fund worth over €1.4 billion for this structure in Ukraine. I would like to extend my special gratitude to the G7 countries whose ambassadors extraordinary and plenipotentiary are present here… Ukrainians have played the main role… We've done something no one has done anywhere in the world. We did it!" he declared and made a V-sign.
Will Ukraine continue to receive international donors' support after NSC? The Day asked Ostap SEMERAK, Minister of Ecology and Natural Resources, for comment. He said: "Ukraine is counting on such donors, primarily the EBRD. We're having a conference with donors and participants in and donators to the Chornobyl Fund today. This issue will also be on the agenda. Our government is preparing a statement addressing these partners and expressing our attitude to further cooperation. We expect support in terms of science, technology, and engineering in dismantling Power Unit 4, considering that Ukraine would be hard put to do it unaided. We need further aid in implementing this project. It would serve as an additional guarantee of the safety and quality of our works."