The State TV and Radio Committee announced the winners of this year's competition
19 December, 2017 - 11:23
This year 23 publishing houses from all regions of Ukraine took part in the nationwide competition "The Best Book of Ukraine." "The jury examined 60 various-theme publications and announced winners in 10 nominations," comin.kmu.gov.ua, the website of the State TV and Radio Committee (Derzhkomteleradio), reports. The Grand Prix went to the Yaroslaviv Val publishing house for Serhii Kozak's book Rarities of the Ukrainian Diaspora in 4 volumes. Also among the winners are the Baltia-Druk publishers for Liudmyla Herus' book Ukrainian Folk Toy, the Family Leisure Club publishers for Vasyl Shkliar's book Troshcha, the Lybid publishers for Moisei Fishbein's book Prophet, Poetry, Translations, and the Bukrek publishers for the book Heavenly Squad Angels by Halyna Datsiuk, and others.
"Naturally, this decoration gratifies the ambitions of a publisher. But I know that to feel gratified is the last thing the publisher should do, for it is the author's work after all. I am glad about Serhii Kozak, a good friend of mine, whom I've kept in my sights for 30 years or so," Mykhailo SLABOSHPYTSKYI, a well-known literary critic, writer, director of the Yaroslaviv Val publishing house, says, accepting congratulations on the book Rarities of the Ukrainian Diaspora. "I've known him since he was taking his first steps at Literaturna Ukraina after graduating from the journalism department. I saw the way he worked in the US, when he edited Ukrainski Visti. I know from the press that he is by far the best connoisseur of, pardon the tautology, the Ukrainian diaspora. Kozak wrote a history of Ukrainski Visti, Bahrianyi's newspaper, originally the mouthpiece of the Ukrainian Revolutionary Democratic Party, one of the wisest newspapers of the Ukrainian diaspora. Back in Ukraine, he was compiling – for 10 years or so – a bibliography of the Ukrainian diaspora's periodicals, including the Ukrainian Art Movement's almanacs in DP camps, Olena Teliha-related Lytavry, and all the publications printed in Toronto. These four volumes – the result of this work – are an invaluable source for researchers of the history of the Ukrainian diaspora and Ukrainian literature outside Ukraine, art, civic movements, and party life."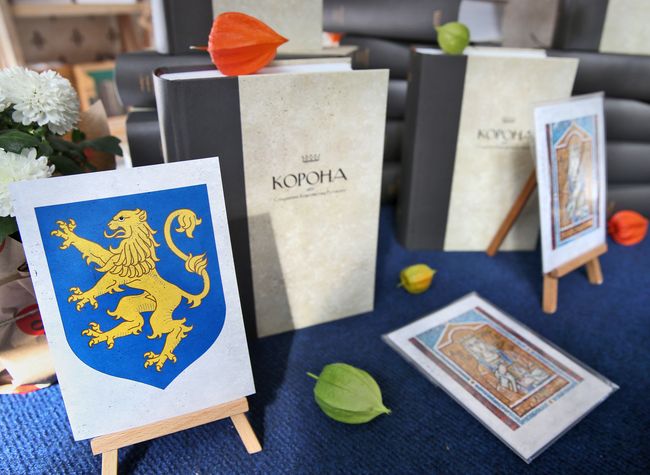 Photo by Artem SLIPACHUK, The Day
In the nomination "Out of the Depths of Knowledge," the publishing house of Ukrainian Press Group LLC was named the best for the book The Crown, or Heritage of the Rus' Kingdom edited by Larysa Ivshyna. Incidentally, this decoration only confirms a brisk great demand for Den's new historical publication – its second print run is selling out. It will be recalled that other books of our newspaper's library, such as Ukraine Incognita. TOP 25; The Power of the Soft Sign, and Return to Tsarhorod, were also winners at the Derzhkomteleradio contest in the previous years.
Slaboshpytskyi also congratulated Den on The Crown's success. He is familiar with all the books decorated this year and says he shares the jury's choice.
"I am seeking an opportunity to make at last a radio program on the wonderful book The Crown, or Heritage of the Rus' Kingdom. This may be a turning point in the thinking of Ukrainian intellectuals," Slaboshpytskyi says. "While a war for power is in progress on the political Olympus, we need some kind of an arbiter, for example, a monarch, on top – one who cannot be dismissed and is a moral authority and the supreme arbiter. This kind of a leader must rule by way of succession. Ukraine once attempted to do so. It is very good that Den has declared 2018 the Year of Skoropadsky. It is the continuation of the line of The Crown, a priceless book. At first glance, it is just of great informative importance, for it contains, in particular, a host of interesting information about various monarchic dynasties. But the book also sounds too topical in our context. I even wish it were not so topical at a time of moral relativism and disrespect for any government. I am sure that if Jesus Christ were the president tomorrow, there would be revolts against Him too. But when the leadership is imperfect and does not obey the rules of the game, society is walking all over the leadership and vice versa. So, the Ukrainians may be facing now what various peoples of the world have already gone through. Some of them have even restored the institution of monarchy. Therefore, I am, naturally, for The Crown."