believes Ihor Kotsan, president of the Eastern European University whose library has hosted a dozen of Den's photo exhibits
16 May, 2017 - 12:03
This year's Den's Days in Volhynia turned out very busy. The presentation of the photo exhibit in Lutsk was preceded by another important event. At the gymnasium in a small town of Lokachi Den/The Day's editor-in-chief Larysa Ivshyna was awarded the title of the Honorary Citizen. According to mayor Bohdan Ius, the local dwellers had been looking forward to this event: it was important for them to honor their fellow townie, whose work in Kyiv had been closely followed not only by friends and family, but even by total strangers who also come from Lokachi. For Lokachi, said Ius, Larysa Ivshyna (Zhalovaha) exemplifies intelligence, talents, and life principles which help achieve a lot in life. Oksana Sakharchuk, principal of the local gymnasium, admitted that the local community had been very anxious to be able to receive "our Larysa" properly: she had been to many prestigious places and met many wise people, while this was just an ordinary village school, even though it bore the name of gymnasium. "However, the meeting was very touching and warm," said Sakharchuk. "It resembled a family reunion, with reminiscences of Ms. Ivshyna's friends and her own memories. These memories became in fact true lessons of life from Den's chief: the lessons of history, of upbringing children, of finding your way to the top." Larysa Ivshyna dedicated that lesson to the memory of her mother, Maria Zhalovaha...
"DEN IS MEANT FOR MEANINGFUL READING AND INTERPRETATION"
One of the most interesting encounters during the photo exhibit in Lutsk was meeting Tetiana KOSHYRETS, history teacher at Lutsk Gymnasium No. 14. Her cooperation with Den goes many years back to the times when she clipped articles on historical themes from the paper's Friday issues for her classes. She says they attracted her not only with the range of problems which were not sufficiently covered in history textbooks, but also with the factual material and an unbiased perspective on historical events. As a student, Koshyrets only had Russian-language textbooks propagating the Soviet historical doctrines. Thus Den's publications became for her a personal breakthrough in learning about distant events and epochs, they gave her food for thought and stimulated critical thinking. She has always used her own collection of Den's publications in her work. Her students not only read Den. The teacher says that her primary goal is to make their reading meaningful and critical. Based on what they have read, the students hold interesting discussions about Bohdan Khmelnytsky's epoch, the Council of Pereiaslav, or the controversial figure of Mazepa.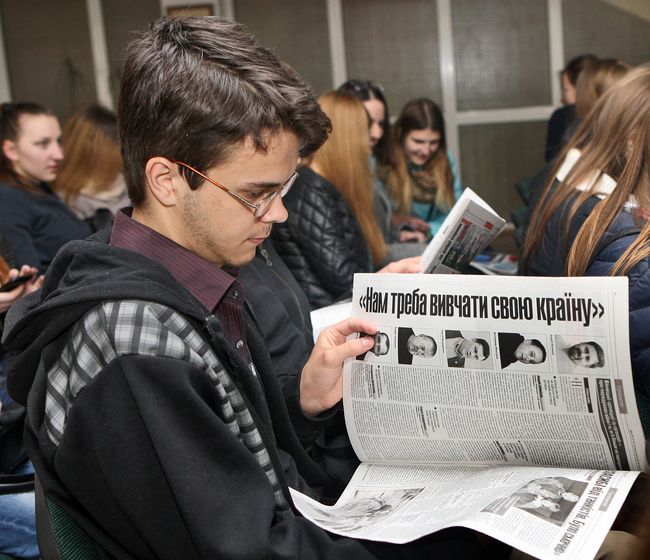 THE NATIONAL DIALOG IN LUTSK. APRIL 28, 2017 / Photo by Mykola TYMCHENKO, The Day
To be able to visit the presentation of Den's Photo Exhibit in Lutsk, Koshyrets even arranged for changes in her schedule. The pictures impressed her with a combination of war and peace: two states in which Ukraine is now living. She bought herself the books Return to Tsarhorod, of which she had heard a lot, and Klara Gudzyk's Apocrypha. So her students will have new stuff to read and new topics to discuss.
The meeting and discussion with Ivshyna after the opening of the photo exhibit was also quite atmospheric. The local participants could count their saplings of Den's Tree of Projects, and they were numerous, which inspires hope.
"A readers' conference with Larysa Ivshyna is an intellectual conversation about the essence of being and about the vital constructive moments of Ukrainian reality. The participants of this utterly meaningful dialog (philology and journalism students and faculty, librarians, writers, journalists) were interested literally in everything. The lively discussion helped clarify painful issues which are constantly raised by this progressive newspaper," shared Olena MALANII, assistant professor at the Department of Ukrainian Literature. "Our students are like abundant and grateful soil which is already bringing the fruit of knowledge. It brings to mind the barren field from Lesia Ukrainka's drama On the Field of Blood, tilling which brought no result and proved wasteful for Judas. But we here have a true fertile 'black soil of souls': an asset of the state, an asset of the nation, its invincible force. What we have sown, is growing. And what we will sow, will grow."
A PHOTOGRAPH AS AN INDEPENDENT OBJECT
I asked Volodymyr PRYSHLIAK, Ph.D. in history, associate professor of new and contemporary history at the Eastern European University and a regular reader of Den, to comment on the newspaper's days in Lutsk.
"I am particularly grateful for the paper's historical publications, which are very interesting thanks to the excellent author of the historical section, Ihor Siundiukov. He has a feeling for time, epoch, concept, historical events, and a gripping manner of writing. Perhaps I would like to see more of such interviews as the recent one with Natalia Yakovenko. Today very few media in Ukraine have historical sections. Den must be the only one to cover these themes regularly and unbiasedly. Also the photos in the paper are very interesting. A pity that Den has reduced its format. But their photographs are always of top quality, and they are a very important addition to the text. I guess that no one other than Den would have made such a photo exhibit whose best photos we can see in Lutsk thanks to Larysa Ivshyna and her paper's cooperation with our university. This takes something Den has: an understanding of the importance of a photograph both as an independent object and an addition to the text."
Professor Ihor KOTSAN, rector of the Eastern European University, says that the university will keep supporting all of Den's educational projects. The paper's editor-in-chief has for years been member of the university supervisory board and the university's honorary professor. In other words, Ivshyna and Den are the university's friends and partners; their cooperation is valued, and Den's work is spread and promoted. Prof. Kotsan believes, in particular, that the photo exhibit in Den's format is a visual textbook of Ukrainian history. And it will remain such a textbook decades later, as it shows the real life of Ukraine and Ukrainians. In Kotsan's opinion, the only thing Den and its editor-in-chief need now is some state support.
---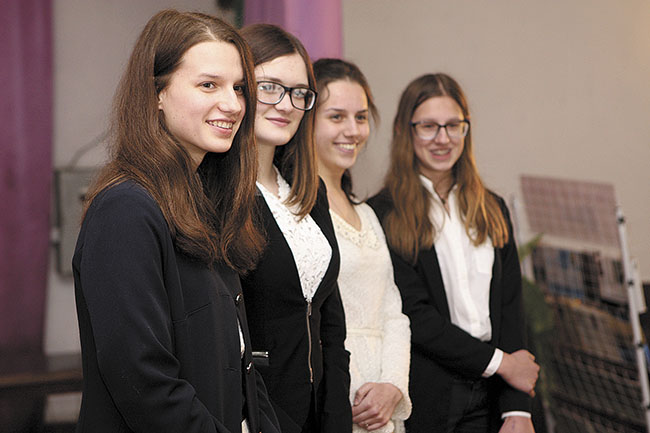 YOUNG JOURNALISTS FROM LOKACHI GYMNASIUM TOLD US THEY MODELED THEIR LEARNING AND LIFESTYLE ON DEN. PICTURED: IRYNA ODION, SOFIA NERODA, YULIA SHULHA, AND KHRYSTYNA TYMCHYSHYNA / Photo by Mykola TYMCHENKO, The Day
In Lokachi Den is read with a pencil in hand, and this is what some school students said about the paper.
Sofia NERODA, 10th-grade student, member of the school's young journalist team, winner of the regional and national competition of the Minor Academy of Sciences (Journalism):
"Choosing the future occupation, we never look at its prosaic side, but instead try to find someone who has become successful in this job and look up to them as to a paragon. This attitude is sort of romantic, but it is wonderful that journalism has people like Larysa Ivshyna, who can serve as examples and are worthy to be called a journalist."
Khrystyna TYMCHYSHYNA, 10th-grade student, member of the school's young journalist team:
"For young people Den gives an opportunity to develop their critical thinking, initiative, and creativity. This is a beacon in today's reality which helps you tell real information from trash prevailing in contemporary media."
Yulia SHULHA, 10th-grade student, member of the school's young journalist team:
"Den's editorial board is an example of providing quality information content in a time difficult for journalism, not giving in to the high and mighty's hidden agenda but instead writing on burning issues, creating interesting projects and generate initiatives, showing respect for the reader and keeping standards high at all times."
Iryna ODION, 10th-grade student, captain of young journalists team:
"Den inspires confidence in our country's better future, where journalism can become a true watch dog of democracy, a real fourth branch of government shaping the nation's elite. Besides, this newspaper gives a lot of attention to intellectual and educational projects which help find out more about our country's history and culture. We hope one day to join Den's great tree of knowledge and become one of its branches or shoots."
The next day after a meeting with Ivshyna the high school students from Lokachi made their traditional trip to Lutsk to see the opening of Den's exhibit of winning photographs. It has also become a tradition that the exhibit is hosted by the Eastern European National University, which always creates the most favorable conditions for visitors.