Den/The Day correspondents visited the ATO frontline village of Vesele, where 24 people go on living under fire, without a store, a hospital, and water
24 October, 2017 - 12:23
Only 24 people are living now in a small village of Vesele, Yasynuvata raion, Donetsk oblast. A hard-to-believe fact: according to villagers, over 100 people permanently resided here not so long ago. "And even 140 in better times," local pensioner Halyna adds. She refuses to tell us her surname, for some of her kith and kin are "under occupation," and she fears for their lives and asks us to call her simply Aunty Halia.
Aunty Halia, lives almost at the entrance to the village next to Ukraine's national highway H20 (Sloviansk – Donetsk – Mariupol) on Kolhospna Street which she herself has renamed as Dachna. "There have long been no kolhosps [collective farms. – Ed.] here. And when the war began, most of the people moved away. So I found a different nameplate and now call the street Dachna," the pensioner says. "I've spent all my lifetime here in the Donbas and worked at the Yasynuvata railways station for 44 years. And now I am back to square one, waiting in vain for something. I haven't been to Yasynuvata for three years. I don't need to go there, for it is no longer Ukraine. I am a migrant. I left an apartment in the town, and my husband is also buried there. So I am here, at my son's dacha. Please come and see my house: no floor, no good walls – only single windows – and it is very cold. The frontline is very near, right after Kamianka. There are always shootouts and explosions there. Shells used to land here too, but, thank God, none have flown to the village in the past few months. Right after Kamianka, over there [the woman stretches out her hand towards Donetsk. – Author], is Kruta Balka, a 'DNR' area, for your information."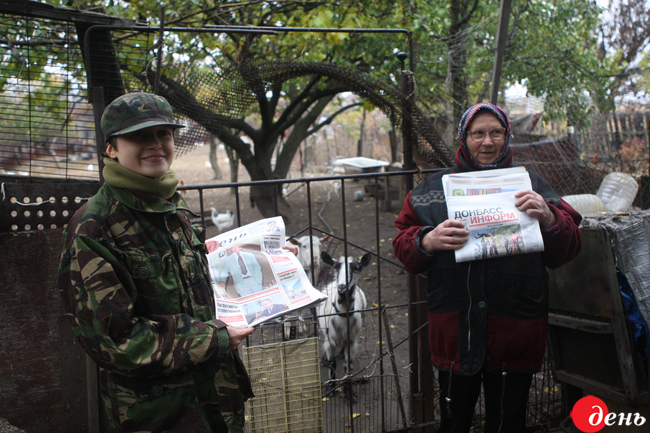 We came to the village of Vesele, for it is one of the frontline villages regularly visited by volunteer Anna Dombrovskaya who brings fresh bread and newspapers, including Den, here every week. The arrival of journalists is a real feast for the local woman. Firstly, "Kyiv is rarely interested" in frontline village's destiny, and, secondly, she likes, appreciates, and thoroughly reads everything in the newspaper Den which she regularly receives free of charge from the volunteer. She even knows by heart the names of contributors and the themes of their articles. "We have no stores, the post office doesn't work, and shelling often causes blackouts – we may have to use candle light for days on end. So when it begins to grow dark early in the evening, we read a newspaper. Incidentally, I was very glad to read in your paper about the pension reform which is supposed to increase our pensions. I wish this would happen," Aunty Halia says and invites us to the courtyard. The small country house is obviously in want of repair. In the courtyard is a bid dog which the woman calls her best friend and a little she-goat, the woman's main pet. "Her milk helps us survive. Incidentally, I offered it to all the soldiers who were coming. One of them even burst out crying – he said his parents in the village also had a goat," the hostess says. But the main problem in the village, in the woman's words, is not so much the explosions that regularly ring out on the outskirts as shortage of potable water. "It is very, very hard to live without our own potable water. My son and I carry water in large barrels on our old Zhiguli car from the village of Krasnohorivka. We draw it from a well there. It doesn't seem to be very far away – about five kilometers, – but you can't possibly drive too much every day. Besides, we carry it not only for ourselves but also give it to others. We help all those who need it in the village. They call me 'activist' for this," the woman adds. In her turn, volunteer Dombrovskaya calls Aunty Halia the curator who helps distribute bread and newspapers, as well as humanitarian aid if it is delivered to the village.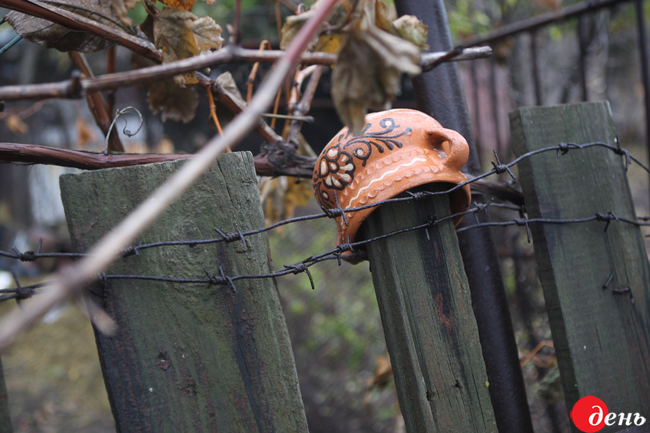 "Al the people know that they can come to me and take humanitarian supplies. This garage door always remains open," the pensioner says. "I'm going to phone everybody now. It's good that cell phones work here and people will come to take bread and newspapers. All of them come, even the five to seven people who are afraid to live here and come just for a few days to check whether a shell landed in their courtyard or who still have a dacha here. After checking whether or not everything was bombed into ruins, they flee back."
A bus plies twice a week between Vesele and the neighboring villages, including Krasnohorivka. Their residents buy up foodstuffs and medicines. It is also possible to go to the raion hospital. "There's an organization called 'Doctors without Borders.' So they have visited Kamianka and Krasnohorivka but don't want to go to our village. I phoned them and said we had run out of funds. They told me to wait," the woman continues. "But what can I wait for? I'm 68, sick, and short of money to buy medicines. Many thanks to the Ukrainian soldiers who gave me an ointment and pain killers – I'm slightly better now. And last year some correspondents, like you, and military came to see how I live here. They came into the house, only to find that there was nothing here – neither bread nor potatoes," the woman begins to cry, wipes off her tears in a minute, and continues, "I was just baking flat cakes out of some bran. I treated them to this. It is better now – I can entertain you to the fresh bread Anna has brought."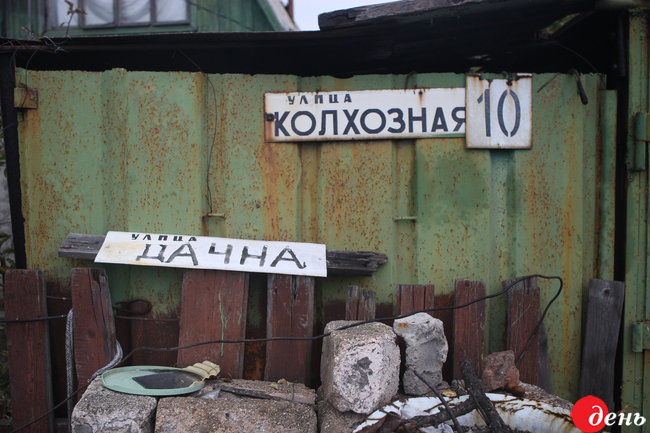 Saying goodbye to the elderly woman, we ask her if there is a bomb shelter in the village, where she can hide from enemy projectiles. "What bomb shelter? I run scared about the house and shout like a madwoman," she says emotionally in reply. "I stand by the wall or by the chimney, where the brick lining is thicker, or by the metallic door... And last time I squatted right in the courtyard between two barrels with grain – I thought that fragments would get stuck in the grain. I'm a silly woman, aren't I?" Halyna remained silent a little and added: "I ran a few times with the dog to the cellar. But it is cold and damp there. You can't sit there long. Shells often burst here, just 500-700 meters from the house. Everybody, old or young, wants to live – so everybody is scared. OSCE observers once visited me. I told them all the truth and showed everything. Then I asked them to take me to Europe. One of them was a talkative German who spoke through the interpreter. When he heard me asking them seriously to take me to Europe or any other place very far from here and saying that I had read that they receive refugees, he thought a little and answered: 'Stay behind here. People in Ukraine are very amiable and sincere.' So I stayed behind here, surrounded by 23 amiable people on whose heads the unpleasant metals of our war keep falling. And I have seen no more observers here…"