Supporting domestic quality is a new fashion!
Den presented the newspaper's own projects at the offstage program of the Ukrainian Fashion Week
21 March, 18:22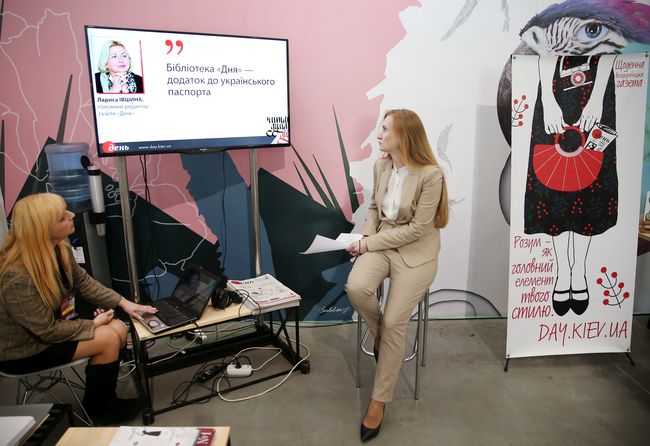 2016 is a special year for Den. In September, there will be a 20 years' anniversary of the newspaper's first issue.
For this date, the newspaper and the readers are planning many different activities and entertainments. March 19 has one of such activities. As part of the offstage program of the Ukrainian Fashion Week, Den presented its projects to the newspaper's friends and partners.
Den and the Ukrainian Fashion Week are long-term partners. The newspaper provides informational support to the country's principal Fashion platform, using the slogan: "The mind is the main element of your style."
Den's long-term, new, and even potential partners attended the presentation. The projects were demonstrated in a brief, but extremely concise manner – in the chart shaped like blooming tree. The tree itself was painted by artist Anna Havryliuk.
COMMENTARY
Nadia KVITKA, deputy director of Novy Druk printing house:
"We and Den have been partners for 20 years. We have been printing the newspaper since the first cliche of Den's page had been cast within our company. The first issues came out in such a huge format, like Pravda newspaper in the past. I remember my first encounter with Den. My children and I went to Lapland in winter. And right before the departure I saw Nadia (Nadia Ushakova is now the director of Ukrainian Press Group), who gave me a newspaper and said 'this is something for you to read.' I put it in a suitcase, and opened in Lapland. During those few days as we were there, I had read that Den's issue not only from A to Z, but to length and breadth. As an editor by training, I can assess the quality of a newspaper. And I thought: what a smart newspaper they do! There are so many interesting authors! But recently, they have outdone themselves. I'm talking about the monthly supplement, Route No. 1. The leftovers of the Route's print are in huge demand at our printing house! I come to the office and see employees doing nothing at their workplaces but reading Route No. 1. They apologize when I reprimand them. But with every new release it happens again.
"I wish long life and prosperity to Den newspaper."