Travel Guide "Ukraine for guests 2012" will help foreigners to find necessary facilities in Ukraine during the Euro-2012 Championship and after it
It was the press conference's key-note of Travel Guide's publishers, who have investigated the quality of informational support for the guests of Euro-2012
27 October, 00:00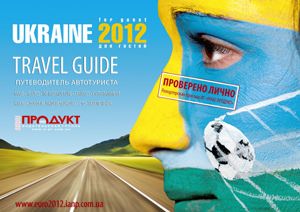 On October 19, 2011 the press conference on the topic "A clever tongue will not take you anywhere" took place in OUR PRODUCT Informational Agency. During this press conference the representatives of the project "Ukraine for guests 2012" and CHEK Consumer Control Center made the journalists aware of the investigation's results of informational support for foreign tourists, who will come to watch the Euro-2012 Finals in Ukraine.
The results of consumer examination were made by the employees of OUR PRODUCT Publishing Group in the conduct of the publication of the first Ukrainian English-Russian Travel Guide "Ukraine for guests 2012".
Summarizing the interim results of work, the experts noted that the tremendous job was done in preparing the road and sports infrastructures for Euro-2012 in Ukraine. However roads and stadiums are not surprise for the Europeans. Only Ukrainian historic sites can really attract interest of tourists.
"Ukraine has a lot of tourist attraction to show the world. But how will tourists be able to know about these places of interest? There is no any system information about how to get and where to find different facilities. Roads are in the process of building, but there are no any traffic signs, which would lead tourists to the cultural and historical places. Nobody posts them. And if somebody posts the road signs, they are written in Cyrillic," told Igor Kanievskiy the coordinator of CHEK Consumer Control Center.
He also noted that during the motor-car trip through Ukraine experts faced the fact that traffic signs in English were mostly lacking, mobile communication and GPS-navigation didn't work. These and many other informational aspects were taken into account by the creators of the Travel Guide "Ukraine for guests 2012".
In Travel Guide there are all places of interest, which are situated on the routes and described in English and Russian languages. Drives to the monuments' location are given according to the kilometrage of routes. Tourists will not get lost in Ukraine using this information. There will be numbers of all emergency services, which will be able to help foreigners in difficult situations.
Also important referral information will be published in Travel Guide. In the book it will be possible to find information about all volunteer headquarters in Ukraine, the list of special "hot line" numbers of certain support services (Assistance), and telephone numbers of posts of Ukrainian Road Patrol Service of State Automobile Inspectorate.
During the press conference it was also noted that Ukrainian people are not ready to inform tourists about the hotel infrastructure, because there is no any authoritative information about the development of the hotel business.
"In statistical reports it is stated that there are only 44 hotels in Zakarpattia region, but it is not true. In actual fact we have counted 194 hotels only on the route M-06 'Chop-Kyiv.' How will European tourists find out the truth?" told Alexander Dranikov the director general of OUR PRODUCT Information Agency.
"Now the business in Ukraine are getting ready for the tournament. Hotels and entertainment complexes are being built. But who knows about it? Ukrainian hotel resource books don't include even a small share of hotels, which was built in the last few years," emphasized Alexander Dranikov. Therefore, unlike the existing information sources, Travel Guide of OUR PRODUCT Publishing Group will contain the comprehensive list of hotels, restaurants and health resorts of Ukraine, which are situated on the route. Also there will be descriptive information of the infrastructure and phone numbers. Travel Guide will present top lists and describe how to get to the hotels and restaurants according to the kilometrage of routes. With the help of this information tourists will not get lost in Ukraine and will be able to make their choice.
Also in Travel Guide tourists will find information they need and ratings of facilities that supply high-quality services in the sphere of food, car service and banking on the whole route as well as in Euro-2012 host cities.