How a photographer whom Mikheil Saakashvili once sent to a Georgian prison took pictures of the ex-president sitting in the defendant's cage in a Ukrainian courtroom
18 December, 2017 - 16:44
It was an interesting turn of events. A press photographer who was previously imprisoned by the former president of Georgia for publishing photos of the bloody dispersal of an opposition rally on May 26, 2011 was present at a court hearing held on December 11 to choose a preventive measure for the leader of the Movement of New Forces Mikheil Saakashvili.
This fact was reported by well-known Ukrainian journalist and press photographer Yefrem Lukatskyi on his Facebook page: "I had a mind-changing experience today. One of today's courtroom photographers was an acquaintance of mine, a Georgian photographer whom Saakashvili once imprisoned for taking and publishing pictures of the bloody dispersal of a rally in the center of Tbilisi that demanded that he be impeached."
In a conversation with The Day, Lukatskyi told us that he meant Saakashvili's former personal photographer Irakli Gedenidze. The latter was one of those who recorded the nighttime violent dispersal of the rally in Tbilisi on May 26, 2011. Let us recall that photos of bloodied people, who had come to the city's streets to demand the resignation of the president, which were made by press photographers, spread like wildfire throughout the world media then. Lukatskyi, who accompanied his colleagues from Georgia to that rally, was surprised when recalling the events of May 26, 2011 that this topic was so little discussed in the Ukrainian media today, even though the Saakashvili story would seem to currently be the top news in Ukraine.
The Day asked Yefrem Lukatskyi and Giorgi Abdaladze how the Saakashvili trial was perceived by photographers who were once imprisoned for covering the rally in Tbilisi, and why Ukrainian authorities did not analyze the contemporary history of Georgia properly before inviting former Georgian senior officials to take leadership positions in this country.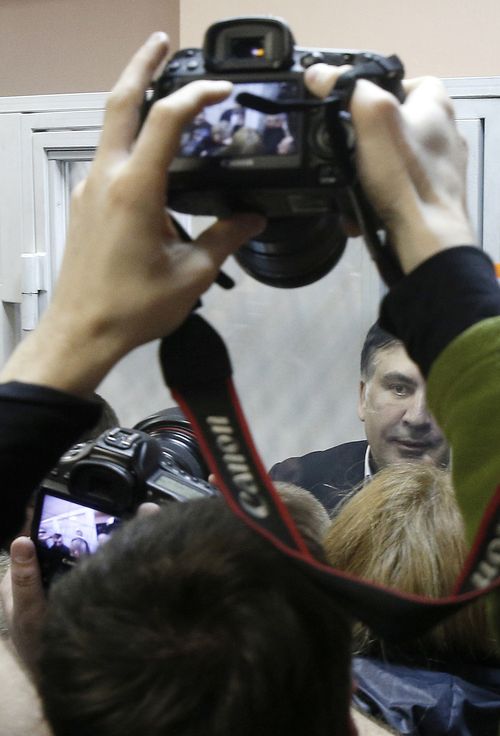 Photo by Ruslan KANIUKA, The Day
"I AM SURPRISED THAT THE VIOLENT DISPERSAL IN TBILISI IS SO LITTLE DISCUSSED TODAY"
Yefrem LUKATSKYI, an editor at the Associated Press Ukrainian bureau:
"In 2011, we knew that there were rallies being held in Tbilisi and a violent dispersal was possible. As an editor, I was sent to the Georgian bureau to help its press photographers and also to record what was happening myself. I arrived the day before Independence Day. The protesters had taken over the central square and declared they would not let the military parade to be held. Their demand was for Saakashvili to be impeached. They were given an ultimatum: to vacate the square by 12 p.m. It was raining incredibly heavily, and there were literally a few hundred people left by nightfall. At midnight, a column of police vehicles started moving at them. You see, we in Ukraine have never been through such things, such brutal dispersals. I saw similar vehicles being used against the Euromaidan in 2014, but they were quickly stopped. The vehicles moved at the protesters firing tear gas as they went. The police behaved with extreme brutality – they baton-charged people who had cameras, tried to smash them, beat people on their heads. It continued even though people raised their hands up and screamed. It really was a bloody carnage scene. I had inhaled tear gas, and my airways were blocked. Having stopped, I saw how a car (it was a car of Nino Burjanadze, they said later) hit and ran over a policeman. His scream further infuriated the security forces. I screamed in English that I was a journalist, and only because of this my camera did not get broken.
"Later, local stringers of our agency handed over their photos to me. They managed to record bloodied people with broken heads and take other unique pictures which then spread throughout the world. I asked them if they wanted the photos to be published with their signatures, and they said 'yes.' The Georgian authorities were very displeased with the fact that the world had seen pictures of the bloody carnage, and they arrested photographers including Giorgi Abdaladze and Zurab Kurtsikidze on absurd charges of spying for Russia. Irakli Gedenidze and his wife were also arrested – he was the personal photographer of Saakashvili, but he, too, took and published photos of the violent dispersal. The prison conditions were very harsh. Abdaladze went on a dry hunger strike, and they threatened him with violent reprisals. Kurtsikidze tried to hang himself, and they freed him from the noose at the last moment. The world came down on the side of the journalists and demanded their release. A protest took place near the Georgian embassy in Kyiv as well. Then they told the photographers: 'if you confess to espionage, we will sentence you to probation.' Although it was a complete absurdity, they were forced to go along with it.
"I am surprised to see this topic to be so little discussed today, considering that the Saakashvili story is currently the top news in Ukraine. The psychology of our people is such that they do not give a deeper thought to information they receive, do not know what happened in another country and how, although this is most immediately related to the matter at hand. As a journalist, I am very interested to learn and we will definitely find out over time who was the ideological inspiration behind all these events in Kyiv, and who invented these developments with Saakashvili's arrest and unending PR opportunities for him. It does not fit into the common sense logic, I think there is hand of someone who wants to promote him in it."
"IT IS A PITY THAT YOUR GOVERNMENT IS POWERLESS TO PUNISH HIM"
Giorgi ABDALADZE, a Georgian press photographer with the Associated Press who was arrested after recording the opposition rally:
"What is happening in Kyiv now is not ridiculous, but actually very sad. Having experienced what we went through, we understand what an artist he is. In general, Saakashvili has always based his actions on what Western media will write and how to self-promote himself. And he is now winning in this situation.
"In 2011, we were arrested on suspicion of espionage and treason. We suffered merely for showing the world the real face of Saakashvili. There is no doubt that this happened directly on his orders, because without his instructions, nothing had ever happened there. Then it was proved in court that the confessions were coerced from us under torture. For example, Gedenidze, a former personal photographer of Saakashvili, was forced to confess while standing at a cemetery beside a freshly-dug grave. Now he is in Kyiv and makes photo reports about the former president. Those involved in beating us have been convicted, including the prison warden and other officials.
"The fact that Saakashvili reappeared in Ukraine was a shock to us. He is launching lawless attacks, his balaclava-clad supporters are walking around and smashing everything. It is a pity that your government is powerless to punish them. From the PR perspective, he is winning because he has been able to concentrate all attention on himself, on his claimed defenselessness, on Poroshenko's attempts to strip him of his citizenship, and also because he is showing how feckless the government is since it cannot even arrest him. He is a very cowardly man by nature, and no Georgian was surprised to see the pictures of his exploits on the roof. Many people dream of seeing him in the dock, because they will never forgive torture and prisoner abuse. And during his presidency, there were over 300,000 prisoners, which is a very large number for my country of 3.5 million people. Prisons became 'notarial offices,' where people were made to transfer their properties to officials of the prosecutor's office and law enforcement agencies. If he ever comes to power in Ukraine, he will go after journalists at once. After all, besides the 'case of photographers,' he intimidated journalists and closed some TV channels, and they resumed broadcasting only recently. He did it because he perceived any other opinion, differing from his own, as hostile, and sought to strangle it. I am convinced that issues concerning Ukraine should be solved by Ukrainians themselves, those who live this country, think and feel about it."