Participant of the Miss Wheelchair World contest talks about "barrier" and inclusive Ukraine
24 October, 2017 - 11:49
In the beginning of October, Warsaw hosted the beauty contest Miss Wheelchair World 2017. TV host and public activist Uliana Pcholkina and photo model Oksana Kononets represented Ukraine in the event. Kononets won the Miss Individuality title, while Belarusian Aleksandra Chichikova received the highest award.
The participants also included girls from the Netherlands, the US, Canada, Poland, Chile, Guatemala, India, Moldova, and other countries. By their example, they advocated equality of rights, accessible environment, and involvement of people with disabilities in different spheres of life. For instance, one could see among the contestants a TV host, an actress, a fashion designer, a fashion model, and a hairdresser...
The Miss Wheelchair World 2017 contest is primarily social in nature and designed to present the beauty, confidence, and leadership of wheelchair-bound women. My interlocutor Pcholkina smiled and added: "And it was also an opportunity to get acquainted with girls from different countries and to establish great contacts for future joint projects."
"I NEVER FELT MYSELF WHEELCHAIR-BOUND IN WARSAW"
The contestant said she had not gone to it to win the crown (she joked that she had one of her own anyway). As the leader of the Active Rehabilitation Group All-Ukrainian Association of Persons with Disabilities (hereinafter ARG), she seeks to reach the political level in order to have more influence to turn the barrier Ukraine into an inclusive nation. And the Polish capital showed a good example of the latter.
"I felt at home in Warsaw, as it was a kind of post-Soviet space with innovative designs. I was extremely impressed by the Old Town which the Poles had rebuilt virtually from scratch, and especially touched by love and respect they showed for every preserved little stone. We should learn to be like this. Interestingly, I never felt myself wheelchair-bound there: I would like to have such physical accessibility in Ukraine as well. Once again, I saw for myself that disability is not an individual's problem, but rather the problem of a barrier society. Although the Poles still complained that not everything was as good as it could be," Pcholkina shared her thoughts with us.
The girl says that the contest itself did not leave its participants any time to feel weak and fatigued. Every day ran on a very tight schedule. However, having undergone training at the ARG camps, Pcholkina easily sustained the load. The girl copes with her wheelchair very well, is very independent and open to new acquaintances.
"It was interesting and easy for me. I was myself at the contest. But some girls could not stand it and told the organizers, 'do you even remember that we are wheelchair-bound?'" Pcholkina recalled.
The contestants were treated as independent and active people – without some special commiseration, but with a lot of respect. The girl said it did not surprise her. The contest's volunteers included many activists from the ARG's Polish counterpart and partner FAR (Foundation for Active Rehabilitation for People with Disabilities). Organizer of the Miss World contest Kasia Wojtaszek-Ginalska is a former rehabilitation instructor as well.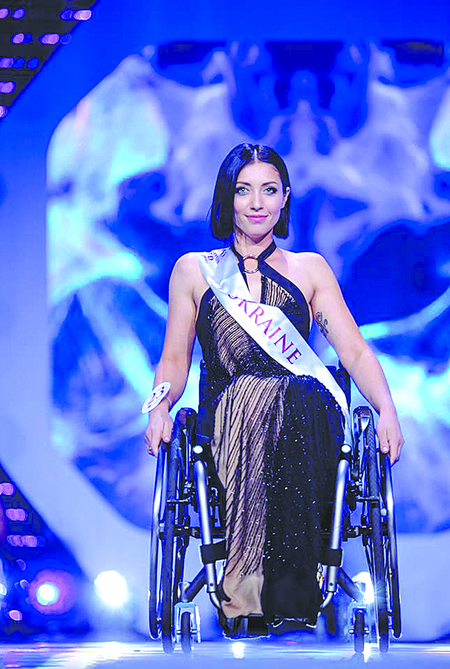 Photo from Uliana PCHOLKINA's private archive
"Most 'graduates' of active rehabilitation camps take lead in life as well, while the Polish FAR and Ukrainian ARG speak one language, so we can be seen from afar," Pcholkina laughed.
During the contest, the girls were also able to present their countries.
"I told the audience about the war in eastern Ukraine which had increased the number of people with injuries, and about the current social situation. I also covered the fact that wheelchair-bound internally displaced persons probably remain the most vulnerable category, as they are housed in summer camps without proper facilities, cannot receive quality medical services, get a job, live independently... The contestants were struck by the war in this country. By the way, we spoke about this with Andrii Deshchytsia, Ambassador of Ukraine to Poland. Ours was the only embassy that supported its compatriots. It was a relaxed friendly meeting with tea and candies. Miss Ukraine Universe 2016 Aliona Spodyniuk joined us. And so, we discussed in that format what could be done together to improve the situation of people with disabilities. This offered extremely important support to me."
"IT IS WE WHO HAVE TO RAISE ISSUES AND PROPOSE SOLUTIONS"
Which participating countries are leading the field in terms of social inclusion of people with disabilities, which of them should be our models?
"Of course, it is the US, Canada, the Netherlands... People from more developed countries are different even in their outlook. They are worried about completely different things, like creative development, professional success. These are socially integrated, self-confident girls. We, meanwhile, are still at the stage of choosing a mobile wheelchair that would be as comfortable as possible. And this is good! In Ukraine, a mobile wheelchair remains an unattainable dream for a large number of people, as it is too expensive for them. So, what kind of independence or confidence can one talk about, then?
"And still, not everything is lost for Ukraine, despite its numerous barriers. When I listened to stories from Guatemala, I even cried. There is no accessibility there, like at all. Paola from Guatemala must be accompanied by two people to get to university. Her helpers not only assist in getting to the educational institution, but also get her on the right floor. Also, so many disabled beg there...
"In another example, Chichikova told me that in Belarus, children are taken from their wheelchair-bound parents... without any provision for reunion. And one cannot do anything about it. One couple began to sue for their child's custody, and received a calm reply: 'We do not know where she is, since she has already been adopted...' I know a wheelchair-bound couple who are very famous in Belarus and highly combative, so they still have untroubled custody of their child. But regarding mere mortals... I was shocked. In comparison, our inaccessible stairs are nothing!
"The issue of discrimination is relevant to many countries. It is encouraging that, despite such circumstances, there are classy, talented girls who are keen to see change.
"And I tend to live according to the principle that very much depends on the person themselves. Whatever our government's faults, but it is we who have to raise issues and propose solutions."
 "IT IS TIME TO CREATE A MISS INCLUSION UNIVERSE CONTEST WHERE VARIOUS WOMEN WILL TAKE PART"
Did it occur to the organizers to hold an inclusive contest, including wheelchair-bound girls as well as contestants without disability or visually-impaired ones...?
"And how about us being the first to organize such a contest?" Pcholkina suddenly interrupted me. "You seem to be reading my thoughts. After all, holding yet another contest for wheelchair-bound girls is so passe. However, when offering a contest like Miss Inclusion Universe, it would be a good idea to plan the format in the minute detail, so as to achieve equality for all contestants. Because even at our first workout, those who could not move quickly or use a wheelchair properly came last. In the end, the stage directors planned it all well, and each of the girls could show herself in the best light possible.
"Now imagine what challenges can arise in an inclusive contest! How much one should stop feeling one's wheelchair, get over one's disability, to declare that one is at the level with a walking person..."
What do you think is needed for it to happen?
"At the beginning of our conversation, I mentioned the Polish Foundation for Active Rehabilitation. They have extensive experience in organizing camps for women with disabilities. I want to organize a similar school in Ukraine and am seeking partners for it. I guess we will not lose contact with the FAR anymore.
"In this school, wheelchair-bound girls would learn all the nuances of recovery from injuries, what means of rehabilitation exist, how reproductive health works, and about their rights in general. They would learn to be beautiful and confident all the while. The Miss Wheelchair World contest encouraged me to do it even more.
"The girls themselves inspire me. For instance, two French women whom I met have cerebral palsy, and they are different from our girls who have cerebral palsy like the sky is different from the earth. You cannot convey in words how confident they are!
"For example, the contestant from San Marino owns a model agency; incidentally, she invited me to a fashion show she will hold next year. Another girl from the Netherlands works as a hairdresser; she has a special wheelchair at her workplace with which she can easily serve clients. One can also mention the winner Sasha Chichikova who is the first disabled actress in Belarus...
"I am not talking here about offering participation in this school for free, otherwise it will be unproductive. I have seen it on too many occasions that everything that is given easily does not motivate people and does not stimulate responsibility. I want to teach them to be confident women first of all! To relegate one's physical condition to the last place and nurture independence and personal autonomy. And I believe in disabled Ukrainian women, as they are worthy of being happy, worthy of being the winners in life."
The contribution was prepared with the support of the Anti-Discrimination Campaign