Vitali Klitschko wins the Brueckepreis award for fostering democracy
05 February, 10:10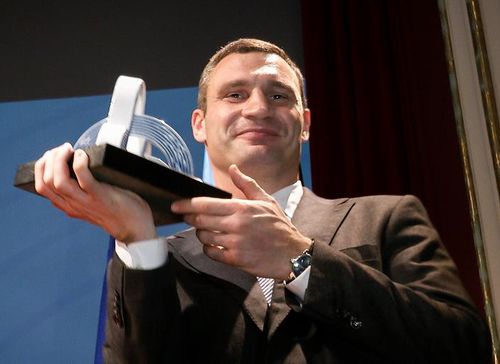 Vitali Klitschko has been awarded the German-Polish Brueckepreis award. The politician has announced the fact through his Facebook page. "[On Sunday] I received the international Brueckepreis award from two small towns – Goerlitz in Germany and Zgorzelec in Poland. Joined by a bridge (Bruecke in German), they are a symbol of uniting Europe. This prize is awarded for fostering democratic development and mutual understanding in Europe. I am pleasantly surprised. It is another convincing proof that both the Germans and the Poles sincerely support Ukraine's aspirations and truly want to see it in the European family. We still need to do a lot to this end, but I believe that we will succeed. We have no other path," the politician wrote.
"Vitali Klitschko is one of the prominent people who are buildings bridges in Europe," the award committee argued, according to Western mass media. According to the definition of the committee, Klitschko won the award for his participation in the Orange Revolution, which was the foundation for a democratic movement and employed non-violent methods of resistance. The readers will remember that Klitschko distinguished himself by showing up for his fight in Las Vegas wearing an orange ribbon in order to demonstrate his solidarity with Ukrainians fighting for their freedom. Klitschko then dedicated his victory in that fight to Ukrainian democracy. He also personally came to Kyiv to support the revolutionaries.
Moreover, the former boxer was described as "a person with a big heart." At one point, Klitschko participated in charitable events aimed at helping children and young people in different countries, such as Namibia, Romania, and Brazil. He will receive his 2,500-euro prize at an official ceremony in October.
The Brueckepreis was launched in 1993 and has been awarded to people who are actively defending freedom and democracy and promote mutual understanding in Europe.