3 September, 2014 - 17:21
Every day our fathers, husbands, sons, and brothers keep on dying in the war. As of August 29, the number of soldiers we lost was 765, according to the data provided by the National Security and Defense Council of Ukraine information center spokesperson Andrii Lysenko. Unfortunately, the number of wounded reached thousands, last Friday it was said there were 2,765 of them. Sorrow came to all regions of Ukraine and we must not forget our heroes, who gave the most precious thing they had – their lives, so we could live on. Today our stories are about Azov battalion's youngest soldier Andrii Snitko; Lieutenant Colonel, deputy commander of the division for educational work at the 3rd special-purpose detached regiment of Operations Command "South" of the  Land Forces of Ukraine Serhii Senchev, who took care of soldiers until his last fight; and commander of the Kherson special unit of the Ministry of Internal Affairs of Ukraine Ruslan Storcheus, who knew that Ukraine is to be fought for since his school years.
Read previous stories on The Day's website (www.day.kiev.ua) in section "They Died for Us."
---
"He treated soldiers in a special way"
Lieutenant Colonel Serhii Senchev tried to get a machine gunner out of the fire range and received a mortal wound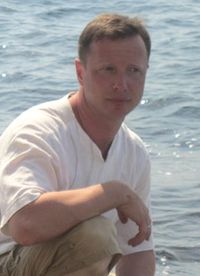 Volodymyr Lytvyn could not hold tears back when he shared the terrible news: he learned that his friend, Lieutenant Colonel, deputy commander of the division for educational work at the 3rd  special-purpose detached regiment of Operations Command "South" of the Land Forces of Ukraine Serhii Senchev, was dead. He tried to pull a machine gunner out of the fire range and received a mortal wound on August 4 in a battle near Savur-Mohyla.
"We both were sent to Kirovohrad in 1994. He came from Donetsk, and I was from Odesa. Serhii came to occupy the post of the deputy commander for educational work of the special-purpose company and I was the group's commander. We, only lieutenants back then – Senchev, Lytvyn, Usachov, Zvizdohliad, Nazarenko, Nikolaiev, became such close friends that our whole families started   spending time together," Lytvyn recollects. "He was among the first to go to the east, in early April. At first, as far as I know, he participated in the hostilities near Kramatorsk, later – at the Donetsk airport, then he came back for a short vacation, even downloaded some photos to his daughter's laptop. It was impossible not to love this man. For example, at our family get-togethers it was Senchev who took care of the kids. If he was not around, everyone knew: Serhii is already playing with the little ones."
Senchev's comrades remember: he did not sleep in the staff tent at a single field mission. He slept in the so-called "daily tent," which was used by soldiers as shelter from heat and rain. He treated soldiers in a special way: once he saw a very upset man in a smoking room, who told Senchev his bad mood was caused by his mother's illness. Serhii got in his car and took the soldier to his mother, who was all the way in a Svitlovodsk hospital.
And also, he never locked his office. "What if some soldier comes over, and my office is locked?" that is what deputy commander of the division, Lieutenant Colonel Serhii Senchev used to say.
"Do you remember the Soviet film Officers?" Lytvyn asks at the end of the conversation. "There is an episode in which a general picks up a little boy, a cadet from Suvorov military school, and asks for his name. And the boy says, Ivan. Do you think it was not for a reason Serhii named his son Ivan too? He loved this movie, that is why he chose that name. And the quote 'There is such a profession: to defend your homeland' is about him."
After abdominal surgery, which was carried out in a field hospital, Senchev did not make it through the trip to a stationary hospital in Dnipropetrovsk. Kirovohrad residents paid their last tribute to Lieutenant Colonel Senchev on Theater Square on August 7.
By Inna TILNOVA, Kirovohrad
---
"He wanted so badly for Ukraine to be united and successful"
Ruslan Storcheus, commander of Battalion Kherson, died on August 25 under shelling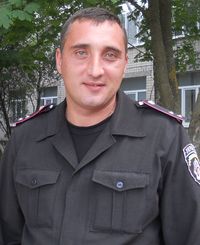 Special Battalion Kherson of the Ministry of Internal Affairs of Ukraine was sent to the ATO area on August 19. Hardly had a week passed when the men felt the military tension which still hangs over Ilovaisk. But the loss of their commander was the most tragic event for the Kherson men. On August 25, on the way back from a briefing, Lieutenant Ruslan Storcheus's car came under terrorists' fire.
When talking about Storcheus, his friends and family are unanimous: he was a "hothead," a brave patriot who always took the side of justice. It is for a reason his second degree was in law. Since the first days of the Euromaidan, Ruslan supported the people's pursuit of Ukraine's European choice, struggle for decent treatment of an individual, against corruption and the rustbound Soviet system. He helped activists in Kyiv and Kherson not in words, but with actions. And when volunteers started forming self-defense squads in regions, he was one of the first to join the one in Kherson.
Ruslan took Russia's invasion in Crimea and Donbas hard. At the end of spring he was entitled with heading a special-purpose battalion of the MIA of Ukraine. Confronted with the police system, he criticized his bosses for ineffective work multiple times. However, he did not intend to leave the men whom he had personally handpicked. He was ready to vouch for those fighters. The Battalion Kherson soldiers were prepared and equipped by local activists and volunteers. When an order to immediately dispatch 50 soldiers to the east was received, Ruslan led his comrades to the crucible of war without hesitation.
Wife Svitlana, son Yaroslav, five years old, and daughter Sasha, two years old, were left without the head of the family, and fourteen-year-old Rostyslav from the first marriage – without a father. The loss of their son was a terrible blow for Ruslan's parents too.
"He studied at School No. 30 (Kherson). I know that he was perhaps not always the most orderly student, but he received good grades. Then he graduated from a lyceum at the Kherson State University, then enrolled there again to receive a degree in teaching biology and geography. Later, he received another degree from a local branch of the Kharkiv Law School. As a lawyer, he worked at a mechanical plant and for an insurance company," Ruslan's wife Svitlana recollects. "He was very much involved in community and civic life during the past months, because the situation in the country pressed for it. I felt hurt, tried to talk him out of it, cried at times, but I understood he could not do it another way. He had acute national feelings. He had been like that since school. He told that once in a 'Lenin's corner' in school, where flags of all socialist republics used to hang, he hung a   flag of Ukraine. Not a flag of the Ukrainian Soviet Socialist Republic, but the blue and yellow flag. A scandal followed afterwards, he was summoned to the principal. When he was older, he read Subtelny, reinterpreting a lot from history. It is hard to remember all this today. But you know, I realized he did this for us. For me, for the children, and for the future. Whatever people might say, I am convinced this is all for a reason. I saw the enormous amount of effort he put in his battalion, he tried to break the system in the police environment. It is clear this task is complicated for one person, but he would not stop. He was also sure he had to go to the east. The majority of men had enormous respect for him."
Ruslan's friend Stanislav Troshyn says that when he met him, he understood right away this was a reliable person who would not let you down at a difficult moment. And this proved to be true soon after that. "After November 30, when there were not too many volunteers to take people to Maidan, Ruslan never refused. Moreover, he did it on his own initiative," Troshyn says. "He did not care whether there was gas and money, we just got in the car and off we went. I remembered one night in particular. After an important evening at the Euromaidan in Kherson, we were going to Kyiv, tired. We were going through a very dark spot on the Kyiv-Odesa highway. Suddenly a huge platform for transporting combines emerged on the road. We all believed that the crash was inevitable and was only a matter of several seconds. Ruslan had less than a second to think, then he took sharp left and only hit a road sign with his side mirror, and so he preserved our lives. It was a man who worried about Kyiv Maidan participants very much. He would stay there more often in the most complicated winter weeks. And when new 'dictatorship laws' were to be approved at the session of the Kherson Oblast Council, Ruslan was one of the first who said that our Maidan could not be held in a regular place, we had to come to the very administrative buildings and despite the numerous guards and Anti-Maidan, to voice our protest. I  remember the dialog between Ruslan and Volodymyr Saldo [MP from Kherson, former Party of Regions member. – Author], when Saldo asked Ruslan who he was to come up with his objections. So, I am convinced that Ruslan is a true patriot. He often helped others without an expectation for reward, as a lawyer he took up hopeless cases and won, because he could convince and put enough pressure."
"He always went bald-headed into an argument, if he felt the truth was on his side. Ruslan had everything you could fit in the word 'activist.' People like him became sparks in the excitable environment, they could lead others," remembers Storcheus' friend Volodymyr Chaikovsky. "We took down the Lenin statue in Kherson together, helped patriots in raions, did not sleep for nights and days... After the revolution, we went to the MIA deputy minister Velychkovych and demanded to speed up the lustration process, because we understood that there was no time to waste. He was very anxious that separatists should not take over in our city and oblast. That is why Ruslan accepted the offer to head Battalion Kherson. During the selection, he would come into a room and greet everyone with 'Glory to Ukraine!' Those who replied 'Glory to heroes!' the loudest, were among the main candidates for selection. Ruslan wanted Ukraine to be united and successful very badly."
By Ivan ANTYPENKO, The Day, Kherson
---
"Always smiling..."
The youngest fighter of the special-purpose battalion Andrii Snitko died at the age of 18 near Ilovaisk. He covered a grenade with his body and thus saved lives of his comrades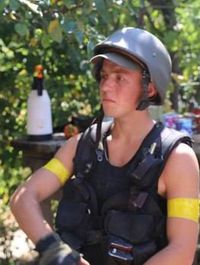 Oh, the kinds of dramas life creates! Andrii Snitko, born in Volyn oblast, became an orphan at the age of nine. And even though there were blood relatives in his native village, nobody would take him in. The boy would have been given to an orphanage, but a completely strange woman from Manevychi, a raion center, adopted him. She has her own life story. She became a widow twice, brought up two of her own children, two of her second late husband, and now – Andrii. The boy's class teacher Natalia Savchuk says that being an orphan burdened him, he always wanted to fulfill himself, to achieve something more.
"He was very joyful and sociable, always smiling. Peers liked him and reached out for him. He was always neat and very kind! I know that he was great help at home too," the woman recollects. "He participated in everything. From the Club of the Funny and Inventive to numerous sports clubs. Andrii also went to get a degree in physical training at the Lesia Ukrainka Eastern European National University."
Lutsk dwellers said farewell to Andrii on the eve of Independence Day of Ukraine. He was buried in Manevychi. Those present at the funeral remember conversations of the boys who carried the coffin, covered with the national flag, saying, it was too light, because Andrii was so frail. And even now one can hear in a shop or on a bus in Lutsk people talking about the heroic deed of the 18-year-old boy who was torn apart with an enemy's grenade. He consciously covered it with his body when not only him, but his comrades were endangered. Snitko served at a special-purpose battalion Azov, he was the youngest soldier there. His nickname was Khoma. Of course, he has been to Maidan too, and after failing semester exams at the university in spring, he was one of the first volunteers to go to the east to protect the territorial integrity of Ukraine. Of course, this young boy was attracted by the black uniforms of Azov men, their certain rituals and combat training. But the most important thing he found there was similar views, principles, and beliefs. So, those were not empty words when he said to his friends that dying for Ukraine would be a great honor for him, which they remembered at the funeral.
That is what his comrade from Azov writes: "What will I remember about you forever? You were smiling all the time! On a rainy May day at the train station, when, as it turned out, you left your native Volyn for the last time and went to the east. You were smiling when you ran during a morning exercise and when you folded your hands on the gun when we were going to a training ground. You were smiling amiably to girls when Azov's column rushed through the streets of the freed Mariupol. Your tired eyes were smiling in the rays of the setting sun, when you were jumping down from a truck after a combat mission. I am sure that you faced Valkyries with the same smile and you were smiling all the way from Ilovaisk to Valhalla!" Snitko's comrades in arms said that he had so much will-power for victory, so much spirit, confidence in what he was doing, so much love for Ukraine, as very few people did. He was going to come back to Volyn to settle the things at the university. But Ilovaisk had to be freed. He was happy he would free another part of his land. Therefore he decided, we are going to free Ilovaisk, and then I will go home. He and two more of his comrades from the attack team came under fire of automatic grenade launchers. One of the explosives fell under the soldiers' feet. Andrii lay down on the grenade without hesitating, he sacrificed his life, but saved his friends.
This year it was a tearful Knowledge Day on September 1 at Manevychi School No.1. People commemorate a school graduate who became a hero at such a young age. Savchuk says her former students, Andrii's friends, are making a film about him, which they will show to her current six-grade students. This is how the history of Ukraine is made.
By Natalia MALIMON, The Day, Lutsk