What happened on Black Thursday, February 20, 2014?
Virtual reality Project "Aftermath VR: Euromaidan" launched in Kyiv
19 September, 16:33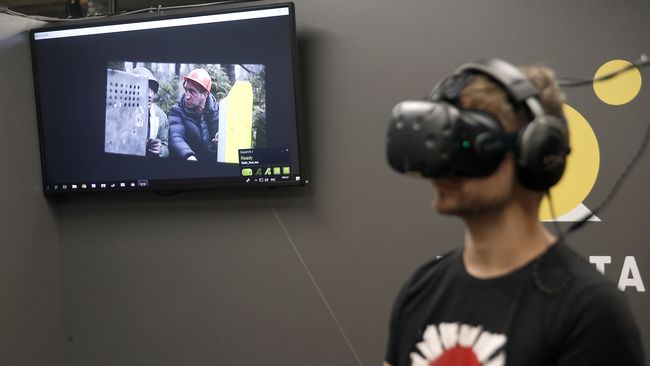 Today one can instantly immerse oneself in past or current realities. All it takes is a special headgear or a pair of glasses, and then one is off on an exciting trip and in for strong emotions.
Sounds simple, but trips to the past also take courage when reliving especially tragic events. A team of young Ukrainian IT enthusiasts founded New Cave Media (newcavemedia.com) [an immersive storytelling studio that delivers 360°/VR solutions to commercial clients worldwide – Ed.]. They weren't afraid of the challenge and selected February 20, currently known as Euromaidan.
IMMERSION IN REALITY
As usual, one puts on a headgear – VR helmet – and finds oneself back in 2014, on the 20th day of February (tagged by media as Black Thursday). However, this is not the usual kind of computer-generated reality. This is what really happened in Ukraine. Winter. Maidan. Instytutska St. Scared people around. As back then, one is hard put to figure out what's happening. Emotions are hard to hold in check. Pain and anxiety. One can remember what happened then, every minute of it, and the ever-present fear. Hard to endure but very important. Forgetting important pages in our history eventually leads to tragic consequences, like the ones that occurred almost five years ago.
This virtual reality project is especially significant now that Instytutska St. is to be revamped. In other words, our children and grandchildren won't see the place where one of the most hair-raising tragedies in Ukraine's latter day history took place. When you visit it, you can't help but feel the tears and the pain in your heart. You realize that the heroes of the Heavenly Hundred sacrificed their lives for a better future for you and your posterity.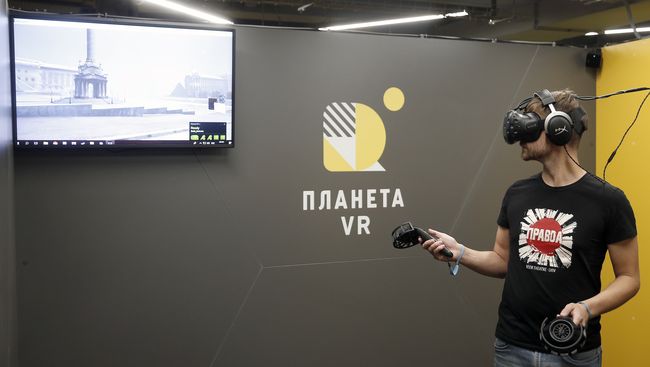 What happened on that Black Thursday in downtown Kyiv remains a heartrending memory, but it is part of our history. The reconstruction of those events, using the latest IT developments, offers a chance to leave these memories alive for future generations.
Each visitor spends 15-20 min. with the VR glasses/helmet on – and relives that day. This is truly a unique project in our world which is teeming with visual data. People feel that they are amidst the events, that everything is real, rather than watching a movie or TV serial. This provides a considerably higher degree of empathy.
REFUTING MYTHS
IT team members say they were outraged by the campaign of disinformation launched in the aftermath of events in February. Project co-founder Serhii POLEZHAKA: "This wasn't the first or last instance of the Russian propaganda machine coming up with thousands of versions of what had actually happened. Every effort was made to discourage people to learn the truth. We were present there, so we held our view on the situation. We wanted to help the activists and eyewitnesses share the truth about what had taken place on that street."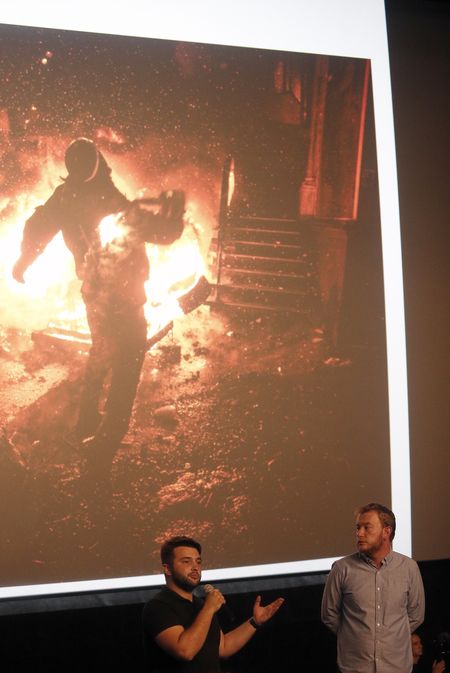 Project "Aftermath VR: Euromaidan" allows every viewer to follow the protesters step by step and the narrator explains about the mass shootings on February 20. There are documentary footages, 360° interviews with eyewitness, and a Euromaidan exhibit. Some of these artifacts are courtesy of the Revolution of Dignity Museum's Heavenly Hundred Memorial.
The photos are perhaps the most visceral. You see yourself standing on an ordinary Kyiv street, in front of a photo display, but once you aim the "pointer" at a photo, you can see what took place here only several years ago. Pitched street battles, blood-covered protesters, sheer violence.
A number of photo artists from across Ukraine contributed to the project, among them Project Coordinator Oleksii FURMAN, a veteran contributor to Den/The Day. Back in 2010, he was the first to vie in and win the Editors' International Photo Contest in the children's classification. Several years later, he won the contest in the adult standing with his series of photos "Life After [War] Wounds." In 2017, Den's Summer School of Journalism students were among the first to learn about this large scale project from the author.
PROJECT SPECIFICS
The video was made using photogrammetry, a 3D technique that uses photography in surveying and mapping to ascertain measurements between numerous objects. In Ukraine, this scope is reflected in virtual reality for the first time in history. This technique allows the viewer to "feel" the cobblestones on virtual Instytutska St. under his/her feet, and "walk" up and down the street.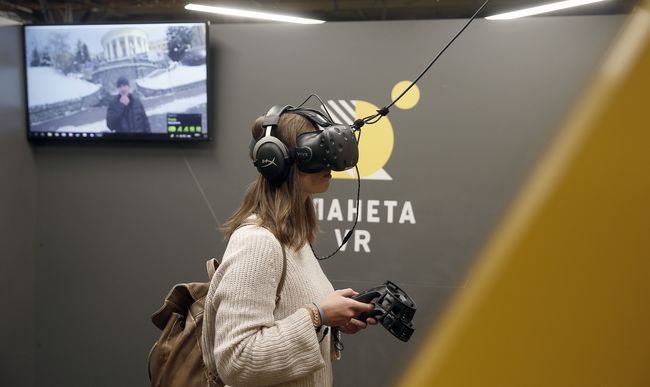 The IT team faced difficulties, of course. Oleksii Furman: "We chose a very complicated site for scanning. There were many structures topped with glass. Also, this was a downtown street, with many people and cars on weekdays. On weekends, the situation was a little better, but there were frequent public events. We had to work in the morning and on weekends, when most people were at home. We worked in September, October, and November. There was no scanning when there was snow – or when the greenery was abundant, as it is now. Back on February 20, Instytutska St. was bare of leaves and grass."
During the launch of the project, IT team members explained why they had chosen the date: February 20. Serhii Polezhaka: "We've been sharing good journalist stories from day one. We've worked on various projects, exchanging ideas, but in the end we agreed that February 20, 2014, marked the most important event, when 50 people got killed during the morning. It wasn't surprising to us, in the first place; we were all photojournalists and had witnessed what was happening on the Maidan. Some of our team saw what was happening in different places. Second, what happened then cost us over 100 lives, I mean all those names would go down in our history as the Heavenly Hundred – and there were 1,000 wounded. What happened on February 20, 2014, marked an unprecedented tragedy in Ukraine's latter-day history."
ACCESSIBLE TO ONE AND ALL
The IT team stresses that Project "Aftermath VR: Euromaidan" is accessible to one and all. It will always remain free of charge in Ukraine and abroad. This is their philosophy. The full version will be shown in November 2018, prior to the Euromaidan's anniversary. After that, online versions will be downloadable, free, and available at all Steam-like online stores.
Each should download it because this video is more than an eye opener on the most dramatic day in Maidan history; it reminds one of the true cost of freedom.
Project "Aftermath VR: Euromaidan" will be in a test mode for a month, accessible to all in Kyiv's entertainment center Blockbuster's VR hall.